A Night at the Malawian Goat Races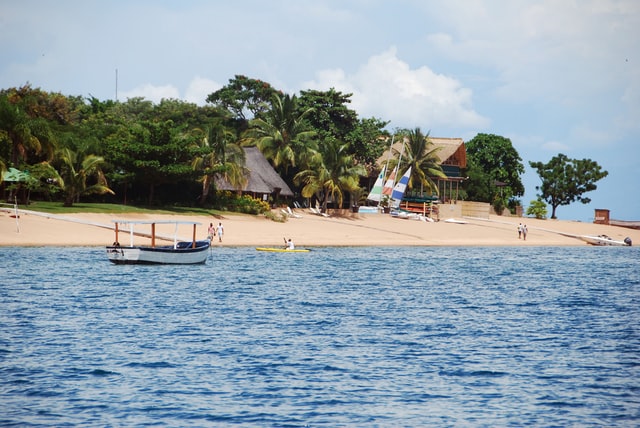 I had no idea that being an expat would be so much fun – or that it would involve so much drinking and fancy dress. I thought coming to Malawi on contract would be a nice detox from the craft beers and cocktails I left behind in San Francisco, but boy… was I wrong.
Apparently, there is an African expat tradition of goat racing that happens in countries all over the continent. Here in Malawi, it involves fancy dress, big hats, loads of gin and a wedding-like atmosphere with a white tent and DJ.
Held at the Lilongwe Gold Course, the classiest of Malawi all arrived in style for the 6pm kick-off. I attended along with work colleagues who luckily knew what to anticipate. There was no actual dress code but most locals were in black tie and wild fancy hats. It was quite the unusual scene for Malawi – one of the poorest countries on the planet!
With a $20USD/$10,000 kwacha entry fee, the attendees were limited to expats and the wealthy businessmen of Lilongwe. Since I didn't exactly plan on bringing black-tie attire to Malawi (and there are no such shops here), I had a dress made out of chitenge fabric for the event. These multi-colored, majestic fabrics are quite common throughout East Africa, and for just a few dollars, you can have a local tailor measure you for whatever design you can create. I chose a simple square dress out of a light blue and yellow leafy fabric. I was definitely not the fanciest at the party but I felt quite festive all the same!
I thought coming to Malawi on contract would be a nice detox from the craft beers and cocktails I left behind in San Francisco, but boy… was I wrong.
The goats were all well organized and corralled around the food and drink tent. The races consisted of 8 rounds of 8 goats, each named after a hilarious theme. My personal favorite themes were "teenage mutant ninja turtles" with the goats Leonardo and Donatello and the "Dirty Goats" named Big Fat Hunt and Slut Fuzz Rhino all racing goats within their same category. After some time to purchase drinks and place bets, the first races began!
I chose to place my first 2,000 KW ($4 USD) bet on a little white and black goat named Leonardo #5. We went over to the corral to see all of the goats waiting in their pin. Half were sleeping and the others were totally oblivious and disinterested in the bright lights and general commotion. The announcer, dressed in his ill fitted tuxedo, worked the crowd and prepared us all for the start. Before we knew it, the gate was up!
The goats were pushed and kicked by the golf course caddies until they ran along the track. We blitzed to the other side so that we could catch the finish. We laughed and cheered as we tried not lose our hats and drinks. For each round we could bet just like at any proper horse race. Sadly, Leonardo was behind the pack and I didn't get any return on my investment. However, if I had chosen the winning goat I could have won 6x the amount I bet! I wasn't too upset that I lost – it was easy to be distracted by the rogue goats that escaped into the drink tent after each race.
A Night at the Malawian Goat Races.
With the famous Malawian Gin flowing, the party lasted far longer than the races. We danced inside the race track to top 100 pop songs until 4am. All proceeds went to local charities and all hangovers the next day were for a good cause. Although I didn't win any cash – the laughs and stories were endless. I can't wait for next years goat race. My bet is definitely on Slut Fuzz Rhino 2016!
Photo for A Night at the Malawian Goat Races by Unsplash.