Silent Retreat in Ohio: In Conversation with Gaelle Lecourt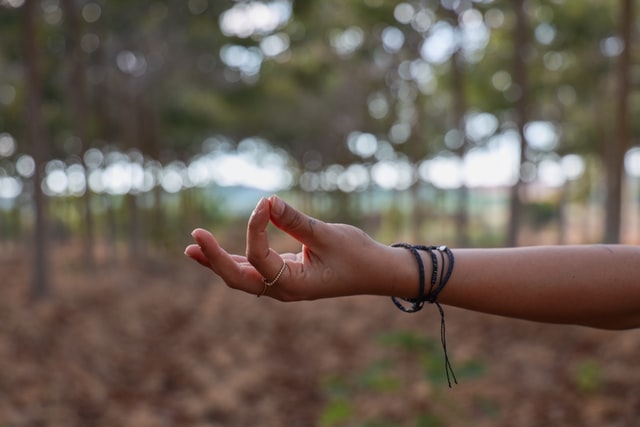 Ever wanted to participate in a silent retreat in Ohio? Read Gaelle Lecurt's experience and tips on a past retreat here:
Tell us about yourself! What do you do when you're not traveling the world? Where are you from? Where do you currently live?
When I am not traveling, I am a transformational coach. I support women all over the world to take the leap of faith to change their lives, and I am specialized in realizing the dream to travel and live abroad. Whether this means three months during the winter every year, a six -month sabbatical, or permanently, I provide my expertise for each woman to put herself first and successfully make the changes she desires.
I am originally from France, then I lived in the UK and Switzerland, then spent seven years in the US, and I am now in Playa del Carmen, Mexico. I share my time between Mexico in the winter, France in the summer and the US in between, doing yin yoga workshops, series and coaching retreats. My next destinations are Lake Atitlan in Guatemala and Machu Picchu. I also love yellow mangoes and chocolate!
What kind of retreat did you participate in? Where was it located? How did you spend your time there?
I went to a 5-days silent retreat at Grailville Retreat Center in Ohio with a yoga studio that organized it as the final event of its yoga teacher training course. The time was split between meditation (sitting and walking), yoga, teachings by Felix Lopez, who is a pranic healer, free time, and meals. I used the free time to walk in nature and journal my insights and thoughts during the retreat. And most importantly, no talking, no reading, and no cellphones were allowed.
What made you decide to participate in the retreat?
I wanted to see what happens when you have no people influencing you, and to find out what I truly think when I am by myself. I like the challenge of being outside of my comfort zone. In fact, I trusted the yoga studio and its owner, so I went.
What were the highlights of the retreat? What disappointed you about the retreat?
During the first two days, it felt immensely good to not worry about what to do, where to go, what to eat… I followed the schedule of when to be where. In real life, I am the boss of my world 24/7 and it felt good to just follow the flow and let someone else decide… That was until the third day when I was really annoyed that I had to get up at 5:40am every day. The schedule was also a bit packed so sometimes I felt pressured rather than flowing from one activity to the next.
How, if at all, did the retreat change you? Were there new practices you incorporated into your life following the retreat?
I had a lot of insights about society–how it shapes us, how we long for the appreciation of other people.
Having a roommate and not being able to talk to her made my first night sleepless. I was super conscious of every turn I made and the three times I got up to go to the bathroom. I was feeling miserable, didn't sleep, and was over conscious that we would have to wake up at 5:40am after very little sleep. I couldn't shake the feeling that the whole retreat would be filled with sleep deprivation and that I would get back to work on Monday in worse shape than when I'd left.
This somehow taught me to let go. I could not feel bad, as I could not know how my roommate felt. So I swept the worry away. Then, the next day, during teaching, she mentioned she didn't sleep well the night before, and here again I felt that wave of guilt that the universe wanted me to know it was because of me. And then I realized, "But, what if it isn't? This girl might be processing information about her life, her husband, her worries, and maybe this has nothing to do with me turning in my bed and getting up in the middle of the night."
It made me understand that we are responsible for our happiness and well-being.
It made me understand that we are responsible for our happiness and well-being. If there is something you don't like, you have to do something about it. Without the ability to speak, you are on your own and you can decide what to do–like letting go if there is no other alternative to your situation.
I left the retreat on Saturday night because I didn't want to be a roommate for one more night. But, I realized later I had made a vow of silence with those people and that I had just broken it by selfishness. Sure, I had many cookies when I arrived home and my bed felt marvelous under my butt and waking up whenever made me feel so free. But, I realized that I had let those people down. What if I wanted to take a workshop with the teacher again? What if I wanted to go back to this yoga studio again? I had dropped a note to the studio owner and felt like it was enough, but I had not given her a chance to tell me how she might feel. It would be totally fair if she never again wanted me to participate in one of her trainings, as I felt unreliable.
Doing something because it made me feel better or happier was not a good enough excuse. We all took the vow of silence because the power of the community was lifting up all of us and making us face the challenges together. And I decided I was above that and could leave whenever I wanted. I let this community down, the one that welcomed me while they did not know a thing about me, and who shared with me this beautiful practice, which meant a lot to them.
Silent Retreat in Ohio: In Conversation with Gaelle Lecourt
I realized that it is my own choice to make an effort and show respect in order to be accepted in a new community. You cannot just come in, take what you want and leave. The power of the community is to be there, no matter what, no matter if you are the giver or the receiver. While on a spiritual journey, the power of the community is critical to ensure that you receive support from people who understand you and don't judge you. I am so grateful for this teaching.
What are some of the benefits of participating in a retreat? What are some of the downsides? Would you participate in another retreat?
I would definitely participate in another retreat. I love that a retreat gives me some me-time, as well as time to reflect in a different environment.
Are there any tips you'd give someone else who is considering a similar retreat?
It was fine that I was surprised about having a roommate, and finding that the schedule started super early. For other people, I would recommend asking about sleeping arrangements, food, schedule, what happens if you have kids and there is an emergency, things to do in the area, and other services that could be added (like massages, coaching sessions, yoga etc).
Photo credit for Silent Retreat in Ohio: In Conversation with Gaelle Lecourt by Unsplash.