A Theater Weekend in Columbus, Ohio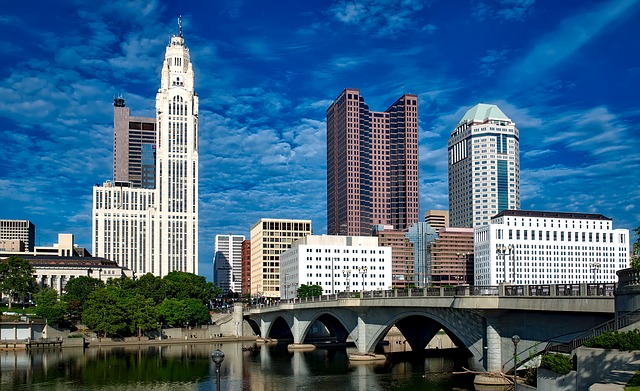 Planning a theater binge weekend might bring to mind a big city with expensive hotel rooms and high priced tickets. However, great theater, art, food and culture don't have to break the bank. With a little planning, you can pack a lot into a low budget weekend. Winter and early spring are great times to spend catching up on theater. Spending most of a weekend inside theaters and restaurants means weather doesn't ruin plans. There is nothing better than live entertainment in beautiful venues to combat the winter blues. Here's a frugalista's guide to a theater binge weekend in my hometown of Columbus, Ohio.
Transportation
Located in the middle of the state of Ohio, at the intersection of I-70 and I-71, Columbus is easy to get to by car. Parking is also less expensive in downtown Columbus than in larger cities. But, if you decide to fly, the local public transit authority, COTA, offers the AirConnect program, transporting visitors by bus from the John Glenn Columbus International Airport (CMH) to downtown hotels for $2.75 each way from 6 am-9 pm, 7 days a week. That's less than it costs to tip a cab driver in other cities.
Once you arrive and need to get around town, COTA's CBUS service is free, connecting the Short North Arts District, Downtown and the Brewery District. But don't underestimate the power of a good pair of walking shoes. This is a walkable town. If you plan to sit in the theaters and eat in the fabulous restaurants, hoofing it a bit is not a bad idea.
Accommodations
Columbus is a convention town. All major hotel chains are represented. When there is a big event going on, hotels are full. But, when there aren't any crowds convening, it is easy to find downtown hotels for under $150 per night, and premium hotels in the $200s. Lots of hotels are available with two queen beds, so if you travel with girlfriends who don't mind spooning to save a few bucks, luxury accommodations are available at hostel prices. Sharing does mean saving. Traveling alone? AirBnB is an option. This is the friendly Midwest. There are many nice people willing to share a room at a reasonable price for a night or two.
Entertainment
The Columbus Association for Performing Arts operates seven downtown theaters. Several are worth visiting for their architectural distinction alone. The Ohio Theatre (55 E. State Street) seats 2791 patrons and is known for its 21' high chandelier and Spanish Baroque architecture. Just across Capitol Square, the Palace Theatre (34 W. Broad Street), in the base of the LeVeque Tower, was designed in the spirit of Palais de Versailles in Paris, and seats 2827. The oldest downtown theater is the Southern Theatre, originally built in 1896. It is attached to the Great Southern Hotel, a Westin property.
CAPA coordinates the GoFor5 program, where patrons from the ages of 13-25 get the best available seating for $5 for themselves and one companion. The companion does not have to be 13-25. So, plan a mother/daughter, mother/granddaughter or aunt/niece weekend, and the two of you can see fabulous theater, ballet, symphony, jazz, and much more for a total of a $10 admission per show. Enjoy a show Friday night, Saturday matinee, Saturday night and Sunday matinee.  After all, isn't that what makes it a binge weekend? Broadway Across America, Ballet Met, Columbus Symphony Orchestra, Columbus Jazz Orchestra, CATCO (Contemporary Arts Theater), Opera Columbus, and many independent local and traveling performances fill these downtown Columbus landmarks.  A bit of advance research will help maximize the weekend.
If you don't have a young companion, check the regular priced tickets for bargains. Most theaters offer tickets ranging from prime orchestra level seats well over $100 to balcony seats in the $30 range. All theaters have balcony seating with inexpensive ticket pricing. I love sitting in the "Cloud Club", where you can see all the way to the back of the stage, and also get the best views of the ornate ceilings and chandeliers in the theaters.
Here are some more ideas for a weekend in Columbus.
Friday Afternoon
Arrive at the John Glenn Airport (CMH) and look for the COTA ticket machine.  Purchase your $2.75 ticket to downtown. Check the map for the closest stop to your hotel, or check the map in advance and book a hotel directly on the route.
Happy Hour/Dinner at The Pearl
(641 N. High Street in the Short North Arts District)
From 4-6 pm weekdays, all snacks, starters and sandwiches are half price at The Pearl. Grab a table in the bar for made from scratch soups quick bites, enough to hold you through a show. After, take the CBUS south on High Street to the center of downtown to catch your first show of the weekend.
Saturday Morning
Head to one of the two Experience Columbus Visitor's Centers, in the Greater Columbus Convention Center, or at 277 W. Nationwide Blvd, to pick up walking maps of the downtown neighborhoods. Use the CBUS or walk to the North Market, 59 Spruce Street, between High and Front Streets, for coffee, breakfast or just to explore the 30 merchants in Columbus's only true public market.
Check out the local art galleries and shops along High Street in the Short North Arts District. Let your nose guide you to one of the many restaurants or bistros in the area for lunch. Weather permitting, walk the 33 miles of city parklands along the Scioto Mile, or use the COGOBikeShare bicycles to ride along the river.
Saturday Afternoon
Take in a Saturday matinee at one of the historic theaters. Check Gofor5 or Capa for specific shows and times.
Saturday Dinner at Condado
(132 South High Street)

At Condado you can build your own tacos starting at $3 each. You can customize your dinner with fresh ingredients, starting at a price that works for everyone's budget, and adding on to fit every size of appetite.
Saturday Evening
It's time for show #3! Try a performance by CATCO (Riffe Center, 77 South High Street).  CATCO is the Contemporary Arts Theater Company, central Ohio's equity professional theater company. Performances are held in an intimate two hundred-seat theater, a significant contrast to the large Ohio and Palace theaters.
Sunday
Stash your luggage at the front desk, and head east on Broad Street toward the Columbus Museum of Art (480 East Broad Street). Sunday is always free day for everyone at the CMA. Enjoy brunch at the Shokko Café with a view of the Sculpture Garden. The museum gift shop is full of unique and creative items to help you remember your visit. Take a stroll around the museum, enjoying a few hours here. With a collection of over 10,000 items, and 350 of them on exhibit at any time, there is always plenty to see at the CMA. Sunday museum hours are 10 am to 5 pm.
Pick up your luggage at your hotel and look for the AirConnect bus back to the airport.  Take a nap on the plane, and dream about all of the places you want to explore on your next weekend in Columbus!