Off the Beaten Path in Uzbekistan: A Conversation with Neeraja Jain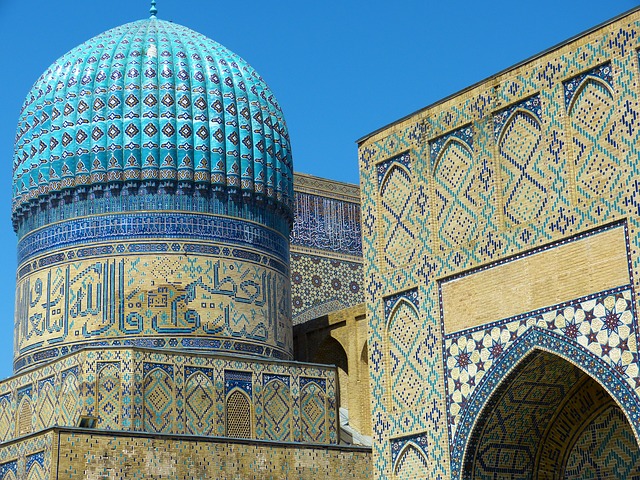 Tell us about yourself! What do you do when you're not traveling the world? Where do you live? What made you decide to go to Uzbekistan?
My first international trip (to Europe in the '70s) was also my first (and last) solo trip. I was only 18 and that definitely raised a few eyebrows in my conservative family, as no girl had ever traveled before alone in our family. My younger sisters later thanked me for starting this trend. Since then I've traveled to several countries with my husband, kids and friends.
I'm now a home maker and live in Agra – the city of the Taj Mahal – and am in my 60s. I have a big garden at home and I love to spend my free time making sure it is well landscaped. We grow a variety of fruits: guavas, pomegranates, custard apple, pink lemons and a variety of berries and it gives me great pleasure to distribute them to our friends and family. I'm very interested in history and as I live in Delhi and Agra – two strongholds of the Mughals who came from Ferghana in Uzbekistan and invaded and ruled India for hundreds of years. Thus, it was only natural that a trip to Uzbekistan was long due. Initially I was advised not to go because it was not a country on the 'tourist map' as is London, Singapore or New York. However, I still did. I'm in my 60s if I don't go now then when else would I go, right?
How long did you go for? How did you spend your time?
I was in Uzbekistan for eight days, and Tashkent, the capital, was our base. We visited Samarkand (by the high speed bullet train), Chimgan Mountains and Charvak Lake (three hours by bus from Tashkent) and Bukhara (flight from Tashkent is one hour and then we did a tour in an air-conditioned mini van and were accompanied by Alex, a local guide through Your Local Cousin, a travel startup that connects travelers with locals for trip planning. Your Local Cousin did a great job in connecting us with Alex who cleared a lot of my initial hesitations, questions and helped us plan our entire trip.
Despite the hot May weather, we spent most of our time visiting the country's rich history and historical places which included several palaces, citadels, madrasas (schools / universities), mosques, parks and local markets that were known for dry fruits, spices, honey, fruits and vegetables and other sorts of local produce. I don't think I've had juicier cherries and apricots ever in my life than I did in Uzbekistan! In the evenings, we'd go for a drink (yes this country is very liberal, contrary to what most might think) and dinner. I was also told that Tashkent has a busy night life, but I think I'd feel out of place in a night club now!
What were your most memorable experiences? What were the biggest disappointments?
The locals were extremely friendly and would take the initiative to talk with you and take photographs with you. When they found out I was from India, they'd start singing old yet popular Bollywood songs, which were from my era. I was told that Indian movies were widely shown on television when Uzbekistan was part of the Soviet Union. There is no Uber taxi and a friend and I had to hitch-hike a ride back to our hotel from a museum after waiting for more than 30 minutes in the scorching sun. The young man who offered us a ride did not speak a word of English and did not charge us money either! We took the bullet train from Tashkent to Samarkand and it was then that I realized how badly the countryside had been stripped off its natural resources as it was mostly barren; the unfortunate side effects of massive industrialization that many ex-Soviet countries faced during that era.
What do you wish you knew before you went?
I'm not much of a meat eater so food was a challenge for me in cities other than Tashkent. English is not widely spoken by locals and I wish I had taken Alex's recommendation of hiring an English speaking guide and a taxi for an entire day of sightseeing in Tashkent and Samarkand. It would have made my life a lot easier and it's also not very expensive!
Any favorite restaurants/hotels/hostels/sites you'd like to recommend? Tell us what made them great!
I don't think any restaurants really wowed me as I found the food just about average. Sightseeing and history was what I thoroughly enjoyed and I would encourage you to visit these places:
Chimgan Mountain: this mountain had some leftover snow despite peak summer in Uzbekistan. The cable car (a bit scary initially) up to the mountain had an amazing view.
Charvak Lake: a beautiful blue lake with a lot of water sports and boating activities. The lake is surrounded by mountains and the water is so blue that I thought it was artificially colored.
Char Minar in Bukhara: architecturally very beautiful and in a very peaceful part of the city away from the crowds. Even though it's a mosque, our guide Alex told us that each of the four pillars has design elements taken from four different religions namely: Islam, Christianity, Buddhism and Zoroastrianism.
Registan in Samarkand: the entire complex was so huge that we could not capture it in a single photo. The three main structures which are universities (and even till date they accept students) were built by three different rulers and the architecture and design of each is unique from the other. Due to its large size I believe it was also used for major events such as royal announcements and public executions!
Is there anything that women specifically should know before they travel to your destination?
I personally found Uzbekistan to be very safe for women. I was a bit apprehensive when we were planning our trip as I imagined that I would need to cover my head / face with a scarf and there would be restrictions imposed on women. However, after I spoke with Alex (a female) I was assured that it was all hearsay. The country is very modern and men and women work together and do all kinds of jobs. There are bars, night clubs and even belly dancers! Some convenience stores sell beer and liquor. Our trip planner and guide Alex wore western clothes and was very optimistic about the country's future.