Top 4 Things to Do in Valencia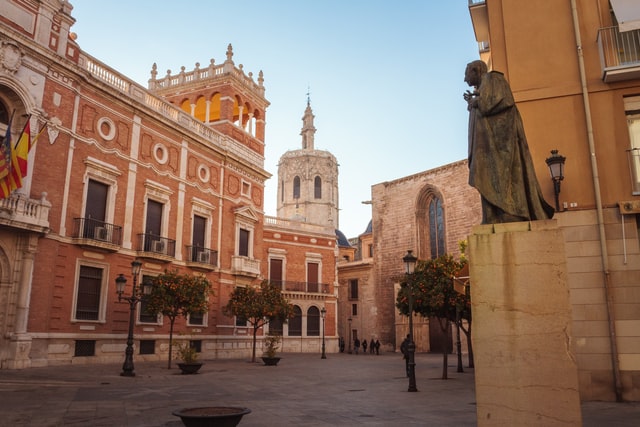 Most people fall in love with the city they study abroad in, and later, dream of the day when their flight will once again touch down in the place they came to call home. For most people, these dreams continue to be aspirations. But for me, a year and a half later, this dream came true. After months of actively seeking a way back, I was offered to return for a semester to work for my study abroad program.
Sitting on the coast as Spain's third largest city, Valencia is easy to love. The experiences that fully made my trip are endless, but for any new traveler, here are the top five things to do in Valencia:
Top 4 Things to Do in Valencia
1. Climb the Miguelete Tower
Standing at 207 feet high in the heart of the Plaza de la Reina, this bell tower provides some of the best panoramic views that Valencia has to offer. From the outside, the gothic style building doesn't seem like much of a trek, yet the narrow, winding staircase shows little mercy. It may take a toll on your legs, but once at the top, the view is worth the climb. Built in an octangular shape, visitors get stunning 360 degree views of the city, stretching all the way to the ocean. And with a fee of only two euros for entrance, the pictures alone are worth the money.
2. Grab a bite at the Mercado Central
To most, it represents a giant food market that stands as one of Europe's oldest. To me, it is heaven on earth. This giant indoor market is filled with over 300 vendors, selling a wide variety of the freshest foods. From produce to fish and meats, to warm breads baked seconds before, this market has something for everyone. I spent a lot of time wandering the aisles when I wasn't working, whether it was to buy groceries or simply to relish in the excitement of all the haggling going on.
There are many little restaurants and cafes in and around the market, making it the ideal place to grab a quick lunch. Pick up a jamon y queso bocadillo, otherwise known as the Spanish ham and cheese sandwich, and try to steer clear of running into the legs of ham dangling from the stalls! Afterwards, go outside to one of the cafes for a soothing café con leche. But make sure to go earlier in the day, as it's only open from 7 am to 3 pm during the week and on Saturdays.
Address: Plaza Ciudad de Brujas, s/n, 46001 Valencia, Spain
3. Stroll along the Turia Riverbed Park

Back in the historic days, Valencia was separated by a long river that rimmed the city. After a disastrous flood that left many homeless, the river was drained and turned into a public park for locals and tourists alike. Stretching for about 7 km, or 4.3 miles, the Turia Riverbed Park runs from the Bioparc zoo in the west to the City of Arts and Sciences aquarium in the east.
Conveniently enough, the riverbed was located near where I was working, making afternoon runs an easy and enjoyable experience. Whether it was the active joggers cutting through, the children meeting for practice on the futbol fields, or the families enjoying a day in the sun, the park hosted a wide variety of outdoorsy visitors on a daily basis.
4. Sip on Agua de Valencia
While sangria is usually the beverage of choice for most when touring through Spain, Valencia has its own fruity concoction that's hard to pass up. With a mix of vodka, gin, orange juice and cava, or champagne, Agua de Valencia will make it feel like it's summertime year-round. What makes this drink stand out from the rest is the freshly squeezed orange juice, which is a common theme throughout most cafes and restaurants.
A popular café that I would frequent for this drink was Café Lavin. Located in the old town and minutes from the main plazas, this hole-in-the-wall featured some of the most delicious, freshly made Ague de Valencia. Grab a friend and split a liter for only 10 euro!
Address: Carrer de Conde Trenor, 16, 46003 Valencia, Spain
Home to a rich culture and a multitude of exciting attractions, Valencia is a city that all travelers should experience. If you ever make your way to this little slice of paradise on the Mediterranean, don't forget about these few places. I can promise you, they will never disappoint!
What are some other great things to do in Valencia?
Top photo credit for Top 4 Things to Do in Valencia by Unsplash.