Travel Musandam Peninsula: The Real Deal with Sally Elizabeth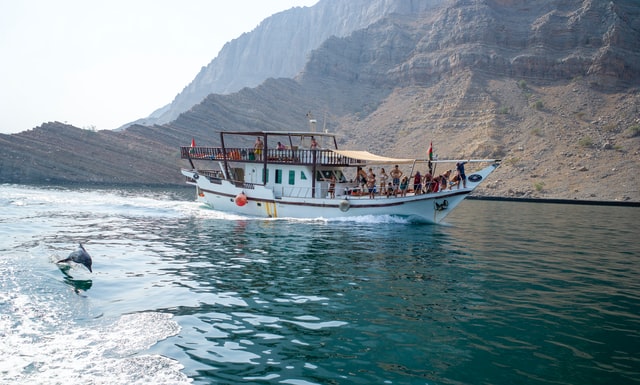 Ready to travel to Oman's Musandam Peninsula? Here are the activities, hotels, and sites that Sally Elizabeth recommends for your trip.
Tell us about yourself! What do you do when you're not traveling the world? Where do you live? What made you decide to go to your most recent destination?
My mad dash to Oman's Musandam Peninsula was purest serendipity. I work with the online dispute resolution system PeopleClaim.com — we're expanding into developing countries and I was in the region meeting with our partners. I was delayed in Dubai for a couple of days; checking out Dubai's ancient wind towers made me excited about exploring further. I live in the Blue Ridge Mountains, very close to the Blue Ridge Parkway, so I've developed a real taste for fabulous road trips. And when I heard about the spectacular drive from Bukha to Khasab–well, how could I resist that?
How long did you go for? How did you spend your time?
We had to be back in Dubai the next night, so we could only spend one night in Khasab. Finding a rental car and the right road was a real ordeal. Most of the first day was spent on an adventure in completing paperwork, driving, border-crossing, and getting lost. Once we realized that we just weren't going to get there in time to do much the first day, we let go and enjoyed the ride.
That meant that yes, we pulled over to watch the herds of camels, and a line of men pulling in long fishing nets from the beach; we spent a while trading jokes, drinking coffee, and watching goats 'crossing' at the border post. The coastal road from Bukha, hung between cliffs and sea, was as stunning as described. But by the time we got to the hotel after a long day, we were just thrilled to sit out on the hotel terrace drinking margaritas and lime and mint sodas, watching the sun setting over the Strait of Hormuz.
The next day we took a dhow cruise through Khor ash Sham –Musandam's 'fjord,' found a really delicious late lunch in a back alley, and wandered around Khasab Castle. And enjoyed the coastal road all over again.
What were your most memorable experiences? What were the biggest disappointments?
Hands down, the dhow cruise was most memorable. The khor is indescribably beautiful–breathtaking cliffs, colored a million shades of honey, plunging into clear turquoise waters. Dolphins were playing alongside the dhow for much of the time, and the captain tossed food into the water to bring thousands of fish to the surface when we stopped to snorkel. The captain was a lesson in hospitality. He took a very real, deep, pleasure in showing us the khor and whistling up the dolphins. We were his guests, not his customers.
But I also have to say that I'll also remember being desperately lost in one of the poorer parts of Sharjah. We stopped for directions at a somewhat dodgy-looking place and ended up buying the freshest and tastiest falafel I've ever eaten, from some of the kindest people I've ever met, at a fraction of the price you'd pay for just a bottle of water in Dubai. And because we missed the right road, we ended up on some interior highway driving at about 100 mph, with an impatient BMW up our tailpipe, zipping through herds of camels. Pretty fun!
My biggest disappointment is that we didn't have enough time there. I'd have liked to 4-wheel up to Jebel Harim, high up in the mountains. Next time…
There'd been a sand/dust storm, so everything was quite hazy–which actually served to put everything through a kind of soft filter, but I'd love to go again when the air is very clear.
What do you wish you knew before you went?
I wish I'd known we'd have time to do this and could have planned better. It's not easy finding a car you can take across the UAE border, and you must have special insurance and permission documents to show at the border. At least we knew the rules—at the border we ran into some people there who hadn't a clue and actually had to turn around and go back to Dubai.
We ended up with a pretty decrepit car with an old GPS–and an outdated GPS isn't much help in Dubai and Sharjah, where everything is knocked down and re-built about every ten minutes. The GPS would literally SAY turn left, but show a right hand turn. By the time we twigged, we were hopelessly lost.
Any favorite restaurants/hotels/hostels/sites you'd like to recommend? Tell us what made them great!
Dolphin Khasab Tours were wonderful–just so hospitable and so careful to ensure that we had a good time. We loved the old wooden dhow, with Persian-style rugs and cushions to sit on.
We stayed at the Atana Khasab. Again, everyone we encountered was charming and helpful. Surprisingly, there's no bar or restaurant on the higher terrace, but when we asked if we could have margaritas out there, hey, no problem. It was a deeply relaxing place just to hang out.
Is there anything that women specifically should know before they travel to your destination?
Women can and do dress Western-style, but personally I prefer to be very respectful of local custom. Long, loose skirts and tops are comfortable in the heat as well as modest. In many countries it's a good idea to keep a dupatta-type scarf in your purse to cover your head and shoulders in certain situations. If you want to go into a mosque or temple, for instance, it's just good manners to cover up.
Also, remember to ask if you're going to take photos of someone. I was really disappointed that I couldn't take pictures of some women wearing traditional facemasks. But although they thought I was pretty funny, they weren't too thrilled at the idea of being photographed.
Photo by Unspash.