Making Memories with James Taylor in Milan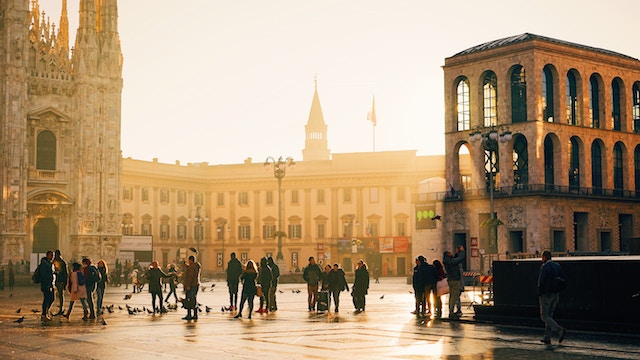 We had planned our trip to Milan several months in advance. It was an adventure and a journey that a year or so earlier we hadn't expected to make. My oldest friend in the UK had been diagnosed with terminal bone cancer – there was nothing to be done to cure her, just palliative care to keep her symptoms under control.
After a year of hospital visits and ongoing treatment she was declared stable and felt well enough to travel overseas. Her first trip was to Israel, to stay with us for a week, which she organized to do over the Jewish New Year so that I would have holiday time to be with her. After that first journey and learning about how assisted travel worked in the airports, Ruth felt confident enough to go to other destinations.
"You've got a friend" was much loved by us both with the words becoming more poignant in recent years.
As teenagers in the late 60s and early 70s, we had shared a great love of music, following artists such as Carole King, James Taylor, Carly Simon, Leonard Cohen and many others. We once did a sponsored walk for charity and sang our way over the 22 bridges of London featuring all our favorites. "You've got a friend" was much loved by us both (we also sang that in Winchester Cathedral for some reason) with the words becoming more poignant in recent years.
In a phone conversation towards the end of last year, I told Ruth that I had a great idea. She was interested to know more, so I told her that next time James Taylor was in concert anywhere in Europe, we would go. She didn't object to the idea – it probably seemed a little far-fetched, but sure enough a short while later the artist announced his European dates with one concert at the end of April in Milan – the halfway point in-between Israel and the UK.
Not only that, our first trip abroad as teenagers some 42 years ago had been to Rome. Now we were going back to Italy together – it was perfect!
We had to move swiftly though as the tickets would be sold out quickly, and somehow thanks to modern day technology and excellent communication systems we booked the tickets for the concert and our respective flights in record time. We took a bit longer to research a suitable hotel, not too far from the center and with good facilities for disabled guests.
Making Memories with James Taylor in Milan
Our flights landed within five minutes of each other and we met in the arrivals hall as if it was the most natural thing in the world. We spent our days exploring the city, visiting the magnificent Duomo, and marveling at the opulence of Galleria Vittoria Emanuele and the evenings, relaxing, drinking cappuccinos and eating pizza before our ''big night.''
When we were eventually sitting in the Teatro delgi Arcimboldi concert hall on the Saturday evening, there could not possibly have been two people more pleased with themselves than Ruth and I. We had made a plan, carried it out and here we were, about to reap the rewards.
The concert itself was fantastic and met all our expectations. Although of course James had aged (as we had too), his voice had stood the test of time and sounded just the same. His lyrics and familiar tunes transported us back to our far off days of youth. We sang along with the crowd, we cried a bit too, but came out on a big high, which lasted through the next couple of days of our stay.
We had made a plan, carried it out and here we were, about to reap the rewards.
Once we were back in our respective homes, we exchanged photos of places we had visited and reminisced over certain incidents that had taken place. The trip had undoubtedly been an amazing success. Everything had gone smoothly, the hotel was comfortable, and we loved the places we had visited, the food we had eaten and the people we had met.
For me however, the most important result was that now Ruth and I had made some great new memories that I will treasure forever.
Photo credits Making Memories with James Taylor in Milan by Unsplash.