Rome Travel Tips: Jade's Take on Health, Safety and Romance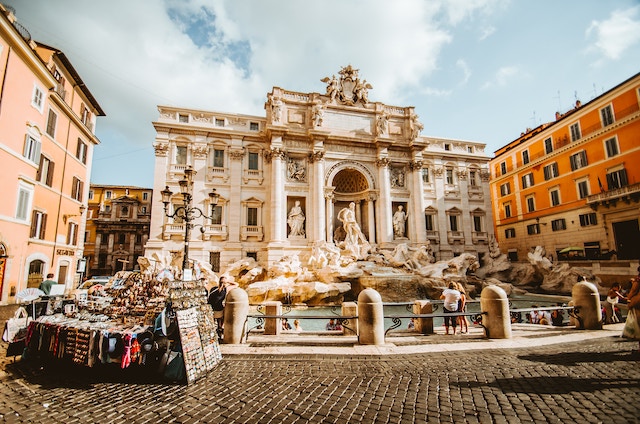 Traveling to Rome? Jade Rudnyckyj shares her travel tips about health, romance, women's rights and safety:
Rome Travel Tips: Health Information
Feminine Hygienic Products in Rome: What's available/what's legal/where to buy them?
Pads, tampons and all are readily available, from supermarkets to the late night convenience stores. The selection available is vast, just the brands might be unfamiliar.
Birth Control in Rome: What's available/what's legal/where to buy them?
Birth control, like the pill, is available, however a script from the doctor is required. There are 'international' hospitals with English-speaking doctors, so getting a script isn't hard. Condoms are readily available, even from vending machines outside of the farmacia (chemist/pharmacy). From what my Italian friends tell me, the morning after pill, however, is not so available.
Breastfeeding in Rome: What are accepted places for women to breastfeed? Is it accepted to do so in public?
I have never seen anyone breastfeeding in public. As far as I know, this is only done in private, at home or in private places.
Rome Travel Tips: Romance
Dating Locals in Rome: What are the norms and traditions? What should women look out for?
I've not dated a local, but from what I've heard it is similar to dating in Australia. Just be clear about your expectations and don't do anything you wouldn't do back home!
Men in Rome:
The Italian man IS a type of man. He appears to be sensitive, cultured, passionate. He may be philandering, with many women on the go at once. In fact, he looks after himself, and is a show pony. He is very convinced of his own appeal.
Is Rome LGBTQ-friendly?
Although there is an LGBTQ community within Rome, it unfortunately is much more underground. I have occasionally seen men walking hand in hand, and have heard of happy lesbian couples, but I rarely see them. Although person-to -person, there is much understanding and tolerance, I would advise being more cautious than not in public.
Rome Travel Tips: Women's Place in Society
Women's Rights in Rome: Do women have the same position in society as men? How can you tell?
There is a contrast in Italy. Italians seem here to be fairly equal opportunity employers–ie there are female tram drivers, police and the like, but there is a clear difference between men and women, and their roles, particularly in the family.
That attitude is much more 'old fashioned' and does make a difference in some areas, where women do more home duties than men. Yet, on the surface, Italy is not an unfriendly society towards women.
Local Women in Rome: What are some clear cultural differences between you and them?
I do think Italian women can be a bit dramatic, and sometimes too sensitive. The air can make them tired, work is always too hard, and digestion is tough. But this is La Dolce Vita, I guess!
Perception of Foreign Women in Rome: How do local men/women react to you when you say where you're from?
I am from Australia, so generally the response is of shock because it is so far way from Italy! I have felt more than welcomed in Rome by the locals, and the people I see most regularly like to chat and ask questions, and find out more about my country. They also want to know why I live in Italy, when their idea of paradise is my home country!
Rome Travel Tips: Safety
Transportation in Rome: Any that are safer/less safe for women to take?
Transportation is the same for all. I see little old ladies taking public transport home at night without hassle–in fact, people get out of their seats for them. Also, there is a special cab service just for women, call 0635701 between 1am and 5am, and a cab will show up as quickly as possible, and make sure you get inside safely.
Clothing in Rome: What to wear/what not to wear?
I would advise to dress smart if you don't want to stand out as a tourist. Italian women are put together and well dressed, with good hair and makeup. Sloppy or super casual is not the look here, even scarves and hats are sharp. Extremely tight, low cut or short clothing will get you a lot of extra attention from men. This is not necessarily dangerous, but could be uncomfortable.
Rome Travel Tips: Jade's Take on Health, Safety and Romance photo credit: Unsplash.com