In Conversation with Blogger Nidhi Alberti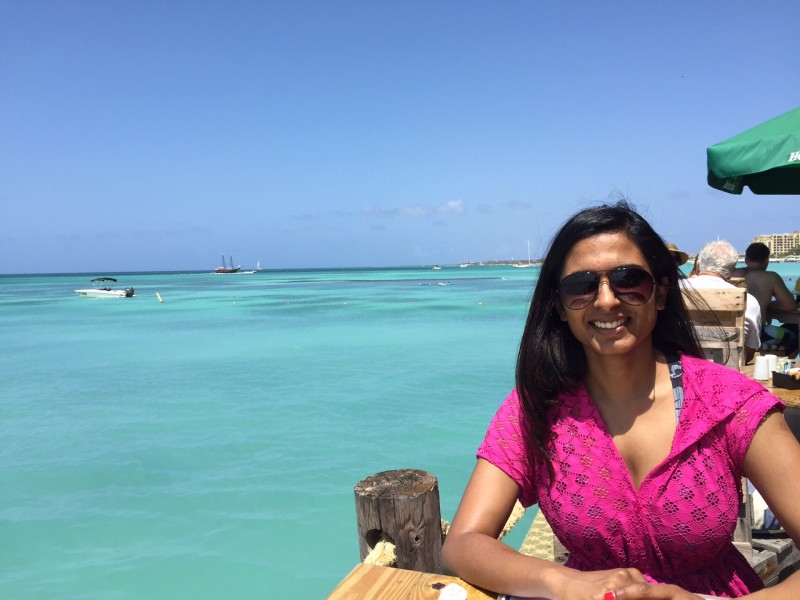 Through Treasure Travel, Nidhi Alberti shares her travel experiences and tips with a community of travelers.
Tell us about yourself! What do you do when you're not traveling the world? Where are you from? Where do you currently live?
I was born in India, and my family moved to Dubai when I was really young, so I grew up in Dubai. But when it was time to do my undergraduate degree, I moved to Canada on my own, where I spent four years studying. Once I graduated, I worked in Dubai for a few years and then I decided it was time to get a Master's degree, so I moved to Boston to study. Once I completed my graduate degree, I was offered a job in technology PR, and seven years later, I got married to a Boston native.
When I'm not traveling the world, I like to read or explore the place where I live – there's always something you haven't seen or somewhere you haven't been no matter how long you've lived somewhere. I also work in PR and write for a local paper.
What first inspired you to start your blog? Since then, which destinations have you covered?
I love writing and I've wanted to launch a blog for the longest time, but it took me a while to figure out what the topic could be. I wanted to find a topic that I could continue to write about endlessly. This summer, after coming across some travel blogs and really getting inspired by them, I decided that my blog was going to be about travel. No sooner did I launch my blog, Treasure Travel, than I started thinking of topic after topic to write about.
Because of my past as a nomad of sorts, I've found countless things to write about based on all of my years of traveling and living in different countries, and that's really the basis of my inspiration. I want to share all that I've learned and continue to learn from traveling.
I've written a bit about India. I've covered Nicaragua, New England, Liverpool (my husband wrote that post), Austin, Texas, and Dubai to date, and I'm now looking forward to writing about my upcoming trips to Vermont and Pondicherry, India.
What is the main purpose of your blog? Is there a message that you're trying to convey to your readers?
The main purpose of my blog is not only to share all my travel experiences and tips that I've gained over the years, but to also keep an eye out for cool travel products and news that may be of interest to my readers and me. I want to eventually build a community of travelers through my blog so that we can learn from each other and inspire each other to travel. I truly believe that travel is a form of education that should be built into the school curriculum, especially in a world that is becoming increasingly smaller. The lessons students can learn from traveling are invaluable and cannot be obtained from a textbook.
What gets you into the writing mode?
Writing is my passion and my experiences around the world are my inspiration. When it comes time to write, the early morning hours, when it's quiet and there are no distractions, gets me in the mood. I wake up early, make myself a cup of coffee and just start writing. I don't allow any inhibitions to get in the way. Once I get everything out on a page, it's easier to go back and edit as needed.
What are some exciting partnerships, connections, or opportunities that have come out of your blog?
I have written a post where I interviewed the CEO of FuzzyCompass, and I covered a survey by Amadeus about the future of travel that caught my attention. While these have not been business-related partnerships as such, the connections with these companies have been exciting to me because they know more about certain parts of the travel industry than I do, and learning from others in the industry is extremely valuable to me right now.
Also, I know they're doing something worthwhile that would interest my readers in some way, which is why I reached out to them to learn more for my posts.
Is your blog a business? If so, what are some of the ways that you monetize it?
I just launched my blog in August 2015, so it's only been three months and my main focus has been on getting the content right and growing my audience. I think monetization is a possibility in the future, but that isn't my short-term goal. I don't want to lose focus of the main purpose, which is to share experiences and valuable lessons from my travels.
What advice would you give to other women who are interested in launching a travel blog?
I would say, just do it. Don't make excuses. There are ample articles and books on how to start a blog and what are the best tools to use. Learning by trial and error is the best way to really know what you want and understand the niche that you choose for your blog. And lastly, read other travel blogs. Read and communicate with other bloggers whenever possible in order to learn from those that have gone before you.
A Conversation with Blogger Nidhi Alberti