24 Hours in Malta: A Conversation with Danielle Tackoor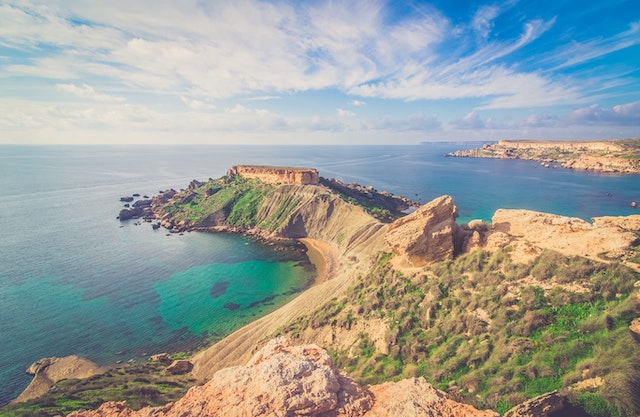 This month we're interviewing women from all over the world and asking them about their experiences traveling to Malta. We had the privilege of speaking with Danielle Tackoor about her experience traveling through Malta. Here's a glimpse into our conversation.
Tell us about yourself! What do you do when you're not traveling the world? Where do you live? What made you decide to go to your most recent destination?
The return address on my luggage is San Diego, CA. When I'm not traveling the world I enjoy paddle board yoga and eating California burritos. I took a 14-day Celebrity Cruise around the Mediterranean and Malta was one of the ports of call. Before going to Malta, I had only heard of it in passing.
How long did you go for? How did you spend your time?
I was only in Valleta, Malta for one day but I made sure to make the most of those 24 hours. My day was spent by taking a city tour of the capital city. I made stops at St. John's Co-Cathedral, the Grand Master's Palace, the Upper Barrakka Gardens and Saluting Battery, the Parliament Building, and the City Gate.
What were your most memorable experiences? What were the biggest disappointments?
My most memorable experiences were visiting St. John's Co-Cathedral and the Upper Barrakka Gardens and Saluting Battery. St. John's Co-Cathedral is the home of the Knights of Malta. Aside from the church's beauty, you can also see armor from the knights. The Upper Barrakka Gardens offer the most breathtaking panoramic views of the Grand Harbor. The biggest disappointment of my trip to Malta was that I didn't have enough time to explore the island. I would have loved to visit other towns like Mdina.
What do you wish you knew before you went?
I wish I knew more about Malta's rich history. I would have also liked to know more about where to eat in Valleta.
Any favorite restaurants/hotels/hostels/sites you'd like to recommend? Tell us what made them great!
While I didn't get the opportunity to enjoy the restaurants in Malta, I have heard Medina, a Mediterranean restaurant is one of the best in Valleta. The restaurant is located in a medieval townhouse. They offer outside dining in a garden courtyard. They serve Maltese, Italian and French dishes.
Is there anything that women specifically should know before they travel to your destination?
Malta is a Catholic island. Before going into any church women should wear church-appropriate clothing such as covering your shoulders with a scarf or a shirt with sleeves on it. They should also wear pants that cover their legs or skirts/dresses that go to their knees.
Photo credit by Unsplash.