Luxury in Tuscany: In Conversation with Sandra Cemulini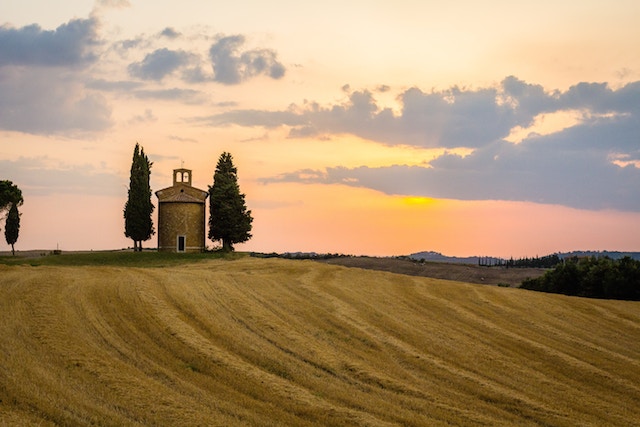 This month we're interviewing women from all over the world who started their own tour company. We had the privilege of speaking with Sandra Cemulini about her experience hosting tours in Italy. Sandra talks about living in Italy and shares her tips and experiences from starting her tour company Luxury in Tuscany. Here's a glimpse into our conversation.
Luxury in Tuscany: In Conversation with Sandra Cemulini
Tell us about yourself! What do you do when you're not traveling the world? Where are you from? Where do you currently live?
I was born in Buffalo, NY, grew up in Switzerland, and currently live in Florence, Italy. When not traveling I like to spend time visiting my children who live and work in NY and California. I love cooking, wine tasting, and enjoying my hobby of mosaic artwork.
What first inspired you to start your tour company? What's your company's mission?
I've lived many years in Florence and love it; I really enjoy sharing with others the "insiders experience". After a great experience working as concierge for a villa rental agency here in Tuscany, I found that although people were staying in these enchanting villas in the Tuscan countryside, they really did not know what to do or where to go once here.
This inspired me to have them visit friends of mine who were artisans, artists, chefs, winemakers, etc. The mission of Luxury in Tuscany is to give the experience of meeting and seeing these people at work (ie: how a shoemaker makes a bespoke shoe, a goldsmith create a filigrana bracelet, a chef a cook a homemade meal). Basically bring them in touch with our country and learn about the culture from the point of view of the people who love what they do.
What are some of the challenges you've experienced in running a tour company? What are some of the highlights?
Challenges are making sure that we create the experience that is best tailored for each group, but that is why we spend the time before the trip to make sure we understand what our group would most enjoy. The highlights are when we hear back from both traveller and artisan and/or host, and how they truly made a connection. When there is a conversation, an exchange between two different cultures, both are enriched by the experience. This is what we aim for.
How have you spread the word about your tours?
Word of mouth is our main form of advertising. During our off months, from November to March I travel throughout the United States. I offer cooking classes, wine tastings, and cultural events where I talk about food, wine, art, and culture of Italy. From these events we garner interest in our trips.
What do you wish you knew before starting your company?
When we started we were pretty well immersed in both the business end and the public relations side of it. We would definitely recommend that one spend the time to get to know service providers.
What are some of your company's upcoming tours/trips?
We are very excited to offer tours to the lesser-known regions in Northern Italy and Southern Switzerland. There are so many gorgeous areas that offer history, art, delectable food and wine, that people do not even know about. Friuli, Emilia-Romagna, Ticino…we love bringing them into these unexplored areas!
Are there any tips you'd give someone else considering starting a tour company?
Yes, it is so important to have a personal relationship with your service providers. Every interaction your customer has with them will reflect on your company. You want to make sure that they are trustworthy and truly reflect your companies values.
Photo credit for Luxury in Tuscany: In Conversation with Sandra Cemulini by Unsplash.