Why I Moved to Lodz, Poland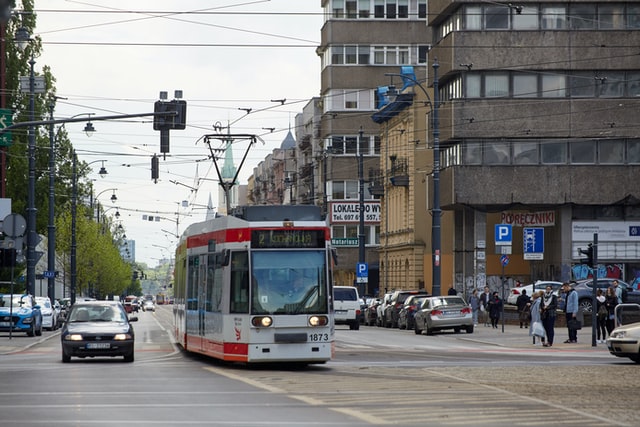 I arrived in Lodz on the 25th of April 2015. I chose to come to Poland because I was offered a job in a customer service company here in Lodz. I had just graduated with my second B.A. and M.A in Anglo-American Literature and Spanish at Ca' Foscari University in Venice when a friend said, "Hey, not try applying to this recruitment agency and see what they can offer you?" I agreed and I was very excited about the idea.
At the time that I was offered the job, I had been babysitting for a family in Venice for several months. It was a job I enjoyed, but it wasn't a permanent position. The kid was great, and I was even able to go on a trip near Lake Garda with the family. Before baby-sitting, I had worked as a substitute primary school teacher for three months, and had enjoyed that job, too, but unfortunately the position was temporary. So, for a while, I found myself jobless after earning my second B.A. My mother, with whom I'd lived, had just died and I had been left with no means to support myself. Fortunately, thanks to my friend, I was able to find a job in a company in Lodz.
I actually enjoy the long rides because they allow me to see the landscape, which changes as I go from one country to another.
I had travelled to Eastern Europe before with my mother, as well as by myself, and had a few friends there. However, I did not know anyone in Lodz or in Poland. I also had a long history of extensive travelling all over the world so the change did not scare me. Of course, I was very attached to Venice and to the climate, but I did not think twice. The only thing that scared me was the weather because Poland is well-known for being a particularly cold country. However, I had lived in Massachusetts for four years and experienced heavy snow during the winter, so I was accustomed to really cold weathers. I told myself that it could not be any colder than Massachusetts. Also, while in Massachusetts, I had travelled to Montreal, Canada during spring break and I had survived even though it was really freezing, so I was prepared to come to Poland.
I told my friends and family about the job offer and I packed one piece of luggage. I did not want to fly because flying makes me nervous, so I looked at the bus schedule to Poland. I was used to long trips by train. I have travelled by train to Slovakia, England and as far as Ireland and Sweden. I actually enjoy the long rides because they allow me to see the landscape, which changes as I go from one country to another. So within a week, I had organized my bus schedule and I had already found a room to rent through a series of websites that the recruiting agency sent me. I was a bit nervous about renting a room alone but I told myself that it would be okay. I had only had beautiful experiences in Eastern Europe and so had my mother, so I was not too concerned.
However, I was worried about leaving my house without anyone to check on it but luckily I was able to leave the keys with a friend. She promised to check on it for me from time to time. The world was going to be my oyster since I was left alone in the world, without any parent to rely on. Thus, my adventure began.
I travelled for eighteen hours by bus to reach Lodz. I was very tired when I arrived, even though I had been able to get some sleep on the bus. With another guy, whom I had met on the bus and who, by chance, would be working at the same company that had hired me, I took a taxi together in the evening. We had both booked a hostel for the first few days, and we asked the taxi driver to bring us there. At the hostel, I met guys from Ukraine who had been living in the hostel for months.
After two days at the hostel, the guy who was renting a room came to fetch me. I lived with him for six months and then moved to another apartment. I lived in a quiet area in the North of Lodz with beautiful parks. Luckily, it was the end of April so the warm season was about to start and I was able to enjoy the parks and to jog outside. In May, the flowers bloom in Lodz and you can see many pink flowers around the city. They create a beautiful atmosphere.
I really enjoyed the summer in Lodz. I went out for drinks with my friends and I jogged during weekends. The warm weather encouraged me to overcome my difficulties and homesickness. By the time winter began I was already accustomed to the city and I had made some really good friends. So, I decided to stay in Poland.
Photo for Why I Moved to Lodz, Poland by Unsplash.