Tips for Spending Time in Lodz Poland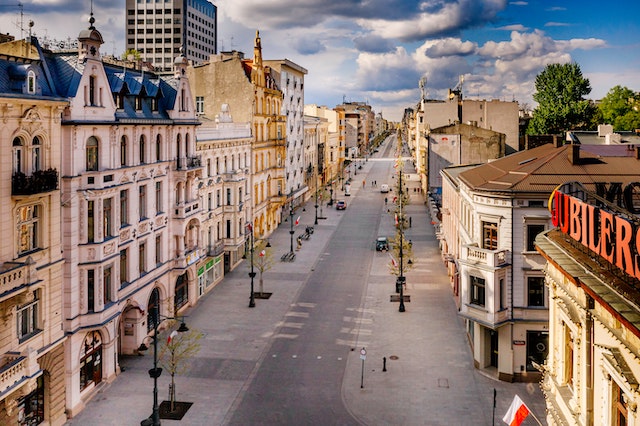 In my experience, Lodz is a very safe city for women. Polish people are very kind and are always willing to offer help. You can ask to anyone for directions and they will do their best to send in you in the right direction. When you first arrive in the city, it's a good idea to go to a hostel. There they will be able to give you information about the city and also give you a map.
There is a hostel located on Rewolucji 1905r, street number 48. It is located near the most central street of Lodz, Piotrokowska. It is the cheapest hostel in the city and it is comfortable and safe. If you want to spend a bit more money you can go to Hostel Flamingo, located at the crossing between Piotrokowska and Narutowicka Streets. Both hostels have free wifi.
If you want to stay longer than two weeks in Lodz, it's a good idea to look on Poland's Gumtree website. There you can find a mezschania, the Polish word for flat. You will probably want to be looking for a pokoi, the Polish word for room. Beware that most ads are in Polish, so you will have to use Google translate or a Polish dictionary to rent a room!
In my experience, renting a room in Lodz is perfectly safe. If you want to spend around 700/800 zloty per month and live with a lot of people you may want to rent in the city center, around Piotrokowska. You may be able to find a room for this price on Piotrokowska Wtreet. However, if you like a quiet environment and peace and wish to share a flat with just one person, you may choose to rent in areas further from the center. Many people rent in Baluty, an historically working-class area. Dabrowa, Widzew and Gorna are also good districts.
Lodz is a very welcoming city to everyone, and a place where women can spend their holidays or come for a longer period without any worries.
All these areas require you to use public transportation to go to the city center. If you rent far away from the center it is definitely cheaper, but of course you have to pay for the monthly transportation card, which costs around 80 zloty per month. It is cheaper if you buy it for three months.
As far as supermarkets are concerned, you can find everything you need in Biedronka or Tesco. There are Biedronkas pretty much everywhere. Other supermarkets are Kaufland, Auchan, or Piotr and Pawel.
Several Facebook groups, such as 'Lodz for foreigners', are definitely very useful. There you will find a community of expatriates who are willing to give you a helping hand and to share their experiences with you. They will be able to tell you the average salary in Lodz, and which companies are currently hiring. They are often willing to refer you to their own companies, as well. If you speak English plus another language, it is very easy to find a job in Lodz and you get a range of benefits, like a Multisport card and free medical insurance.
There are lots of places to go out and drink wine or beer in and around Piotrokowska Street. There are also some good Mexican restaurants around Piotrokowska, which are very tasty and decorated in a traditional Mexican style. They come with the highest recommendation: I have a Mexican friend who often eats in these Mexican restaurants.
I have read some statistics that Poland ranks very highly in the number of female managers, so you may experience less of a "machismo" culture than in some places. The biggest problem in Lodz is that it can reach minus twenty during the winter! It can be quite tough on the body, and I have found it's good to drink lots of orange juice. Lodz is a peaceful city, and very nice to live in. It is a very welcoming city to everyone, and a place where women can spend their holidays or come for a longer period without any worries.
Photo by Unsplash.