A Polish Perspective on the London Food Scene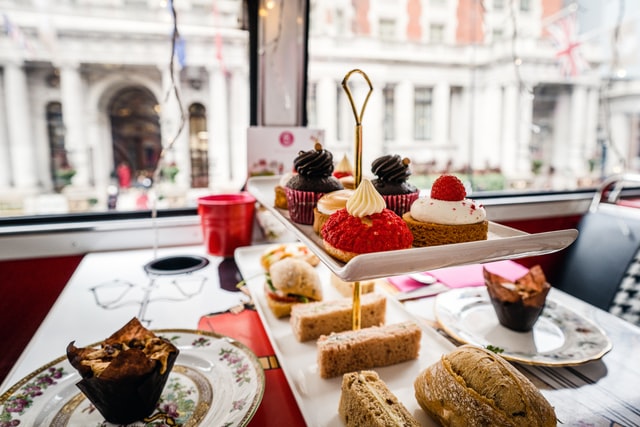 In Poland I wouldn't go to restaurants that often, usually only when there was some special occasion like a birthday, anniversary or graduation. There were a couple of reasons for this – restaurant prices, a staying-in culture and a small variety of places to go to, just to name a few. Londoners' food habits are slightly different to the ones I was used to. A switch to the culture of going out, enjoying what London has to offer and getting used to the overwhelming amount of restaurant choices was a big one. Here are a few things that I've learned about the London food scene, from my specifically Polish perspective!
A Polish Perspective on the London Food Scene
Meal times
In Poland there are three main meals: breakfast, dinner and supper. I'd eat dinner somewhere around 2 and 5 pm, and it would be my main meal of the day. My dinner would be soup and a portion of meat or fish with some potatoes and vegetables. I would eat supper around 8 pm, usually 1-2 light sandwiches.
In England the timing is slightly different. Here people tend to eat lunch between 12 and 3 pm, usually something light like a salad, sandwich or soup. After work, around 6-7 pm, is dinner time, the main meal of the day and not too light (in my view). Very often, probably around 2-3 times a week, you might go out for dinner. There are so many restaurants you can choose from in London, that you need to at least have an idea on what you fancy eating that day – Japanese, Chinese, Italian, French cuisine…?
People know so much about food

The thing that struck me first when I moved to London was how much people know about various world cuisines, and how many restaurant recommendations they can give you right on the spot. If you ask an average Polish person what they know about Asian cuisine, there is a high chance that you'll receive a vague response about noodles and spices. In London, people talk about food from all over the world as if they really know what's it made of, what spices are used, how to prepare it, and where to find good place to eat.
How do they know all this so well? First, the UK is so much more diverse culturally than Poland. Cultures mix here and interact with each other. There are plenty of food markets, where food from all over the world is sold by natives to those places. The three that I recommend for lunch are the Borough Market (south-east London), Portobello Market (central London) and KERB Camden Market (north London).
Another reason for Londoners' extensive knowledge is that they simply have so much choice of restaurants they can go to, a much bigger choice than we have in Poland. This in turn encourages people to go out and explore what London has to offer.
The longer you live here the more great places you keep finding! You also start to realise that quite a big proportion of your social life happens outside of home. It's more popular to go out for dinner than inviting someone over for a couple of drinks and nibbles.
Here are some of my favourite dinner places in central London:
Brasserie Zedel – ideal if you'd like to get the feel for a French style. Beautiful interior, fresh and yummy food.
The Bamboo Flute – if you'd rather Chinese, make your way to The Bamboo Flute. It's a tiny little restaurant with just a couple of tables, but run by Chinese people who prepare great food and educate you about what's on your plates! Make sure to book a table in advance.
El Pirata – fancy some Spanish tapas? Pick a set menu for 2-3 people and enjoy the feast! Portions are big and thanks to the set menu you can try many things.
Want to go for drinks before or after dinner? These two are really cool to see:
Opium – interesting, mysterious and smoky feel. Nice to just go there for drinks, but equally good if you crave food, such as dim sum.
Archer Street – nice cocktail bar with singing bar staff! Not the cheapest, but you're essentially paying for the music as well as drinks.
The concept of brunch
Another thing I find different about London food scene is brunch. You usually have it on Sundays between 11 am and 2 pm, and it's basically something between breakfast and lunch. When I was in Poland I never called it this. You either eat late breakfast or early dinner. The idea is the same – we just didn't ever call it brunch in Poland! In London I enjoy the variety of things you can get for brunch – from fruit, buns or scrambled eggs to pancakes or fish & chips. As Poland becomes more and more western, brunch as a concept has gained popularity there too. You can find a brunch menu in more and more places.
Adapting to the novelty
I was truly surprised that such a small thing as typical meal times was something I needed to adjust to the most. Turns out that changing your food habits can be quite hard, and can be a main goal when adjusting to a new culture. It's amazing how differently you start thinking about cultural differences when you can actually start experiencing them. The challenge for me was that my body wasn't really prepared to eat big meals in the evenings; when I did, I had trouble sleeping well. I therefore started going out for dinner only over the weekend, when I knew I could stay late and catch up on sleep the following day. This also meant that brunch was a very reasonable option when you wake up at 11 am on a Sunday!
Slowly but surely I managed to start discovering what London food scene has to offer thanks to opening to that lifestyle change.
Photo for A Polish Perspective on the London Food Scene by Unsplash.