Nature Spotting on the Shetland Islands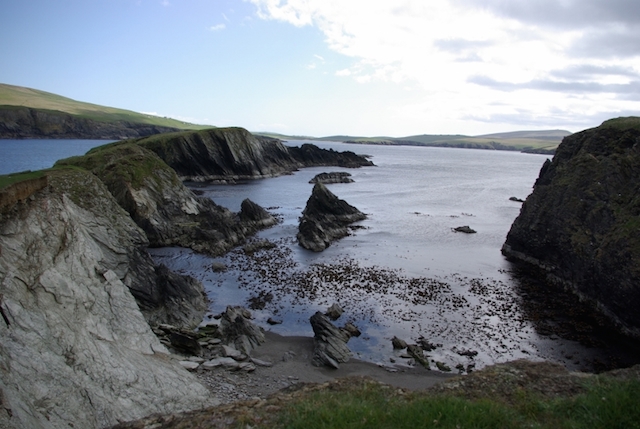 I struggled through the sand towards the sea. Past a bank held together with coarse sea grass was the ocean, a blue expanse stretching out to the matching sky. The beach at Spiggy Cove was almost empty, but out of the sea came a neoprene clad figure hauling a net bag behind him. I pulled down my woolly hat, pulled off my gloves with my teeth and prepared my camera to capture the moment. Each day of my visit to the Shetland Islands, north of Scotland, was filled with surprises.
I was on Fetlar, one of the Shetland Islands. I live in the north of England and when planning my trip my first thought was to drive to the islands. Then I checked the map. The Shetland Islands are closer to Iceland than they re to London, and have more cultural links to Scandinavia than to Britain. So I decided to travel by plane.
In early June the sun rises at 3am and sets at 1am. Without the setting sun to remind you of passing time, it's easy to get lost in nature's reverie
The archipelago stretches over a hundred miles from north to south.  A windswept lowland with a frayed coast of jagged cliffs and coves is washed with white frothy waves. The surreal shapes of Esha Ness are broken by quiet bays where seals bask in the slight warmth of summer sun.
Transport around the Shetland Islands is easy. Buses and ferries link the jigsaw together with timetabled efficiency, and car hire is easy. Nature, however, can catch you out. In early June the sun rises at 3am and sets at 1am. Without the setting sun to remind you of passing time, it's easy to get lost in nature's reverie, and forget that ferry skippers and bus drivers have a home to go to.
More than once I found myself dashing for the last bus back from an outlying isle. The bright panoramas belied the cold wind still blowing in June, but I could cope with that.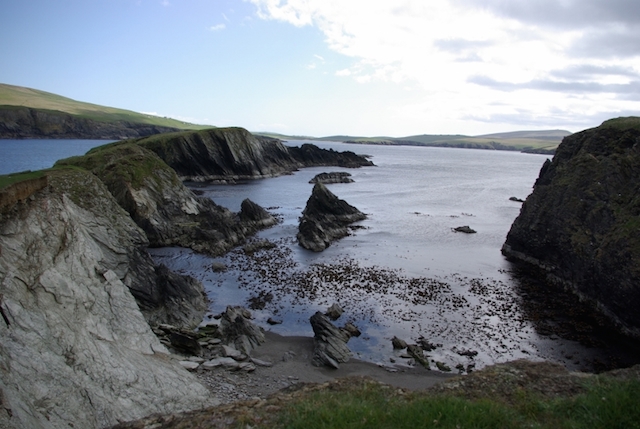 The clear, clean water of the Shetland Islands is rich with life. The man with the bag showed me corrals, shells and fish before they were returned from their brief captivity. Wildlife is as rich on land as beneath the sea. Tiny Fetlar is only four miles at its longest point. From Lerwick, on the mainland, it is 40 miles or so and two ferry crossings. The coast unfurled with unexpected bays, dramatic drops, shapes and chasms. Tiny lochs are home to red-necked divers and wading birds.
Trails are unclear and infrequently used. An occasional blue marker shows the way, but generally it's necessary to trudge across spongy peat and heather. At the beginning of the week I was rather concerned about straying off course, but after a few conversations with friendly locals I established that as long as I respected wildlife and farm animals, and closed gates behind me, I wouldn't encounter any shotgun-toting landowners.
Puffins potter over the cliffs on the mainland at Sumburgh, taking little notice of humans as they go about the serious business of keeping their nests clean and fishing to feed their families.  Fulmars, cormorants and Skuas swirl overhead, sticking close to the rich larder of the North Sea. Sea campions spread over the southern cliffs in a carpet of colour.
Unst, another two ferries north, hosts the third largest breeding colony of Great Skuas in the world at Herma Ness. These massive birds, locally known as 'bonxies', are not shy of humans. They'll swoop upon a tourist boat and steal a biscuit before you even know it's gone. Nests dot the moorland and, as I discovered, it does not pay to get too close. Great Skuas perform a good aerial attack.
Nature Spotting on the Shetland Islands
Thousands of pretty puffins live alongside the Great Skuas. Unlike in Sumburgh, here they were not out enjoying the sunshine. Living by a Skua colony is the puffin equivalent of living in a war zone. Great Skuas attack until they drop their catch of food, take fledglings and, if all else fails, will take adults too. I would not sunbathe on my patio if there were snipers around, either. The odd few puffins I did see made a quick landing and headed straight into their burrows, or popped out for a quick look before a fast take-off to the fishing lanes.
The Shetland Islands may not be tropical, but they are a wildlife paradise: wading birds scurry around the beaches; Arctic Skua tried to avoid being mobbed by nesting oyster catchers; terns fished with an agility that defied their recent flight from Africa. On land you may spot an otter, and the mischievous ponies will taste your coat or car if you linger too long. Stop at any cluster of houses and you'll find an enterprising lady who's opened a tea room, where you'll be tempted by delicious cakes. A fitting end to any day spent exploring the natural wonders of the Shetland Islands.