South African Safari: The Real Deal With Kiera Reilly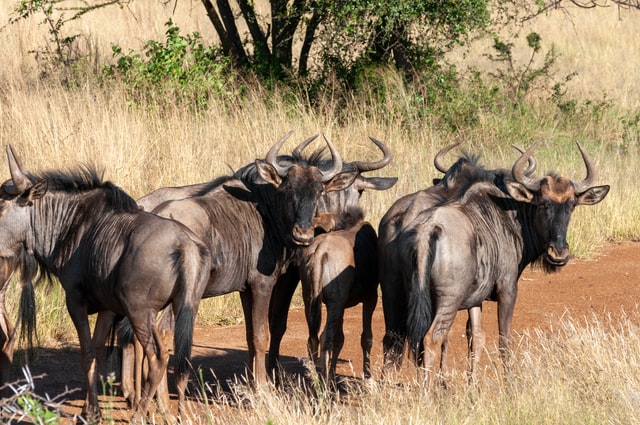 Kiera Reilly shares her insider tips for going on a South African Safari.
Tell us about yourself! What do you do when you're not traveling the world? Where do you live? What made you decide to go to your most recent destination?
I am a alumni relations (higher education) and marketing communications professional with a specialty in social media and several years experience managing the alumni travel program for a university. My home base is in Southern California – Redondo Beach to be exact. I enjoy exploring the world and am particularly interested in learning more about coffee, whisky and gin, and I avidly follow Formula 1 racing and the Olympics. My trip to South Africa was with an alumni association group. I had not visited the African continent before this trip, so that was some of the impetus for joining this particular itinerary, as well as my desire to evaluate the tour operator we had contracted for the tour.
How long did you go for? How did you spend your time?
We were in South Africa (with trips to Zambia and Botswana) for two weeks. I flew to Cape Town ahead of our group's arrival to explore on my own. I enjoyed walking around Cape Town's downtown business area and exploring the harbor area. A guided group tour to the township of Langa was eye-opening – the cities of South Africa are beautiful and modern, but a trip to these areas showed that South Africa is still a third world country. The District Six Museum in Cape Town told the story of one neighborhood disrupted and destroyed by the government. After a few days in Cape Town, with visits to the wine country, Robben Island and Cape of Good Hope, we headed to Livingstone, Zambia, to see Victoria Falls and take a day trip into Chobe National Park in Botswana. We returned to Johannesburg to see the city, the apartheid museum, Soweto and the Supreme Court. The remainder of our time, three nights, was spent on safari in Kruger National Park.
What were your most memorable experiences? What were the biggest disappointments?
The entire trip was memorable and remains one of the trips I cite when people ask, what's your favorite place you've ever visited? Everywhere we traveled throughout the country, I was amazed at the beauty of the landscape, something I had not considered before my trip. There was also music wherever we went – groups of a cappella singers at the beach, when we arrived at hotels, as we were walking around, leaving a restaurant – all providing beautiful harmonies and African songs. It provided a soundtrack for our visit and for my memories.
We were fortunate enough to connect with a justice on South Africa's Supreme Court, and she arranged for us to tour the court and the justice's chambers. There we saw Justice Albie Sachs who had fought against the apartheid regime (and lost his arm in a bombing).
When we were in Zambia, the power, force and beauty of Victoria Falls was mesmerizing. Journeying from Zambia to Botswana, with a river/border crossing was fascinating. While I knew that the end of our tour included a few days of safari, I didn't think much of it, other than it was a bucket list item to check-off. And then we arrived and went on an afternoon game drive, and I was entranced. The beauty of the landscape, and the amazing sunrises and sunsets was breathtaking.
South African Safari: The Real Deal With Kiera Reilly.
But the animals stole the show. Watching hippopotamus bathe, giraffes graze, and lions roam was other-worldly. And when we weren't looking for the famed "Big Five," we were bird spotting, which was almost more magical to try to spot these small, colorful creatures before they flew to another branch out of our sight.
After the morning game drive, our guides offered to take us on a bush walk in the late afternoon. Most of the animals were resting during the heat of the day, but it was quite an adrenaline rush to be walking through the bush without a vehicle. In one instance, a rhino was near our group, and sensed our presence (and we sensed his). We were instructed to hide behind a tree if he were to charge as they are so large he wouldn't be able to turn quickly and get to us. Our guides had rifles with them, but it was still somewhat unnerving to be out walking in the bush. Also, the stars at night were amazing.
What do you wish you knew before you went?
In hindsight, I wish I knew more about how to operate my DSLR camera and how to take better photographs. While I did manage to capture some good photos, I also have many not very good pictures which don't do justice to the wonders I saw with my own eyes. The anti-malaria medication I took before heading off on safari made me sick, and I learned after I returned home that I had incorrect instructions about when to take each dose.
I did learn about electrolyte replacement powder thanks to my intestinal issues and now carry some of the packs that our guide purchased for me on this trip whenever and wherever I travel. Earth tones are best for safari clothing. White is not – both for the dirt factor, and for being not noticed by the animals. It will be hot. You will be sweaty. Bring light weight/quick drying clothes that you can wash/rinse in your hotel room and hang to dry.
Any favorite restaurants/hotels/hostels/sites you'd like to recommend? Tell us what made them great!
The Mount Nelson Hotel in Cape Town was a classic, grand dame hotel that exuded old world charm. The West Cliff in Johannesburg offered beautiful views, an inviting pool and impeccable guest services. The Shishangeni Private Lodge was adjacent to Kruger National Park which offered views over the savannah. I had my own spacious air-conditioned chalet with a private bath tub, outdoor shower and a game-viewing deck.
In terms of sites I would recommend Cape Town, Robben Island, District 6 Museum, a township tour, Boulders Beach for the penguins, Table Mountain Johannesburg, the Supreme Court, Soweto and the Apartheid Museum, Livingstone, Zambia, Victoria Falls, and Kruger National Park. I would also recommend a bush walk which provides a different perspective.
Is there anything that women specifically should know before they travel to your destination?
I was advised to arrange for a car to meet me at the airport in Cape Town (rather than picking up a taxi when I arrived), and I followed that advice by booking a car through my hotel. The hotel also advised that I should only use ATM machines inside banks – not ones on the street – and that I should not walk around alone at night. I imagine this advice would be applicable to men and women, but as a woman traveling by myself for the first portion of my journey, I took the advice of the tour operator and my hotel when they made these suggestions.
Our tour director told me that white South African men are quite chivalrous. As an American, my guard is always up when someone offers to buy a drink…or in the case of our safari guides, walk me to my hut/room. In hindsight, after encountering a group of rather large looking bugs by the light outside my door, I wish I had accepted the offer of a walk to my door as simply a walk to the door.