Argentina in My Blood: Part II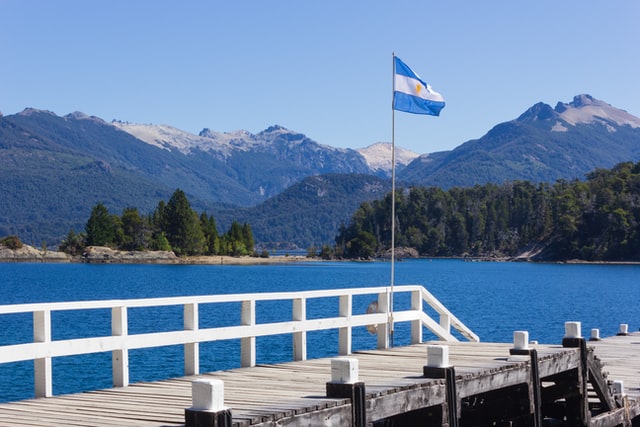 Missed the first installment? Read 'Argentina in My Blood: Part I' here.
Just the two of us, father and daughter alone again, headed back to the Big Apple of the south: Buenos Aires. For two days we rested at the modern hotel Axel, in the trendy district of San Telmo. Axel has not one but two swimming pools. The rooftop salt-water pool has a glass bottom; it allows anyone below, on the fourth floor, to have an interesting view of swimmers in the skylight.
Our visit to Rosario had us grounded, and now it was time to venture to new places. We bought at air ticket to Calafate. Just north of Ushuaia, Calafate is part of the southernmost tip of Patagonia. The attraction of this freezing place is the most beautiful and fastest growing glaciers in the world, Perito Moreno. The plane was affordable, at around $100 per person, but it felt as though we were sitting in an icebox as it was not insulated. It shook and bumped the entire way, and I felt uneasy about the age of the plane and the weather conditions. The seatbelt was rusty, the armrest was broken and housed a stained cigarette dispenser. To my right, shrouded in a blanket, my father was fast asleep without a worry. I gave him a shake, as I didn't want him to miss the stunning view that broke through the white mist.
Upon landing, all I could see were vast plains of snow, the Andean mountains and the majestic, turquoise, milky Lago Argentina. In the distance a small town was lit with cabins and smoke from fireplaces. Surrounding the town was a white blanket of snow-filled plains from a recent storm.
In that moment I felt small yet triumphant, staring towards the end of the world. If we can make it to the tip of South America, then there is nothing we cannot do.
We checked into a trendy hostel, Che Legarto, and quickly booked our tour to Perito Moreno. Our host was a red-headed Argentinean with a hang-loose way about him. My father and I decided we better gear up for Perito Moreno, and found it was cheap and affordable to rent proper snow boots and clothing.
That evening I ate lamb for the first time, and enjoyed it. Cooked to perfection, it was tender, juicy and full of flavor, enhanced by a glass of Malbec. We feasted at La Posta, a cozy, classy cabin restaurant just a short walk from our hostel.
Early the following morning we were picked up by a minivan, along with adventurous honeymooners and a mixture of South American tourists. We drove for what seemed like hours on a winding road to a ferry. A few stops were made across the freshwater to take photos. At one point my father and I built a snowman; we found broken sunglasses on the ground and placed them for eyes, stones made up the crooked smile and sticks in place of arm and nose. We watched as crowds began to form around the messy pile of snow, taking pictures in front of the distant view of the glaciers.
We approached the glaciers by ferry. At the entrance to the national park there is a stunning view of the glaciers, where you can sit and watch them groan and crumble. We began to hike through black pebbled beaches, towards the mountains crowned in ice and hollowed-out caves. The sun was breaking through the clouds, extending rays of light onto the black shoreline. At the foot of the glacier we were given snowshoes, which resembled bear traps being strapped backwards onto the soles of our boots. Following our guide, we began to hike to Perito Moreno.
The floor of powdery snow glittered in the morning sun. Slush dissolved a few feet beneath each footstep. I lifted my heavy legs. We trudged single-file behind our guide. Like a row of ants on a sheet of paper we walked across the top of the mountain, peering into light blue holes beside our trail of footprints, hinting at the frozen dangers that lay below.
After an hour of snowshoeing we came across a wooden chest. From it our guide pulled out a bottle of whiskey and a basket of alfajores, Argentinian cookies. His partner dug his snowshoes up an icy wall, thrust his ice pick at the wall and collected chunks of ice into a champagne bucket. The guides prepared glasses of whiskey with glacial ice for everyone, and toasted their gratitude to God for creating this national park, and for the safe passage of the travelers who had made it there today.
"¡Salud!" We hugged, cheered and clinked glasses. Pictures were taken on a cliff's edge, and we all sat on the mountaintop looking in awe. One direction welcomed us with views of the national park; the view in the opposite direction instilled fear in me, as it revealed a river of ice that flowed from the separating mountains of the Andes and Antarctica. I remembered a sentence I'd read in my tour brochure: "The glacier is larger than the city of Buenos Aires and is still growing."
In that moment I felt small yet triumphant, staring towards the end of the world. If we can make it to the tip of South America, then there is nothing we cannot do.