Traveling with My Dog: A Conversation with Belinda Jones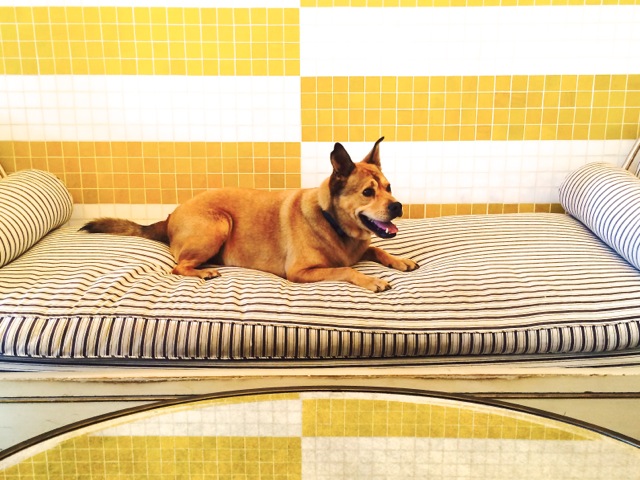 Thinking about traveling with a dog? Belinda Jones shares here advice here.
Tell us about yourself! What do you do when you're not traveling the world?
My name is Belinda Jones and I'm a British magazine journalist turned author, primarily of travelicious chick lit novels set in such dreamy destinations as Capri, Costa Rica and Tahiti. Each book can also double as a travel guide, if you felt inclined to follow in the wayward heroine's footsteps!
I actually learned to drive so I could visit some of the locations in Bill Bryson's The Lost Continent and that trip inspired a road trip memoir called On The Road To Mr Right: The Search For The American Dream Guy, which had my friend and I visiting places with love or romance in their name, such as Kissimmee (Florida), Cazenovia (New York) and Darling (Mississippi)! This book became my one and only Sunday Times Top 10 Non-Fiction Bestseller, and it actually hit the chart the same week as Bill Bryson's new book, so that clipping was an absolute career highlight for me! (It's all been downhill ever since!!)
Where are some of the places you've traveled with your pet?
My dog Bodie and I have visited 30 US states together (including living for several years in California and Virginia) and now we're exploring a rather muddier world in Devon, in the UK. I remember the first time Bodie ran into the sea here – he shot out like a bullet, as it's not quite the warm waves of the Atlantic! Though he does enjoy all the woodsy walks in Agatha Christie country, some of the places he's had the most fun are the expansive dunes in America – the White Sands National Monument in New Mexico is spectacular: 275 square miles of crystalline gypsum.
Then there's the Oregon Dunes – you start off in forest, trek what looks like the Sahara and then arrive at the ocean. Two of the most colorful places we've visited have been Salvation Mountain near Palm Springs and the Cadillac Ranch near Amarillo – ten vintage Cadillacs nose-deep in Texan dirt that you are free to graffiti with your dog's name!
What was the process like for taking your pet on your travels? What did the destination require you to do?
Driving around the US is no problem provided you plan ahead and research dog-friendly accommodations and restaurants. One of the reasons I started our dog travel blog, BodieOnTheRoad, was that I'd find the comprehensive lists of places to stay overwhelming and wanted to narrow it down to stylish venues that offer a little something extra for your dog, be it treats or nearby dog-themed attractions or the ability to leave your dog unattended in the room – this is rare but a great bonus if you want to pop to a museum etc.
One hotel that surprised me with this option was the glorious Broadmoor Hotel in Colorado. This is such dog heaven – aside from the picturesque walk around the hotel's lake, there is one of the biggest dog parks in the US just down the road, and Garden of the Gods is one of the most dog-friendly national parks, where you can fully explore the rugged red rocks, as opposed to being restricted to the road.
Flying Bodie from the US to the UK, on the other hand, was an absolute nightmare. You ideally need to start this process a good six months ahead of take-off as there are a myriad of factors, including vet paperwork and crazy-making deadlines and restrictions. One of the issues for us was the temperature – airlines won't fly pets if it's 80 degrees Fahrenheit or above, so we were constantly checking weather reports and re-considering routes.
Bodie hates crates (he's a rescue dog so he's only had bad experiences with them) and airlines are super-strict on dimensions, so make sure you get the accurate figures and try to convince your dog these metal cages are a fun place to hideout. Especially since they will be locked in them four hours ahead of departure. It's 11 hours from San Diego to London and I just couldn't bear the thought of restricting Bodie for 15 hours, so I decided to drive from California to Chicago to reduce his flight time to 7-8 hours. It seemed like a good idea at the time but I'm not sure he appreciated those two weeks on the road after all. And don't get me started on the expense…
Advertisement: Get a good quality dog seatbelt to keep your dog safe and get ready to have fun and enjoy your trip!
What were the expenses associated with taking your pet on your travels?
The main recurring expense is the pet fees levied by hotels. Kimpton Hotels is one of the best US chains because they spoil your dog rotten, often have Dog Concierges and yet don't charge a penny pet fee, which can soar as high as a shocking $175, as with the Avalon in Palm Springs. (But then they do allow your dog to join you at the pool and the spa, which is extremely rare!) I think $15-$30 is reasonable but you also want to check whether the hotel is charging you this per night or per stay.
Another expense I incurred (which I hope you will never have to) was the fee to release Bodie from a local animal rescue center in Newport, Rhode Island. We'd been staying in an Airbnb apartment and when I went to visit the non-dog-friendly Newport Mansions, Bodie found a window that had no lock on it, pushed it open and leaped down onto the street. Horrifying. Mercifully he was picked up by a kind student who called him in as a lost dog and we were reunited in a matter of hours.
Traveling with My Dog: A Conversation with Belinda Jones.
There are also occasional vet fees on the road. I've had to make impromptu visits in Oregon and Utah (best bargain in terms of fees in that state!)
The biggest expense was flying Bodie from the US to the UK. My airmile flight was $400. Bodie's was $2,400 and that was sat in a crate in cargo: no champagne, no reclining seats.
What sorts of obstacles, if any, did you run into?
For me the trickiest road trip obstacle in the US is dining on bad weather days. It's fine sitting on the terrace with your pup in the sunshine, but in the pouring rain you are reduced to steamy window in-car picnics with a wet dog, which is rather less lovely! One bonus of travelling in Europe is that many restaurants allow your dog to join you inside.
In Britain you are usually fine in the bar area of pubs, but in Switzerland and France, for example, dogs are welcome in many of the fancy five star hotel eateries. Total contrast to Utah where dogs are not even allowed on the restaurant patio. I even went into the tourism office in Moab to ask where we might be able to eat together and the woman looked bewildered and frowned, 'You want to have dinner with your dog?' I replied: 'Well not a romantic candlelit affair…' Either way, no go.
The other main thing to watch out for is breed and size restrictions enforced by certain hotels. I think this is obnoxious and ridiculous (not least because if you had a troublesome dog it's unlikely you'd travel with it) but you don't want to arrive at check-in and then get turned away because your roommate is a 100lb Rottweiler. Make sure you read the small print on the hotel's pet policy before you book a room. Interestingly, the Auberge Del Mar used to have a 15lb limit, which is about one of Bodie's legs, but then a new Great Dane-owning manager was appointed and now all dogs are welcome.
What are some tips you'd give to others interested in traveling with their pets?
Exhaust your dog the day – or better yet, the full week – before travel! You can either take your dog for a free-roaming run or check him/her into doggie daycare where he can frolic manically with other pups. After even a half-day session Bodie would be asleep before I'd even closed the door of the car, and therefore be much more relaxed and inclined to go with the flow on our trip.
Consider natural soothing remedies for travel anxiety – Pet Remedy's De-Stress & Calming range uses Vetiver and Valerian in a spray or a plug-in diffuser for the hotel room. I also give Bodie a peanut butter Kong if he's having trouble settling – he seems to like the posh hotels but gets a little restless in the less salubrious motels!
Invest in a good quality dog seatbelt – your dog's safety is paramount and if he's sitting upfront alongside you, you might want to consider Sleepypod's Clickit Sport Car Harness which holds a 5 star Crash Test Rating.
Plan ahead. It's nice to free-wheel when traveling, but with a pet pal there are a few aspects you need to research in advance: dog-friendly hotels, restaurants, the nearest vet and dog park to where you are staying, and then I always like to know if there is a doggie daycare I can drop Bodie at in case I need to have a meeting or go somewhere that doesn't allow dogs. A lot of these need advance warning with faxed medical paperwork and even personality assessments. I love Camp Bow Wow because they have venues across the US and once your dog is a member at one, he's welcome at all.
Is there anything else you'd like to share about your experiences?
Some of the happiest moments of my life have come from traveling with Bodie, so I highly recommend taking a trip with your dog, provided his or her personality is well-suited to adventure! Some dogs would be happier chilling and staying home with a pet-sitter, so you do want to consider that factor before you start loading up the car with Chuck-Its and retractable water bowls.
Photo for Traveling with My Dog: A Conversation with Belinda Jones by Belinda Jones.