Travel Botswana: The Real Deal with Lina Stock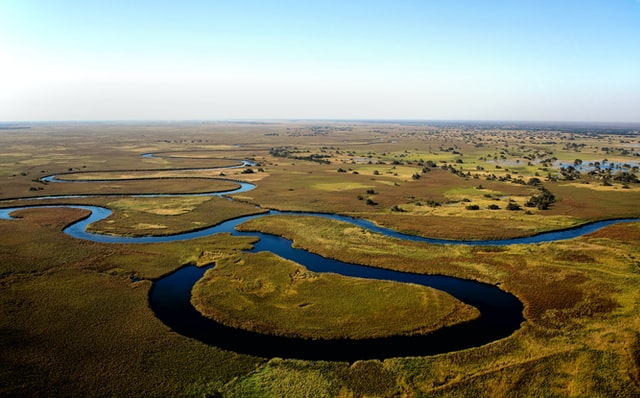 Ready to travel Botswana? Here are the activities and accommodations that Lina Stock recommends for your trip.
Tell us about yourself! What do you do when you're not traveling the world? Where do you live? What made you decide to go to your most recent destination?
My name is Lina and I am currently traveling the world full-time with my husband. When I am not traveling, I call Wisconsin, USA home. Africa has always been a dream for me, including our visit through Botswana on our 17-week overland trip from Cape Town to Cairo.
How long did you go for? How did you spend your time?
One full week was spent hitting some of the highlights of Botswana as we crossed the border from Namibia and then traveled to Victoria Falls, Zimbabwe. Our time in Botswana was spent firstly basing ourselves in Maun where we spent three days bush camping and exploring the Okavango Delta, the world's largest inland river delta. We then headed to an off-the-beaten track campground called Elephant Sands where we camped amongst elephants that frequented a waterhole near the camp. From there, we headed into Chobe National Park, one of the best game parks in Africa, for a river safari that turned out to be one of the best we would do in Africa.
What were your most memorable experiences? What were the biggest disappointments?
The most memorable experience was definitely camping at Elephant Sands and listening to elephants moving around our tents at night. You just won't have an experience like that anywhere else in the world! I also really enjoyed the river safari in Chobe National Park. We saw more elephants on that cruise than in all the other parks combined during our 17-week overland trip.
The biggest disappointment has to be the WIFI situation. As a digital nomad, internet connection is important and we routinely found a good connection hard to come by in Botswana.
Travel Botswana: The Real Deal with Lina Stock.
What do you wish you knew before you went?
That the people are amazing and that we needed to spend more than one week exploring this beautiful country.
Any favorite restaurants/hotels/hostels/sites you'd like to recommend? Tell us what made them great!
Okavango Delta: Even if you don't like to camp, I feel a visit to Botswana would be incomplete without including a visit to the Delta. Just allowing yourself the chance to be away from modern society and feel nature is worth the side trip.
Is there anything that women specifically should know before they travel to your destination?
Be mindful of the local culture and don't forget that even though the people in Botswana are great, it is still Africa. Don't go walking in the streets at night, even with a male companion, and be sure to dress conservatively. Make sure you bring enough feminine products, especially tampons, as they are near impossible to find in stores.
Follow Lina's travels on her blog, Divergent Travelers. Photo for Travel Botswana: The Real Deal with Lina Stock by Unsplash.