On Visiting Morocco During Ramadan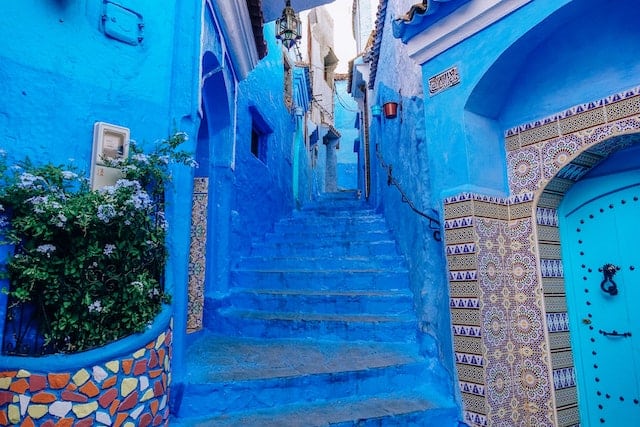 When I booked a trip to Morocco, my mind was filled with typical travel uncertainties: safety, transportation, and hotels. The potential challenges of traveling during the holy month of Ramadan hadn't crossed my mind. It wasn't until my friend suggested we pack granola bars in case food wasn't readily available that I began to question the logistics of traveling during this time. Would food be sold during times of fasting? Is it rude to drink water in front of those practicing Ramadan? Unfortunately, these doubts couldn't truly be answered by a quick Google search.
My friend and I began in Tangier, the northern city separated from Spain by a mere nine miles. On an unbearably hot day for two Minnesota natives, we boarded a bus sans air conditioning or working windows, and headed three hours southeast to Chefchaouen. Resisting the urge to take our water or snacks out of our bags alongside our exhausted and heat-stricken bus mates, we endured the heat and thirst until we arrived at our destination.
Sometime later that day, as we were wandering through the enchanting blue streets of Chefchaouen, the heat once again came over me. Still unsure of the cultural caveats, I dared to take a quick sip of water. My bottle had just reached my lips when a passing biker came to a screeching halt inches away from me.
On Visiting Morocco During Ramadan.
"Stop! Don't you know it's Ramadan?" he shouted at me. If it weren't for the twinkle in his eye that gave away that he was teasing me, this might have been enough of a fright to scare me back to the hotel for the remainder of the trip.
"I'm sorry! I forgot…" I stuttered back, not really sure of the correct response.
"Oh, my mistake, I thought you were Muslim and Moroccan," he replied with a wink, as I am very obviously not Moroccan. "See you later, alligator!" He shouted back as he biked away.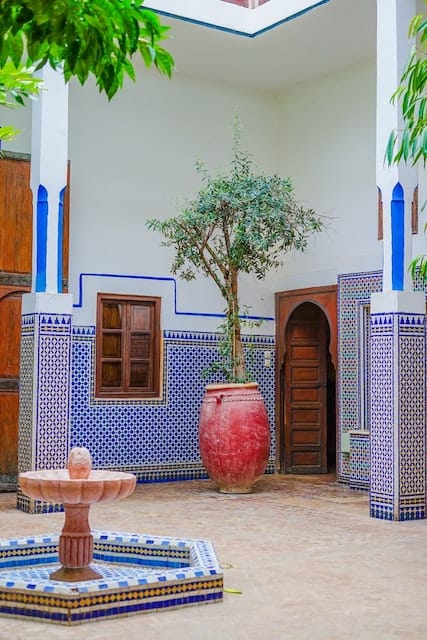 This encounter put me at ease, and was the first of many pleasant interactions with locals. That evening, we joined the other travelers and Moroccan staff in our guesthouse for a delicious post-fasting feast. It includedhalwa chebakia, a honey and sesame treat reserved for special occasions; msemen, square Moroccan pancakes; harira, a traditional chicken or lamb stew to break the fast during Ramadan; and rice with cabbage and squash. Like most Moroccan meals, it ended with mint tea and laughter into the late hours of the night.
My bottle had just reached my lips when a passing biker came to a screeching halt inches away from me. "Stop! Don't you know it's Ramadan?" he shouted at me.
I came to learn that although Ramadan is a time of resisting consumption of food and water during the day, the nights are focused on serving and enjoying the best dishes among family and friends. It's this contrast that intrigued me to ask to join in the preparation of the next day's meal. Starting around 4pm, Aziz, Sa'id and I took to the kitchen to prepare another delicious meal of chicken soup, cucumber salad, and vegetable curry with rice. For a few hours the three of us chopped, sautéed, and taught one another about our respective cultures. Aziz joked if the meal tasted bad it was my fault, as I was the designated taste tester throughout the daytime (and thus, fasting time) preparations.
I will remember the playful and joyful nature of Moroccans during Ramadan as I look back on my time traveling through this beautiful country. My doubts about being different were irrational; the Moroccans I interacted with celebrated our differences by teaching and welcoming us to the cultural and religious celebrations.
On Visiting Morocco During Ramadan.
There is no denying the strenuous difficulties of fasting in such heat, as our guesthouse owner Aziz told us. However, the spiritual rejuvenation and fellowship of the month make the difficulties worthwhile. This joy radiates throughout entire cities. As each night's end to fasting is greeted with an erupting roar of cheers, whistling and clapping.
So, to answer my original questions: yes, food and water is for sale during fasting times. In some places. And yes, you can eat and drink during times of fasting alongside practicing Muslims during Ramadan. Just as I wouldn't ask them to change their cultural and religious practices while visiting my country, they didn't expect us to fast while visiting Morocco.
I recommend anyone traveling in Morocco during this time to join Muslim people in their traditional Ramadan meals by cooking and sharing food together. You will be highly encouraged to do so. It is only by partaking in these experiences together that we can learn from each other and begin to let go of our fears of being different.