Making Music in Portugal: A Conversation with Lisa Graham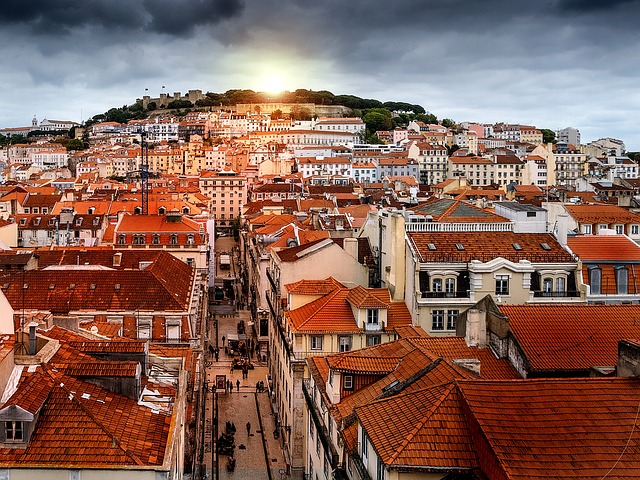 This month, we're interviewing women from all over the world and asking them about their experiences traveling to Portugal. We had the privilege of speaking with Lisa Graham about her experience traveling to and making music in Portugal. Here's a glimpse into our conversation.
Tell us about yourself! What do you do when you're not traveling the world? Where do you live? What made you decide to go to Portugal?
I make my home in Calgary, Alberta, Canada, right now. I just finished a Master's degree, play music, and have my very own company. My ultimate goal is to build up my company so I can play music around the world.
The purpose of my trip to Portugal was mainly to share information on the how science/engineering and music are related, with young students in Porto. It was a blast!
How long did you go for? How did you spend your time?
The trip included both Portugal and Spain, and I spent about a week in each country. Most of the time in Portugal was spent in Porto, teaching at local schools and holding a couple public lectures and concerts with three other people who were also both engineers and musicians. We were fortunate enough to have time to explore the city as well. There were lots of meals eaten, museums and local points of interest visited, and even a boat cruise.
After our tour of the schools was over, our group split up and my friend and I headed down to Lisbon for a couple days where we met up with a researcher, visited the Fado Museum, and briefly explored the city on the hop-on hop-off bus.
What were your most memorable experiences? What were the biggest disappointments?
Two experiences stand out as my absolute favourites from this trip. The first was playing at the schools. It was amazing to interact with the students in their day-to-day lives even though we were only there for a short period of time. The students practiced speaking in English while we were there, but the occasional Portuguese word leaked out, so it was wonderful to learn some of their language along the way.
The second was the venues we got to play at, including a church with major restrictions on the types of music played in it (it sounded amazing!) and debuting a piece I wrote at a museum.
Another highlight of my time in Porto was visiting the Port Wine Museum and learning about the culture. In Lisbon, I loved the Fado Museum, although there was constant fado music playing while we were there and I got a bit disenchanted. Needless to say, I didn't listen to fado for a long time after I returned home.
The biggest disappointment of my time in the north was that our accommodations were not in Porto itself (we were staying in Penafiel). We decided to stay in the city one day after our concerts were over to do some exploring and had some challenges returning to our hotel. The trains were fabulous, but the cabs were a challenge to connect with as neither of us spoke Portuguese very well. In Lisbon, I was disappointed I couldn't stay longer to explore the city.
During our short stay we had a fabulous time, and I look forward to returning one day soon!
What do you wish you knew before you went?
I wish I had known more Portuguese. The people are very friendly, but a basic understanding of the language would have been very beneficial, especially when we were staying in the small town outside of Porto. I also wish I had done more research on places to go before I left. My friend did most of the planning as I was finishing exams right up until we left.
Any favorite restaurants/hotels/hostels/sites you'd like to recommend? Tell us what made them great!
Yes! The Port Wine Museum in Porto was fantastic. I loved learning about the history of port wine and seeing some of the artifacts from days gone by.
The Penafiel Museum was also a pleasant surprise. We spent an afternoon checking it out and although everything was in Portuguese, we were able to figure out what was going on. The museum focused on the history of the region. We were in the area for graduation week, so we were able to see some of the celebrations. It was fascinating! I felt like I was watching a parade with characters from Harry Potter. I'd highly recommend checking it out if you happen to be there late April/early May.
One of the restaurants we visited on the trip was Cafe Majestic. The architecture was gorgeous, and I would definitely go back for the atmosphere.
In Lisbon, trying the nata pastries is a must. They are a staple, so they can be found pretty much everywhere.
We also tried ginjinha (basically sour cherry in alcohol with some other ingredients) as recommended by the researchers we met. It was an interesting drink, especially since we were drinking it at about 10am.
The Fado Museum was also a great stop although it's not my favourite museum in terms of layout (and it also has excessive fado music, but what do you expect?)
Is there anything that women specifically should know before they travel to your destination?
I found Portugal to be a very friendly country. My friend and I were 23/24 years old when we went and we had no problems in either city. I would feel completely comfortable returning to Portugal again on my own.