Adventure in Portugal's Algarve: A Conversation with Anne Farley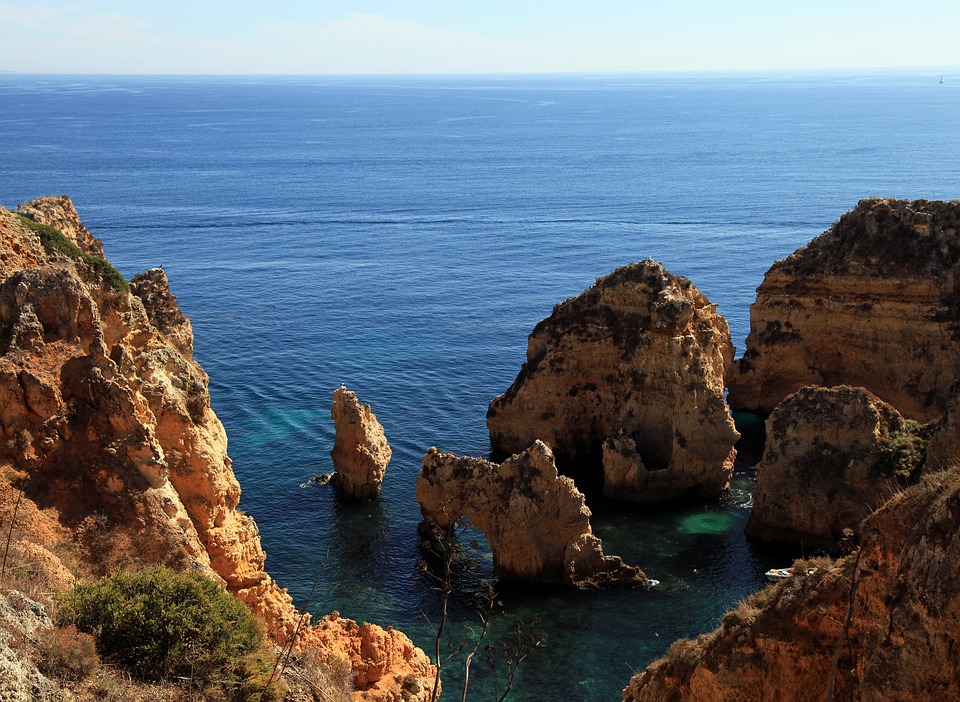 This month, we're interviewing women from all over the world and asking them about their experiences traveling to Portugal. We had the privilege of speaking with Anne Farley about her experience traveling through the Portugal. Here's a glimpse into our conversation.
Tell us about yourself! What do you do when you're not traveling the world? Where do you live? What inspired you to go to the Algarve?
Hey fellow travelers! My name is Anne Farley, I'm 25, and I'm currently located in Chicago, Illinois where I stay in between my travels and adventures. When I'm not traveling the world, I work as a private duty nurse. Working as a nurse has helped me financially fund my travels and has provided flexibility where I can create my own work schedule. In my spare time, I love to share all my experiences and adventures on my blog. I am also a huge yogi and try to practice yoga every day. I like to think of my time in between traveling as my mind-body-soul and bank account replenishment.
How long did you go for? How did you spend your time?
This past trip I traveled to the Algarve of Portugal. I was there for 10 days and I flew into Faro, Portugal where I spent two nights, and then traveled to Budens, Portugal. I traveled to Portugal to visit my boyfriend and his family (he's British). This trip was different to most of my Europe trips. Usually, I am on the go and my days are jammed packed with exploring and various activities. This time in Europe I spent a lot of time relaxing in the sun at the pool or on a beach.
When I did go off for an adventure, I explored the beaches of Salema, Castelejo, and Barranco. Salema is one of the more crowded beaches, but the plus side is that it does have a lot of restaurants and bars nearby for an afternoon drink or snack! One day I went to Lagos, which is a beachy town that has many things to do. I recommend going kayaking here during the day, and at night hit the nightlife. There are tons of bars here that become super lively with both tourists and locals at night.
What were your most memorable experiences? What were the biggest disappointments?
My most memorable experience was stand-up paddle boarding along the Algarve coast. When I travel, I love being active and doing some sort of physical activity because it helps create a memorable mind-body connection to the place. The guides from paddle boarding took us to various caves and cliff jumping points. The water was crystal clear blue, and I recorded the most incredible footage on my GoPro. I was so excited to share my experiences in Portugal, I made a YouTube video!
Another memorable experience was when I traveled the Ilha Deserta (deserted island in Portuguese) and ate freshly caught oysters. This deserted island has only one restaurant and it's about a 30-minute boat ride from the port in Faro. The best part about the beach on the island is that it wasn't crowded at all; it felt like my own private island! The Ilha Deserta is a great getaway if you're looking for something more private and low-key. On the boat ride back to the port the passengers and I got a surprise: we saw a pod of dolphins that swam right up to the boat!
When it comes to disappointments, I try my best to stay positive while traveling and tackle any disappointments as a learning experience. I definitely learned the hard way and the biggest disappointment was in myself when I was on the plane to Portugal. My total travel time was over 24 hours because I wanted to travel cheap, so that meant having three connecting flights (Chicago to New York, New York to Paris, Paris to Faro). I had slept the entire time on all three flights and when I was awake I tried to drink a lot of water to stay hydrated. Regardless of preventive measures, I ended up having an episode of orthostatic hypotension on the flight from Paris to Faro. Orthostatic hypotension is when your blood pressure can suddenly drop due to changing position from lying or sitting down to standing up. I woke up from a nap and started feeling dizzy, hot, and clammy. After about 10 minutes and some water, I started to feel better. What made it scarier was that it was happening to me when I was traveling alone.
In the end, I was disappointed in myself because I am a nurse and do know when it comes to flying I should be moving around quite frequently. My legs and ankles were very swollen from staying in one position for so long. I never want to feel that way again, so the next time I fly I'm going to try and be more active and wear compression tights. Compression tights help promote circulation and decrease a chance of getting a deep vein thrombosis, aka a blood clot in the leg. It goes to show even the most prepared, healthy, active people can suffer downfalls on flights!
What do you wish you knew before you went?
I wish I knew to research more about the car rental companies in Faro and not go with what looks like the "cheapest option" online. I used Drive on Holidays and pre-booked a car and added an insurance option online. When I got to the car rental in Faro, the desk agents told me the insurance option I added online was not valid. In order to rent the car, I needed to pay for an additional insurance cost. I'm not sure if this was a scam or a flaw in the company's website, but I ended up having to pay an extra 200 euro in unaccounted for costs. Later that week, when I was talking to fellow travelers about my car rental experience, they told me the best car rental companies to use in Faro are either Avis or Budget. In the end, I learned that it is always good to research many different options online and seek advice from other travelers. When it comes to finding the best area to stay in, where to eat, or what car rental company to use, the best advice usually always comes from fellow travellers.
Any favorite restaurants/hotels/hostels/sites you'd like to recommend? Tell us what made them great!
Activities: I highly recommend going on a paddle boarding tour in the Algarve! It is breathtakingly beautiful and is something I'll definitely remember forever. The paddleboards were perfect for any user or beginner; it wasn't hard to balance at all! The tour lasted three hours, and the guides were incredibly energetic and knowledgeable about the best caves, swimming areas, and cliff jumping points along the coast.
Favorite restaurant: Água Na Boca in Salema. All the food on the menu was mouth-watering and delicious. The food was reasonably priced for a nice dinner out which was a plus. The servers were very friendly and attentive to every need we had. I got the prawns wrapped in bacon and the chicken with Gorgonzola cheese. We ended up going twice because it became our favorite restaurant.
Hostels: Casa d'Alagoa in Faro. The location was clean, had a great atmosphere to meet people, and the staff was welcoming. The hostel had free breakfast every day and the option for a home-cooked dinner every night for 10 Euros.
Is there anything that women specifically should know before they travel to the Algarve?
I didn't have any issues with safety when I was traveling, nor did I ever feel uncomfortable. One tip I always give to women or people that are worried about safety while traveling alone is to research and stay at a friendly backpacker hostel. There are tons of people you can meet and you'll pretty much always be surrounded by a group of people when you adventure out.