Finding Nature in Washington DC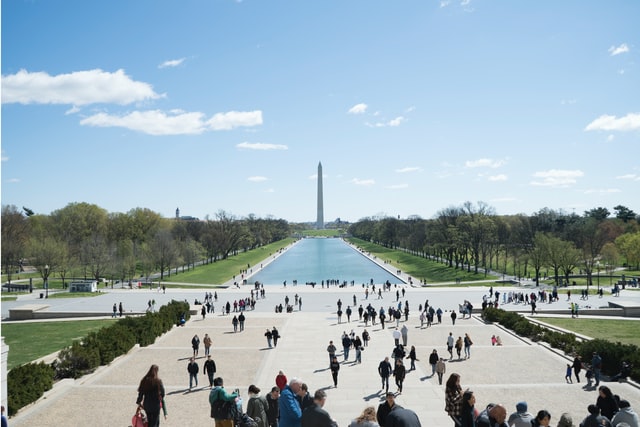 Washington DC isn't actually all about politics, unless you want it to be. This is true both as a resident and as a tourist. As many areas of the city are green, and many attractions are free, you can get your fix of nature in Washington DC quite easily.
Finding Nature in Washington DC
To learn and explore
Check out the Botanical Gardens and/or the National Zoo. Both are free, and favorite spots for many visitors and residents. Visiting the Botanical Gardens is like stepping straight into a rainforest: it's humid, it's lush, and it's a feast for the eyes.
You can learn about a lot of different plants and habitats while relaxing in the jungle.The Zoo is excellent, fun, interactive, and nature-heavy. Perfect for animal and plant fans of all ages who want something exciting to do. Note: the Zoo does charge a hefty premium for parking, so if possible take the metro, walk, or book an Uber.
Long walks through green spaces
Walking around the political highlights in DC can also get you your nature fix. Walking around the mall, the memorials, and the tidal basin (especially if you go during cherry blossom season) will give you grassy parks, beautiful trees, and calming water vistas to shape your experience. Arlington Cemetery and the nearby space around the Iwo Jima Memorials provide great views of the city, and have many walking paths.
Note: Arlington Cemetery charges a modest fee for parking, but you can freely roam the grounds and surrounding memorials on foot. Taking the tram tour will cost $12, but it's helpful if you want to see the Tomb of the Unknown Soldier and other major sights.
Immersed in the woods, flowers, and gardens, you'll completely forget that you're in the middle of a large city.
If you want to escape the crowds, check out the National Arboretum. Located in Northeast Washington DC, the Arboretum holds all sorts of wonderful plant collections, gardens, and walking trails. Immersed in the woods, flowers, and gardens, you'll completely forget that you're in the middle of a large city.
Good parks
If you want something Roman and relaxing, check out the National Capitol Columns. If you want a fun learning experience, the Washington Youth Garden is perfect. The most talked about spot is the Bonsai Museum – the collection combines nature and art. The herb garden is a creative collection of 'useful' plants, and there are so many more gardens to explore.
Meridian Hill Park is also very popular and interesting. Nearby are many great places to eat and drink, so definitely stop by if you're in the area. On the weekends, they have an infamous drum circle.
On the weekends, they have an infamous drum circle.
Dumbarton Oaks Park, near Georgetown, has an old South feel to it, especially once you reach the museum building. Be sure to check out all the nearby embassy buildings on your way around it.
Note: if you'd like to visit the Gardens section, you'll need to buy an admission ticket.
Tip: For tree service, contact the Local Tree Experts https://www.thelocaltreeexpert.com/wa/edmonds/
Hiking
Rock Creek Park has nearly everything: hiking trails, wildlife viewing, boat rentals, playgrounds, picnic shelters, and a planetarium, as well as fishing, archery, ziplining, golf, and 13 miles of trails.
If you really want to see some wildlife in your nature, drive out to the Patuxent Research Refuge. This has five miles of hiking trails, and lots of ways to observe and learn about the animals they study and care for.
Finding Nature in Washington DC
There are many places in which you can hop on the Appalachian Trail. Raven's Rock is a particular favorite, as it's not too long and will hike you right on up to a beautiful West Virginian vista. While out in the Nova region, check out some of the fantastic views and drinks at one of the many local wineries and breweries.
For a weekend adventure, take a weekend in Shenandoah National Park. It's one of the most beautiful places in the Southeast, with hikes of various lengths.
No matter how close or far you want to go, how long or short you want your outdoors experience to be, Washington DC is a great spot for nature-lovers.

Finding Nature in Washington DC
Related Reading
A Meticulous Washington DC Guide: In Conversation with Samantha Sault
Have you traveled to Washington DC? How was your trip? Email us at [email protected] for information about sharing your experience and advice with the Pink Pangea community. We can't wait to hear from you.
Finding Nature in Washington DC photo credit: Unsplash.