Playing with the Pacific Coast Flute Orchestra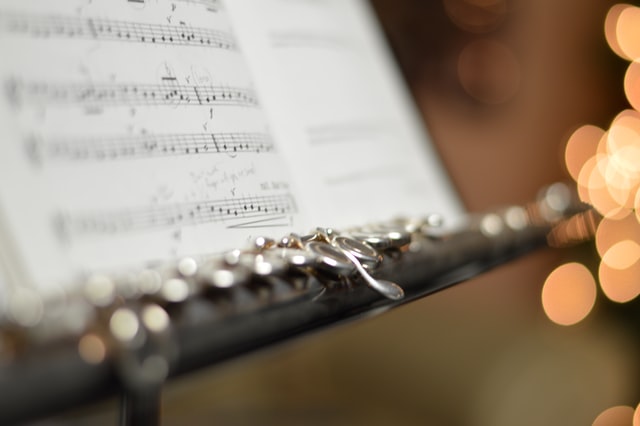 I love music. Whether it's appreciating, playing, or teaching, I am grateful for the music in my life. One of my favourite things about being a musician is sharing music with others. There is no substitute for eliciting emotion from a crowd when a piece is performed well. I have been playing flute for almost fifteen years. Three years ago, I had an opportunity to perform and teach in Portugal. Since then, I'm always looking for the opportunity to play somewhere new. This summer, I performed with over 200 other flute players in a massive flute orchestra. It was amazing.
When I'm at home, I play with a local flute choir. We meet weekly from September to June. There are two concerts and some gigs sprinkled throughout the year. Many of us have now been playing together for awhile now. As with any team endeavour, this is helpful as we are learning new music. We have already learned how to play together to make something beautiful. In contrast, the ensemble with which I played this summer didn't rehearse until the day before the concert.
I also love to travel. Combining it with music is a thrill. I love the preparation in advance. You just never know if/when you will have a chance to practice once you've reached your destination. Pre-travel preparation is a must for me. It gives me a deadline to work toward, and I find my practice time is much more efficient than when I'm at home. Sharing music with a new audience is also amazing. It's hard to describe the thrill I felt when I had the opportunity to debut a piece I had written. It debuted in Portugal to a standing ovation. Likewise, it is exciting to join a 200+ piece flute ensemble for the first rehearsal together the day before the performance.
Every time I travel, I am relieved that I play such a small instrument. I'm glad I don't play a stand up bass or tuba!
Every time I travel, I am relieved that I play such a small instrument. I'm glad I don't play a stand up bass or tuba! I was a little nervous about making the first rehearsal as my flight came in only a few hours before rehearsal. Luckily, there were no delays and I made it to the hotel in plenty of time. After what felt like a long day of travel, it was hard to get motivated to leave for rehearsal. However, I knew it would be well worth it once I got there.
Every year, the National Flute Association holds a convention on everything flute. The flute enthusiast just doesn't have time to get bored at this event. There is a trade show, educational session, concerts, competitions, demos, and much more. One of the ensembles scheduled to perform this year was the Pacific Coast Flute Orchestra. It was comprised of flute players of a variety of ages and levels of playing and experience. Joining the ensemble was voluntary and parts were assigned randomly. This was my second flute convention, and I knew I wanted to perform this time, so I signed up. The concert was part of the opening ceremonies at the convention.
I arrived at the rehearsal venue early to make sure I got my conference registration and seat assignment in good time. There was already a lineup at the door to the rehearsal room when I arrived. As I entered the rehearsal room, it was amazing how many people were already there. A line snaked into the hallway behind me and people were still arriving. I took my seat and soaked in the atmosphere. There were sounds of warming up from all different flutes. More well known was the piccolo and many C flutes. Lesser known flutes included the alto, bass, contrabass, and subcontrabass.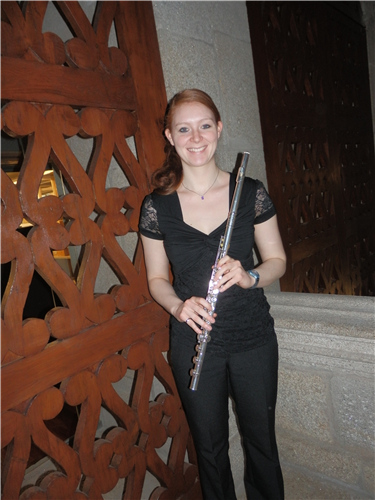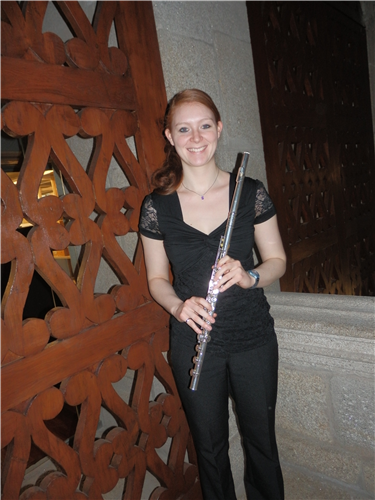 Playing with the Pacific Coast Flute Orchestra.
There were three hours of scheduled rehearsal. In this limited time, 200 people who had never played together put together repertoire for a 45 minute concert. Needless to say, I was a little bit skeptical about how good it would be. We made it through the rehearsals and retired for the night to be ready for our 8am call time the next morning. It was a long day.
The next morning, the energy in the room was palpable as we warmed up. Some of the trickier spots felt as though they flowed much more smoothly after a good night's rest. It was shaping up to be a decent concert after all!
Forty five minutes flies by so quickly when I'm playing, and this concert was no exception. One of the highlights for me was to meet fellow Canadian and composer Ron Korb. We played his piece 'Beckett's Whisper'. Ron recorded a video of our performance and posted it on YouTube. It was fascinating to hear what the ensemble sounded like from the audience's point of view.
As with every trip I take, I was sad when it came to an end. This trip is especially memorable for me as I shared something I love with a new (to me) audience – music. I am already looking forward to attending and performing at the next flute convention. The thrill of performance just doesn't get stale!
Photos for Playing with the Pacific Coast Flute Orchestra by Unsplash and Lisa Graham.