Join Me for Spanish Tapas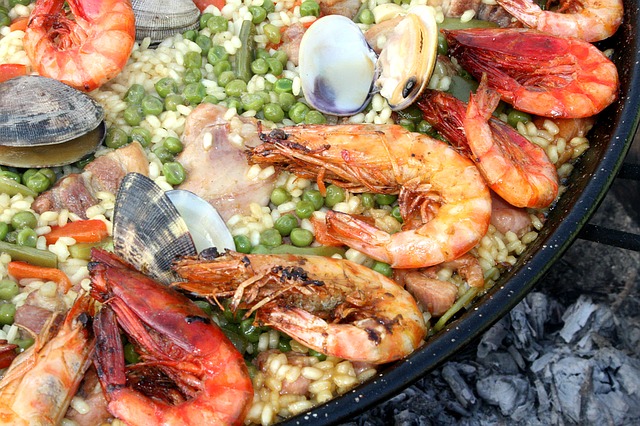 Entering the restaurant, interesting, mouthwatering aromas entice you. Let's sit at the bar for a glass of Spanish sherry, wine or beer. We'll choose two or three freshly made tapas plates to share, sit here, and chat. Tapas are little plates of savory snacks or appetizer-sized servings of fish, cheese, meat, salad, a few olives, or some battered, fried baby squid. In select bars in Spain, tapas have evolved into unique, sophisticated specialties. Frequently, we order many different tapas plates and share to make a complete meal. Try some; I think you'll like them.
Spanish tapas comes from the word tapar, which means 'cover' or 'lid'. The current use of the word evolved from the practice of using a slice of bread to cover a sherry glass between sips to prevent fruit flies from landing in it. In Spain, tapa has become synonymous with a certain style of Spanish eating. In northern Spain, the term pinchos generally means that a toothpick holds the snack together; the number of used toothpicks on your plate helps the bartender track how many tapas you've eaten.
Eating tapas is a social experience, usually done in the evening as the Spanish eat dinner at around 9PM. Tapas can be the snack before dinner or a full meal, whichever you prefer. The whole point of tapas is to meet friends and share experiences over food.
Each bar has its own tapas specialties and some cities have areas devoted just to tapas bars. People often move from bar to bar, seeking out the single dishes that each bar is famous for. Usually, a bar or a small local restaurant may have eight to ten different kinds of tapas; often strongly flavored with garlic, chili or paprika, cumin, salt, pepper, saffron and/or olive oil. Tapas may be cold (sliced ham, olives, cheese) or hot (chopitos, empanadas, battered fried squid).
Spanish tapas comes from the word tapar, which means 'cover' or 'lid'. The current use of the word evolved from the practice of using a slice of bread to cover a sherry glass between sips to prevent fruit flies from landing in it.
The most common dishes are tortilla Espanola, jamons (hams), cheeses, croquettes, mushrooms, chorizos and meats prepared in different ways, calamari, and seafood such as prawns, anchovies, squid, sardines, octopus or mackerel packed in olive oil. Items like meatballs, are prepared in tomato-based sauces, sometimes with the addition of red or green peppers or other seasonings. All offer one or more types of olive.
As Spain is surrounded by the sea, fish and seafood play an important role in Spanish cuisine. Every tapas bar will offer several selections of fish, but ingredients from other sources are incorporated into Spanish fare as well. Roman occupation introduced olives and olive oil, along with knowledge of irrigation systems for the cultivation of grapes for wine; 500 years of Moorish domination brought almonds, rice, saffron, cumin, nutmeg, and other spices to the Iberian Peninsula; peppers, potatoes, tomatoes, and corn arrived in Spain from the New World.
Any good tapas bar will have several specialties unique to Spain: Iberico and/or Serrano Jamon, sherry, Manchego cheese. Serrano Jamon, from the hindquarters of white pigs, is dried, salted, and cured for seven to sixteen months under strictly controlled conditions. But, the tastiest of Spanish hams is Jamon Iberico or Pata Negra, which refers to the animal's black hooves. This ham comes from the Iberian pigs that freely roam, feeding on acorns, in the countryside of southwest Spain. This gives the ham a distinctive nutty taste. Curing takes from fourteen to thirty-six months. Manchego cheese is a hard, crumbly, slightly piquant cheese made from the milk of manchego sheep, which are raised on the La Mancha plateau, south and east of Madrid. Genuine sherry comes from Spain and is the perfect accompaniment to tapas. A small city in southwest Spain near Cadiz, Jerez, is the center of the small sherry-producing region.
The regions in which the hams, the cheese and the sherry are produced have been declared Denominación de Origen (DO) by the Spanish Government. DO is a regulatory classification system primarily for Spanish wines, but includes other foodstuffs like cheeses, condiments, honey, and meats. The classification ensures quality and the geographical origin of the product.
While we're here, let's take a wine tour. The DO designation has been awarded to over 50 wine growing regions in Spain, including Vinos de Madrid just outside of Madrid, and El Regajal, a family-run UNESCO-listed winery, as well as home to one of Europe's largest butterfly farms. At the wineries (bodegas) you'll learn about the wine making process in different wine cellars. Some bodegas are hundreds of years old, with magnificent architecture and gorgeous views of picturesque mountains. You'll also be able to try some regional tapas specialties. Much Spanish wine is astoundingly good, ranging from cava (a bubbly champagne-like wine) to fruity white wines, rich reds, and fortified sherry; you'll be amazed at the selection and quality available.
Tapas are so important in Spain, and I'm glad I could introduce to you to some favorites. Here's to your health!