10 Things to Do in Brno, Czech Republic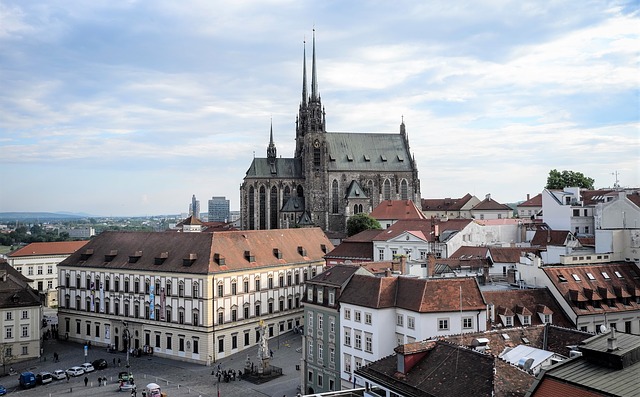 While most people automatically think of Prague when hearing about the Czech Republic, they tend to overlook Brno, the country's second largest city. Yet there are lots of things to do in Brno. While the tourist buzz here is tiny compared to Prague, the charm and culture of Brno is worth seeing while in the Czech Republic.
10 Things to Do in Brno, Czech Republic
1. Attend a concert at the Cathedral of St. Peter & Paul
The Cathedral of St. Peter & Paul, also known as Petrov, is an extremely important church in Brno's history. The church was actually burnt down by the Swedes during the Thirty Years' War. However, the inside of this church is simply remarkable, like most churches in Europe.
While going inside the cathedral is free, you can pay extra to see more. For 40 CZK you have access to the tower for a brilliant view of the city, as well as access to the cathedral treasury. The best time to visit the cathedral is when there is a concert scheduled, particularly around Christmas time. The acoustics are amazing.
Fun Fact: You will hear the bells ring at 11 instead of noon. This is because of a local legend that the Swedes promised to stop their siege of Brno if they did not successfully take it come noon on August 15th, 1645. So, some citizens snuck up to the bell tower and rang the bells at 11, fooling the Swedes.
2. Hike up to Špilberk Castle
In the cold of winter and the sunshine of spring, the hike up to Špilberk Castle can be exhausting but breathtaking. A castle that was converted into a prison and then a museum, Špilberk towers over Brno. While walking the grounds is free, there are several exhibits and towers you can climb for an additional cost. As a national cultural monument, your trip to Brno would not be complete without visiting here and learning more about the history of this great city.
3. Visit Villa Tugendhat
Be sure to plan ahead for your visit to Villa Tugendhat, as only 15 people are allowed on a tour at a time. This is the only work of modern architecture in the Czech Republic listed as a UNESCO World Cultural Heritage site. Originally owned by Greta and Fritz Tugendhat, they had to leave in 1938 on the eve of World War II. If the guided tour inside the Villa is booked during your visit, you can still check out the gardens.
Tourist Tip: Do NOT wear high heels! If you do, you will not be allowed on the tour. This is to protect the linoleum floors.
4. Learn about the Roma at the Museum of Romani Culture
This museum truly gives you a fuller picture of what it is meant to be a Roma– their history, their dwellings, their culture and their plight. This museum aims to break down the stereotypes and prejudices that the Czechs have toward the Roma people.When I visited in August 2016, only audioguides were available for English speakers, but there are Czech descriptions. The permanent exhibition can take more than two hours to tour if you listen to everything on the audioguide, and there are also rotating exhibits.
5. Descend into the Labyrinth under Zelným Trhem (the Cabbage Market)
Underneath the streets of Brno is where you can learn more about the medieval cellars and movement of goods below. On my tour, I had an audioguide but stayed with a tour guide speaking in Czech during my visit. Learn about food storage, beer brewing and the social life happening about eight meters beneath the city centre!
6. Locate Super Panda Circus and have a drink
Brno is a large student city thanks to it's multiple universities, which means it has great nightlife. A modern-day speakeasy, Super Panda Circus, is a fabulous bar that you must find. Once you have entered you pick an archetype you best relate to at that moment, and you will be given a drink based on that archetype! You get two drink choices per archetype, and the presentation of the drink us amazing. Na zdraví!
7. Attend a Cultural Event at Livingstone Pub
This pub has everything– foosball, trivia nights and live music. One night, I saw a live Romanian band perform and the atmosphere was positive and fun. Be sure to check out their program schedule to see what events are happening during your visit.
8. Shop at the Christmas Markets
If in the Czech Republic during the festive season, the markets in Brno offer more traditional and authentic trinkets and gifts than the markets in Prague: gingerbread ornaments, handmade dishes and mugs, and delicious street food. While visiting any Christmas Market in the Czech Republic, you need to try the hot mulled red wine. I recommend having it in Brno because they used reusable, collectible mugs.
Not only was I able to stay warm while shopping, but I got a great little souvenir to use at home. It will always remind me of the beauty of Brno during the wintertime.
9. Day trip to Mikulov
If you love wine, it is worth taking the 1.5 hour trip by train and bus to Mikulov. Leave from Brno Main Train Station by train to Šakvice, about 20 minutes. Get off the train and walk right outside the station in Šakvice, where there is a bus stop. From there, you can purchase a bus ticket to Mikulov, about a 40 minute bus ride. Mikulov is right on the border of the Czech Republic and Austria. A quaint little wine village, Mikulov is home to some of the best wine in the Czech Republic. Definitely rent a bike so you can travel from vineyard to vineyard.
10. Learn about Brno's legends at the Old Town Hall
For those who like to hear quirky stories about foreign cities, make your way to Old Town Hall. You can hear all about the "Brno dragon" and the "Brno wheel." I won't spoil the legends for you. If you go during the summer, you can also go inside the halls of Old Town Hall. The Brno Tourist Information Centre is here.
Enjoy your time in the Czech Republic and remember– the country is much more than just Prague.
Photo by pixabay.com.