Growing My Bucket List on a Baltic Cruise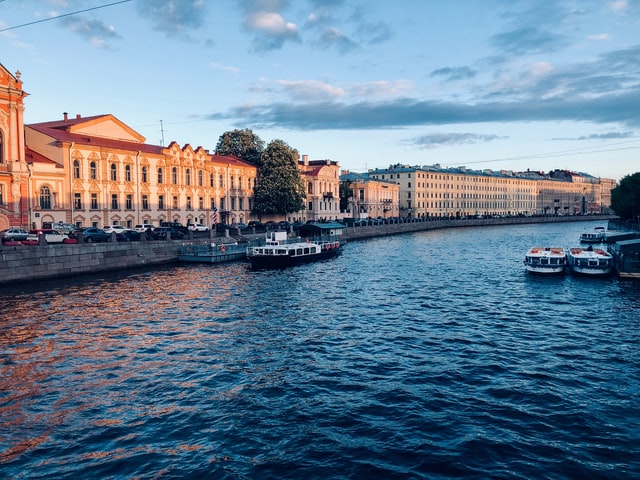 The seaside town of Warnemünde, Germany had barely woken up when I arrived shortly after 6am on a beautiful blue-sky day. This was the first port stop of my dreamy 14-night Baltic cruise, and the itinerary was packed with bucket-list destinations. During these two weeks, I would be sailing and exploring 10 countries throughout the Baltics. I was eager to explore Warnemünde, yet this coastal town and its sandy beaches would have to wait. With businesses opening later in the day, I wanted to use the morning hours to explore nearby Rostock.
The cobblestone streets of old town Rostock were a mere nine stops away on the regional commuter train. For the price of a latte, I purchased a round-trip train ticket and enjoyed a comfortable ride to the metro station in Rostock. My fellow passengers on the quiet 25-minute ride were a mix of tourists, students, and business-people.
Upon my arrival, I walked to Neuer Markt, the old town's main square, where I admired Gothic architecture blended with modern design. The square was a hub for tourists and locals alike, with cafes lining the street and boutique shops alongside popular stores like H&M and TK Maxx.
My senses couldn't ignore the allure of local treats offered by street vendors. I settled on Franki's Korri Braatwurscht after seeing so many others delighting in these brats. The taste was familiar, but also surprising, with curry sauce and spiced ketchup offered for dipping the deep-fried meat into.
That's what I love about cruising: I appreciate the quick introduction to an area, and noting whether I'd want to return for further exploration.
I followed lunch with a visit to Hussel, a local chocolate shop, for a sweet finish and a few gifts to take home. As horse carriages clopped along the street, I took in a few last glimpses of ornate clock towers and churches, before hopping the train back to Warnemünde.
By this point, Warnemünde had come alive with tourists enjoying coffee or beer at open-air cafes, while others gathered around Alter Strom Canal, where souvenir shops compete with fishing charters and day excursion boats. I took a walk around the historic lighthouse and the beachside promenade, while families set up picnics on the sand, and others still played in the gentle surf. With the sun beating down, the beach was a perfect spot to keep cool.
As my time on the shore came to a close, I felt I could easily spend a few days here, lounging on the beach and exploring the region in greater detail. That's what I love about cruising: I appreciate the quick introduction to an area, and noting whether I'd want to return for further exploration. Warnemünde and Rostock certainly made my must-visit-again list.
Back on the cruise ship and in preparation for my visit to Saint Petersburg, I had dinner at the Summer Palace main dining room, inspired by the Russian palace.
I was only a few ports into my Baltic cruise, and I already knew my must-visit-again list was growing.
This traditional venue offered ornate decor and a decadent menu. I savored pan-fried fish and sampled just a bit of my dinner partner's grilled strip steak. The food was presented beautifully and cooked fresh to order, with satisfying portions. And, perhaps best of all, the Russian family portraits and design elements of the Summer Palace prepared me for two amazing days ahead.
I hadn't really expected I would ever visit Saint Petersburg, but when I saw the overnight stop on the itinerary for my cruise I was ecstatic. Tourists without independent visas were required to join an official tour, and there were so many incredible excursions in Russia. However, I usually prefer wandering on my own, with the pleasure of discovering things along the way, so I wanted as much independence as possible in every port on this trip. Thankfully in Saint Petersburg, there are indeed a few options for independent explorers like me.
On my first day in the city, I signed up for a tour that stated guests would enjoy a drive to notable landmarks and then be given a few hours of free time. I was skeptical. Would I really be permitted to wander off on my own for a few hours? I was more than pleasantly surprised when the answer was yes.
Of course I enjoyed the tour stops at the Neva River and St. Isaac's Cathedral, but I was thrilled to be dropped off at Nevsky Prospekt and given a time to meet back at the bus.
I wandered along Nevsky Prospekt.
I wandered along Nevsky Prospekt, an incredible street packed with visitors from around the world. I took in the sights of the National Library, wandered through boutiques and stopped for coffee, and eventually wound my way over to the Church of Our Savior on the Spilled Blood for photos. In fact, I even had time to peruse a local bookstore and simply enjoy people-watching from a sidewalk cafe for a bit. This excursion was perfect for a solo-minded traveler like me.
On my second day, I chose a tour that offered some free time and stops at a few more historical sites. I hopped off the bus at the Winter Palace and the Hermitage Museum, stopped by the Peter and Paul Fortress, and again took in a scenic drive along the Neva River.
I happily returned to Nevsky Prospekt for just a little more time to peruse souvenirs and enjoy a coffee while taking a few last photos of this beautiful historical district. I was thrilled to have so much free time on these excursions, and grateful they included options for those of us who prefer a little freedom to explore solo. And I was only a few ports into my cruise, and I already knew my must-visit-again list was growing.
Photo for Growing My Bucket List on a Baltic Cruise by Unsplash.