Queen of the lions in Zimbabwe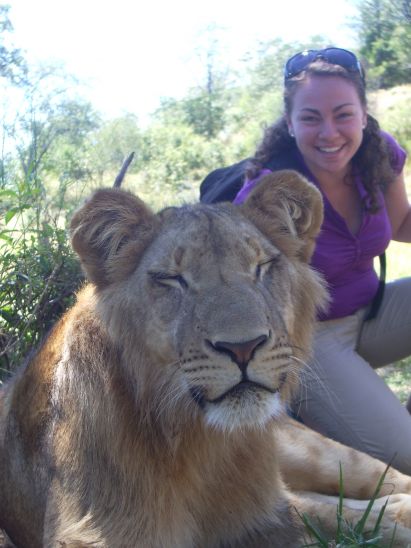 While at Victoria Falls between Zambia and Zimbabwe, we decided to do the Lion Walk, one of the tourist activities advertised by the different organizations around the falls. Participants are able to pet the lions and walk through the bush with them for an hour. This experience was incredible and definitely once-in-a-lifetime, but probably not the smartest thing I've ever done.
Most groups don't allow lions to come into contact with people after they're 6 months, and these lions were 14 months of age. One lion, in the hopes of playing with one of the participants, reached out for her leg, but her skin was no match for his claw. This experience taught me to appreciate the beauty of the lions, but also to appreciate the fact that wild animals and people orbit separate spheres for a reason.
Read Laiah's blog at: www.curlsonthecape.blogspot.com