Pure Bliss at Barbados Beaches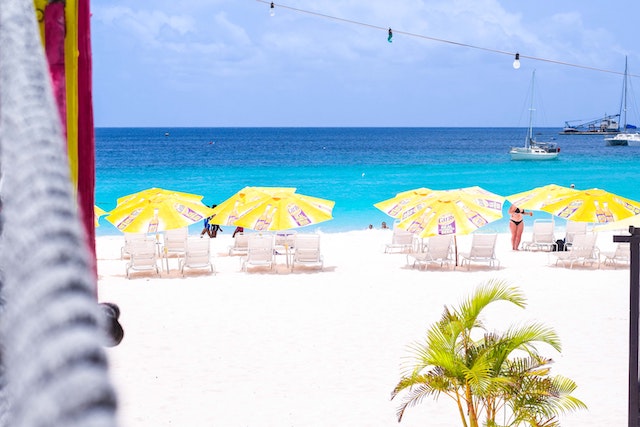 Who knew you could fall in love in two days?! Well, I've fallen hard for the tiny island of Barbados. I spent about two days in Barbados where each morning started with a HOMEMADE breakfast! The wife of the Gemini House B&B fixes breakfast from scratch every morning. My first day started with some freshed baked, fabulous, honey wheat with raisin bread and a fat veggie omelette. There was also a platter of fresh grapes, pineapple, finger bananas, and amazing oranges.
I was also brought tangy orange juice and warm tea. (It was a lot of food, BUT my genius plan when traveling is to eat free, eat late, and eat every crumb so it will last me till dinner!) After breakfast I readied myself for my beloved beach.
I found a semi-quiet beach (most beaches were tainted by the many tourists) and I was able to rent a chair and umbrella for $7.50 USD! It was going to be about $10, but the renter guessed I was from Guyana, so I think he gave me an island girl discount. With the money I saved I bought myself a coconut to tie me over till dinner.
After beaching it I headed back to the B&B to shower the sand off and get ready for dinner. Oistins is a town nearby that is infamous for its weekend fish fry at the fish market. Now, I didn't know what to expect from this night, but I'm glad I ventured out. First, I roamed around Oistins to get the lay of the land. There are a TON of little restaurants, rows of quant kiosks for vendors to sell local souvenirs, and a gazebo filled with old men playing dominoes and cards, and sharing plenty of witty-old-man-banter! Reality meant first thing was first…DINNER!!
All this only cost $15USD so I also had a happy wallet.
I found a little restaurant with a reasonable line. (Word is the longer the queue, the better the food!) I ordered the flying fish meal. It included my grilled flying fish, red beans & rice, macaroni pie (Bajan tradition), plantains, and a beer.  My belly was a very happy belly. All this only cost $15USD so I also had a happy wallet.
This night I made friends with some local Bajan (slang for Barbadian) men and we hung out. They bought me my drinks…don't worry mom, it was beer and it came with the bottle caps still intact. The guys actually taught me how to pop the cap off using the table edge!! I also learned that "bird watching" isn't referring to our feathered friends. My new friends and I enjoyed the local DJ spinning hits for us. The DJ let people on stage to dance…locals had moves, tourists looked like fools.
All in all it was a fabulous Barbadian night!
On day #2, I hit up a different beach and swam, slept, swam, read, slept, swam, listened to music, napped, and enjoyed.
For dinner I decided to go into town and eat at the Waterfront Cafe and Restaurant. When I arrived I asked for a table and the waitress replied, "For 1?" I answered "yes" confidently, but with a ginormous pit in my stomach. This was my first nice, sit down dinner in my life.
This was my first nice, sit down dinner in my life.
"Ok Tash, you gotta ooze confidence and reek of apathy towards the idea of eating alone amongst couples and families."
"Deal."
"GAME ON!!"
(Don't get snobby…you know you talk to yourself too.)
I ordered a beer, my dinner, and later a dessert with another beer to polish the meal off. It was actually a GREAT meal!! I really didn't care that I was alone because I was able to take it all in without any interruptions.
I sat on the patio and enjoyed this view of the boats docked up. There was a live jazz band inside the restaurant that filled my dinner air.
I drank Banks beer the night before, so I thought I would try Carib this night. I think I like Banks a little more. Either way it was
delish.
Pure Bliss at Barbados Beaches
After my meal I met and hung out with some Canadians! One was full Canadian, and married to a half French and half Zambian, and the one I originally met, Tarence, was half Trinidadian and half Bajan. They were there helping Tarence's mom renovate her house to rent out. The 4 of us went down to The Gap to hang out…no we didn't fall into it. The Gap is an after hours place to hang out with bars, music, and loads of people to meet. It was a fabulous way to end my first trip to Barbados.
I would recommend Barbados to ANYONE. The weather is beautiful, the people are friendly, and the water is cool. You'd be a fool not to go! There is even a direct flight from Dallas to Barbados, so hit it up and kiss Barbados hi for me!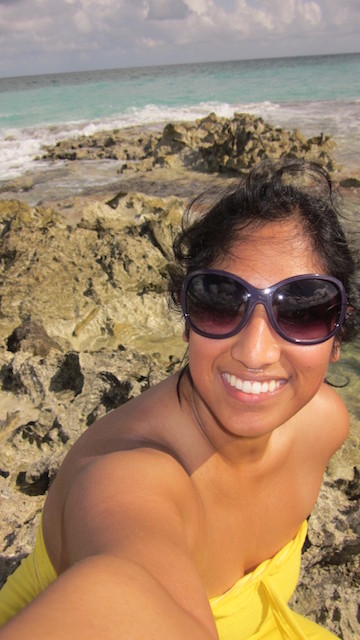 Photo credits for Pure Bliss at Barbados Beaches by Unsplash and Natasha S.