Monster Vans, Mussels and Monasteries in France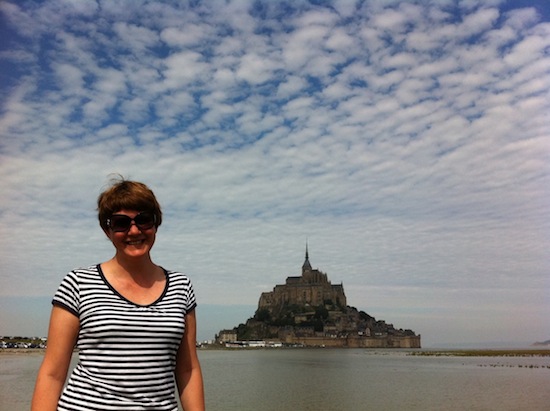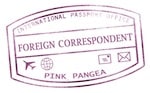 Peering down at the other drivers from high up in my seat, I slowly joined the queue entering Dover Docks to board the ferry to France. My brother had just bought a huge white van which he was converting to a camper van with the help of a mutual friend who lived near Pontivy in Brittany. He had offered that once it was built I could borrow it for my travels so here I was letting myself loose driving a three-tonne van. It's the biggest vehicle by far that I have ever driven and the size took getting used to.
We had gotten a really good deal on the ferry (P & O Ferries), paying just £84. The good thing is that you can arrive early or a little late and they will just put you on a ferry closest to your arrival time. At the Dover Dock, there is a Burger King and a small shop where you can pick up some supplies or toiletries. If you're driving a car from the UK, make sure you already have a GB sticker displayed because if you buy one in the shop, they charge you a fortune and if, like me, you enjoy a good bottle of French red wine, you would prefer to spend your pennies on this.
The crossing lasts roughly 1.5 hours but luckily I had my faithful Dramamine, which I use for my motion sickness. If I didn't have it…well let's not even go there…. Eating on the ferry is not for sissies and is also quite expensive so take your own food or just don't eat!
First stop, Calais…
I've often passed through Calais on the way to somewhere else but I'd never actually stayed there. I was surprised to find a gorgeous beach and some rather lovely restaurants. It was nice watching the channel ferries working their regular schedules between Dover and Calais especially since the sun was just going down casting its wonderful golden glow onto the wet sand.
The next day, the small coastal town of Etretat was on the itinerary. It is well known for its unusual cliff formation close to the beach. The pebble beach is full of character and there are plenty of ice cream shops and small cafes to keep the hunger at bay. It was wonderful just to sit and watch people pass their time picnicking, chatting, playing with their pets, or just walking hand in hand along the promenade. There is certainly no rushing here and things seemed to slow down to an unbelievably leisurely pace. With enough flavours of ice cream to choose from and a few small supply shops and chemists, you will not to run out of anything essential for your restful French vacation.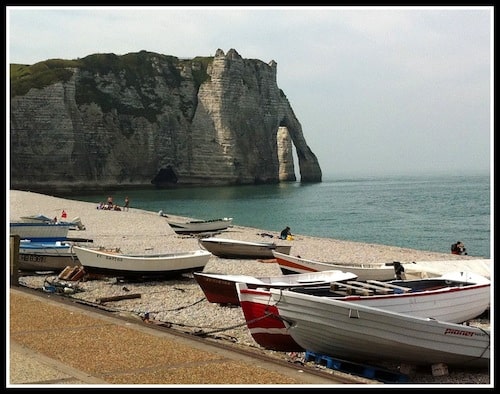 Next stop: St Malo, which is an absolutely gorgeous cobblestone, fortress town sitting almost in the sea. It is surrounded by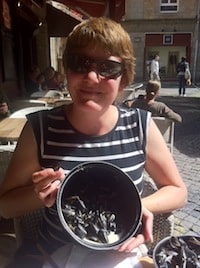 an old city wall which you can walk around and see some really lovely views of the coastline. Inside the city walls are numerous clothes shops, photo studios, bakeries, art galleries, souvenir shops and an impressive selection of restaurants serving the local specialty: moules frites, i.e. mussels and chips. I smiled to myself when I ordered. 'Yes, I would like the 850g portion of mussels please!' (850g is roughly 30 ounces). And I tell you what, you might not yet know how much I love my food but they were delicious and I LOVED them. They arrive in a huge pot with lumps of bread on the side so you can mop up the sauce and the dish is really reasonable at justunder 10€. Yum yum yum!! (Oh, by the way, the picture shows about a third left in the pot after I'd been eating for about half an hour.)
I was also able to spend a lot of time taking photos which, along with travelling, is a huge hobby of mine. There were so many scenic spots around St Malo and the surrounding areas that one feels spoilt. The sea, the city, the food and the people provide endless opportunities for a happy snapper like me.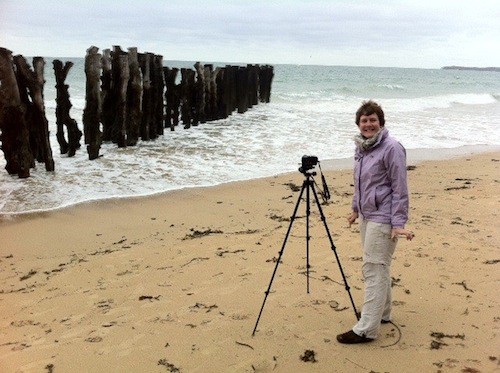 Last stop on the sightseeing tour was the unforgettable Mont St Michel. An unbelievable story of a monastery and town built on a small outcrop of land, almost an island. The surrounding parking area often gets flooded and you have to be careful where you park. Entry to the town itself is free but there is a charge for entering the monastery. I would recommend this though in order to see not only the various cavernous rooms but also the giant pillars which support the monastery from underneath. It also provides some great photo opportunities from the very top looking back to the mainland.
Again lots of little souvenir shops and restaurants line the winding cobble streets. I would suggest not bothering to use the public toilets just as you enter the town because there is normally a long queue but rather to wait until you go to lunch and then use the restaurant's rest rooms.
Finally when visiting this area, make sure you taste the local specialty, salt marsh lamb. The local sheep have a distinct taste from eating grass which grows in the surrounding salt marshes… absolutely delicious. During my stay, I used the French Campanile Hotel chain which provided clean, basic accommodation with free wi-fi. The hotel chain has a restaurant which serves a limited but delicious selection of French food. Each seemed to be run by a man and woman team with mainly female waitresses. Yes, you can eat cheaper if you shop at a supermarket and eat in your room but hey, sometimes, you just have to treat yourself to some local cuisine. Bon appetit!
Photos by Colleen Setchell.