Fitting in with the South African Lifestyle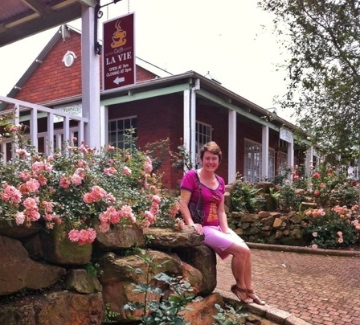 Black and orange flashed bright in the sunlight as I watched the swallows dance around the water that had gathered at the bottom of the garden after our last torrential rains.  The grass was dry so it was good it had got a good soaking; even the palm trees looked a little dehydrated. With that said, the rest of the evergreen vegetation was living up to its name; the strelizias were in full bloom; the huge Ibis birds, nicknamed Hahdidahs, squawked their well known cry and the cute sticky-footed geckos (small transparent lizards) stalked their prey.  It was truly another sunny day in South Africa.
I am currently staying with my mum, and she lives on the grounds of two sets of 6 townhouses joined together. They share some lovely gardens, which are professionally cared for and each week a group of African women arrive in wellington boots, hats and orange sunblock and attack any weeds or long grass with diesel strimmers. This means the gardens always look fantastic – well, let's face it, most things look great in sunshine.
We are in a town called Pinetown, which lies about 18km from the eastern coastal town of Durban.  It is in the province of Kwa-Zulu Natal where the greatest concentration of Zulu people live in all of South Africa. I grew up learning about the brave Zulu warrior called Shaka Zulu who led his people and created the mighty Zulu nation. In fact, they will celebrate their 200 year anniversary next year and the huge celebrations will be attended by the current Zulu King, King Goodwill Zwelatini Zwelithini. Although not holding any direct political power, the Zulu king is provided a stipend by the government, and holds considerable sway over more traditionalist Zulu people in the province.
Currently, the Zulu king has thirteen wives. Traditionally, each year a ceremony is performed in which he receives another wife. He has kept this ceremony, called the "Reed Dance", but not chosen a wife, instead using the ceremony to promote abstinence until marriage, as a way of preserving Zulu culture and preventing the spread of HIV/AIDS.
Pinetown has increased in size a lot since I grew up here many years ago but it still has a 'small-town' feel to it.  Even though the town has roughly 250,000 people living here, we still know cashiers, waitresses, deli servers, pharmacists and shop owners by name.  It is accessible by all major road networks, has loads of shops, doctors, a medical centre, a hospital, 3 secondary schools, 5 primary schools and 2 tertiary education colleges. It brought back lots of memories driving past my old schools; sports days, swimming galas, playing in the fields at break times, teachers complaining about my incessant chatting.  Sigh…those were good days.
Pinetown also has a shopping mall called 'Pinecrest Centre' which is still referred to by its old name of 'Sanlam Centre' by the locals. Here you can find supermarkets, mobile phone shops (known as 'cell' phones here), book shops, CHEAP clothing shops, discount shoe shops, restaurants and all the good bits and pieces you would normally get at a mall. But this is South Africa, so you will also find a security shop selling everything from advanced alarm systems, personal self defence equipment and sprays and other things designed to protect yourself and your property.
Just outside Pinetown, there is a collection of charming little Victorian-style buildings housing all sorts of shops selling clothes, paintings and jewelry to souvenirs, handmade crafts and books. The whole place is nestled on the side of a hill and absolutely covered in gorgeous rose bushes. It is called Heritage Market and well worth a visit.
Just a quick note about the mobile phones, because of the mobile phone theft in this country, when you buy a simple 'pay as you go' phone and SIM, you will need to show your passport in order for them to 'RICA' your phone. This means they enter it into some sort of security system and after about 15 mins or so, you get a text on your new phone with your new mobile phone number and you can start using it.  Airtime is available almost everywhere.
Wherever you park here, you will see a few people in yellow high-viz jackets nearby. These are car-guards and they make sure that no one touches your car or tries to steal it. They are all usually very friendly and roughly R5 (which is about 70 US cents, 49 EURO cents) is considered a good tip no matter how long you've been away from your car. My mum sometimes buys them a cool drink when it's been hot which they always appreciate.
Because of its distance from Durban, Pinetown is all-round cheaper for meals, drinks, shopping and accommodation. Personally, I think it's better located too because it allows you to travel one direction to Durban and the other to the kwa-Zulu Natal midlands where there are countless things to do and see.  I will be writing more about Durban and the Natal midlands in future articles.
Just for fun, here are some Zulu and Afrikaans words for you in case you want to head out this way for holidays:
English                                    Zulu                                             Afrikaans
Hello/Howzit                          Sawubona                                   Hello/Howzit
Thank you                                Ngiyabonga                                Dankie
How are you?                          Kunjani?                                      Hoe gaan dit?
Good thanks and you?         Ngiyapila, kunjani wena?       Dit gaan goed en met u?
I'm off to Port Edward down the south coast this Saturday to a beautiful resort called 'The Estuary' which, as the name implies, sits on the banks of a river estuary where it meets the sea. It's a peaceful setting with huge trees providing some shelter from the blazing sun and warm sea breeze. I am looking forward to wiggling my toes in the hot sand and watching the waves break on the shore, I'm looking forward to seeing monkeys playing in the trees and lizards chasing insects. Most of all, I'm looking forward to just relaxing and enjoying the moment and appreciating how wonderful my life is right now.
But in the meantime, I will relax at home, eat good old home cooked food, eat some tasty biltong (dried spiced meat), enjoy the sunshine, watch the beautiful birds cooling down in the bird bath, listen to the gentle breeze blowing through the palm trees and enjoy some good, well-needed quality time with my mum and family.