Masouleh: An Iranian Village On The Rooftops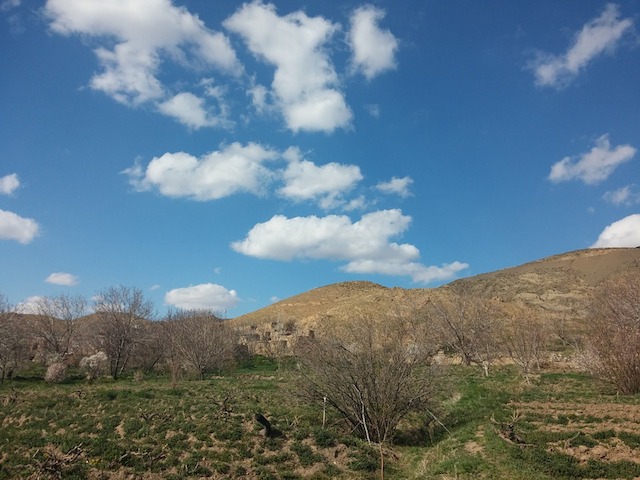 From the moment I saw a photo of Masouleh sent to me by my friend, I was hooked. We had just recently left Iran, presumably for good, when he mailed the photo to me. I never knew when I'd see this place. Still I put it on my bucket list.
Mom and Dad made my wish come true by taking me to the picturesque village during our most recent trip.
We drive the vertiginous roads through the lush green mountains of Northern Iran, close to Caspian Sea. Taking in the emerald green as my father and the driver discuss politics, I am surprised to hear that this area was a hiding place for many political activists during the 1960's.
You can only drive so far before they make you park the car and navigate the village on foot, higher and higher. Founded in the 10th century A.D. it is even more beautiful than it appears in the picture Ali had sent me. Goats graze down in the valley. Houses populate the mountain slope such that one's roof is another's courtyard.
We walk by the food stands first, a mini farmer's market, if you will. Vendors sell honey (in jars and even on honeycombs,) dried fruits, fruit rolls drenched in juice, fresh, colorful, alive. "Go ahead, try some." One of them offers me. I do. They taste mouth-puckering, eye-squeezing tangy. But dad and I settle on a sesame sweet. The woman seller says: "This is what I call healthy energy. I made them last night." "Yes please." I say. She appreciates the tourists: the hearts and souls of this village. "In wintertime the place is a ghost town." I can only imagine how difficult it must be to navigate the snow covered mountain slopes, especially with the animals. Incidentally that's how they bring supplies up the mountain.
The façade of these buildings, yellow with flower boxes on their balcony, remind me of European villages but the little tea house quickly brings me back to this wonderful moment.
We start our walk again, following the signs to their bazaar. A news crew is busy setting up their camera. They are literally standing on some house's roof but at our level it is the ground. A few steps further a man sitting on the side of the alley is playing Nay (an end-blown flute except instead of keys it has five or six finger holes and one thumbhole.) Naturally, my mother, with her heart of gold, gives him money.
The façade of these buildings, yellow with flower boxes on their balcony, remind me of European villages but the little tea house quickly brings me back to this wonderful moment. Their bazaar is another level up, past the mosque. Tiny shops with colorful awnings line both sides of a cobble-stoned alley. Handmade bags hang outside the wooden doors, little sweet treats are arranged in a small pastry shop, and the smell of bread wafts out as we walk by a diner. Buts that's not where we have our lunch. The restaurant that comes recommended by the locals is in the direction of the waterfall.
Lunch here starts late, so when we arrive around twelve they are still getting ready, but we can choose a canopy and relax until lunchtime. We don't mind sitting in our own canopy, watching the guys slowly get ready, as other tourists trickle in.
Forget kabob. We are going local. Young sons of the owner finally come to us with menus and our own spread. By this time mom, dad and I have our shoes off and are sitting around our own plastic spread with bread, feta cheese, a basket of fresh herbs: basil, radishes, mint, and scallions, to begin with. Dad, who never shortchanges us on food, wants us to order different dishes so we have a variety of tastes. I notice this area of the country uses garlic and eggs in most of their dishes. I also see the word torsh (sour) a lot.
Tiny shops with colorful awnings line both sides of a cobble-stoned alley.
We get an order of Zaytoun (olive) parvardeh and one of mirza ghasemi for appetizers. Ok ladies, if you find these foods, try them. Zaytoun parvardeh is simply olives marinated in pomegranate syrup, plus garlic and walnuts with a touch of golpar or Persian marjoram. The mixture of salty and sour coats your palate as you feel the slight crunch of the chopped walnuts under your teeth. It is just perfect. Ever since that day I search every menu, even back in Tehran, for this appetizer.
Mirza Ghasemi is a dish of grilled eggplants diced and mixed with sautéed tomatoes, garlic, and egg with a touch of turmeric.
For my entrée I ordered Torsheh Tareh, a vegetarian dish made with chopped spinach, a mint like herb, parsley, cilantro, eggs, lemon juice, and garlic. There is a surge of tastes in every spoonful. You can have it with rice or if you prefer to stay away from carbs, by itself. However, when it comes to tahdig, the crunchy rice at the bottom of the pot that every Persian fights for, throw caution to the wind and try a piece. Although even with a small piece you run the risk of addiction.
Well, I did end up having kabob the next day but not the regular type. Kabob Torsh, juicy sour chunks of beef or chicken prepared in a marinade similar to that of the olives. Delectable.
For my adventurous ladies, check out the Masouleh restaurant in Chicago, where you can sample the dishes mentioned here and much, much more.
I can't wait to try it. Who knows, we might bump into each other there.
To read more from Bahar, visit baharanooshahr.wordpress.com and follow her @banooshahr. Top photo by Pixabay.