Visiting the Desert in South Africa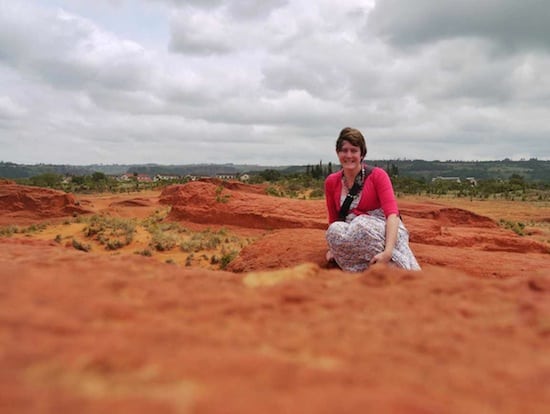 I take another gulp of water and keep moving forward. A red sand dune looms ahead of me and I struggle to keep my footing as the sand gives way with every step. I'd heard that walking through deserts was hard work but I think I'm doing okay. After all, with a small bottle of water, sunglasses and my sunscreen, I should be okay. Right?
Well, yes, but only because I'm visiting what is reputed to be the smallest desert in the world. Called the Red Desert because of its striking red sand, it is just 11-ha big and only 2-00m across. Lying inland from the Indian Ocean, it is 170km from Durban on the south coast of Natal, South Africa, just outside the small holiday town of Port Edward.
It's not easy to find it though. I would have thought that with such a prestigious–if not confirmed–title, it would warrant at least a small brown tourist sign. But alas, armed with only a car, two curious passengers, my smartphone and a vaguely good sense of direction, I roamed the area looking for the illusive sand dunes.
When I finally arrived at what I suspected might be the non-famous desert, I came across a faded sign indicating that I had indeed found the right spot and without further delay, I hopped out the car, grabbed my water and headed towards the red. Rare and vulnerable plants have been found in this area as well as South Africa's national flower, the Protea, which can be seen growing amongst the rocks. I have also since heard that there are discussions about putting the area under protection as 4×4 enthusiasts have discovered it works well as a practice ground.
Visiting the Desert in South Africa.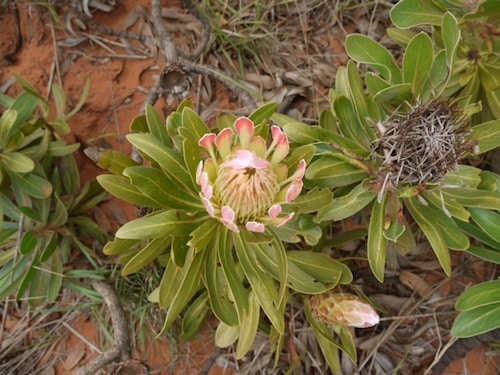 In the desert itself, I find more red rock than red sand. There are different stories as to how the desert was formed. I'm still not sure which are true and which aren't but my favourite one is that the Zulu warrior king, Shaka Zulu, overgrazed this area with his cattle. I close my eyes and imagine the fierce Zulu warriors camped nearby planning their next strategic move. I can almost hear Shaka barking his orders, commanding respect and dishing out punishment to anyone who dared defy him.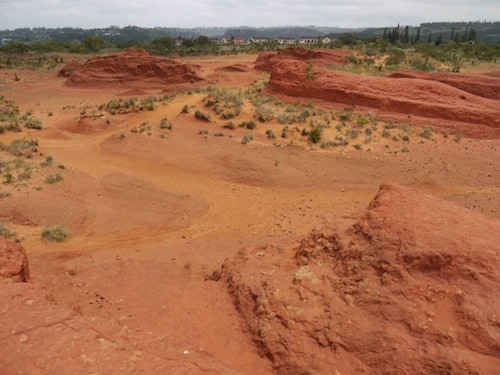 When I've finished imagining being part of South Africa's history, I take my final photos and start heading back towards the row of houses, peering out from between some tall trees.
I can't help but imagine that with a little protection and maintenance, this could really be fabulous tourist spot. Imagine that? A real desert in the middle of a tropical coastline. South Africa really does have it all.
Read more about Colleen's travels here: http://www.writearoundtheworld.me/ Photos by Colleen Setchell.