A Woman's Place is in the Thai Kitchen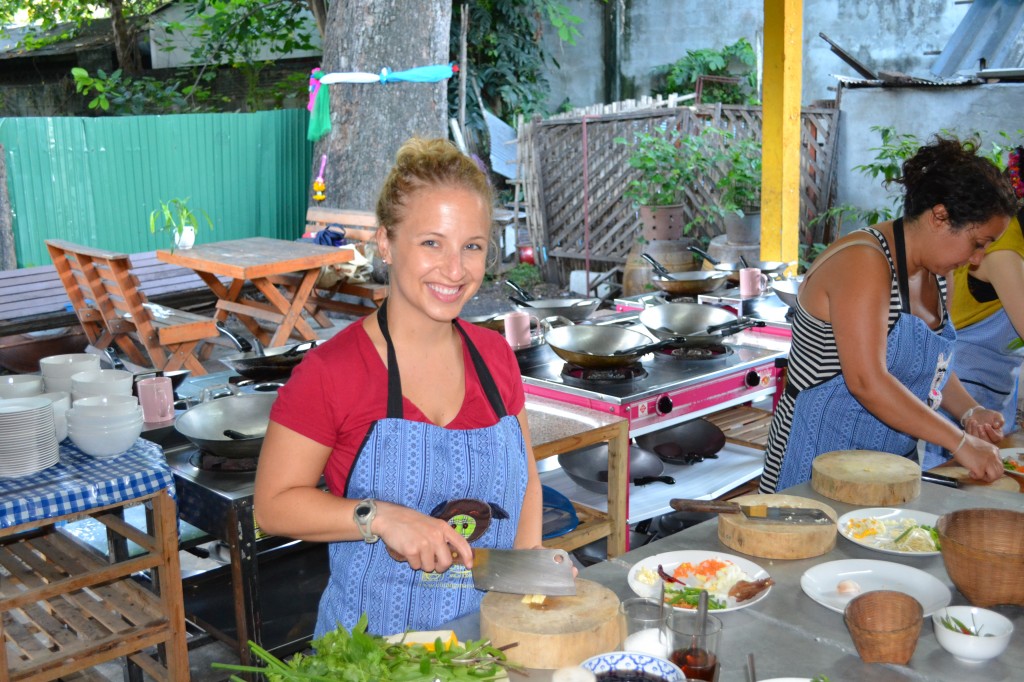 Saying a woman's place is in the kitchen is not an offensive statement to me … as long as that kitchen is an outdoor space in Thailand where one can learn how to make local dishes.
A day in the kitchen while on vacation might not sound appetizing to some, but for me it was a wonderful experience. The Thai Cookery School is a small cooking school in Chiang Mai, Thailand that offers guests a trip to the local market, small group cooking lessons on the dish of your choice and then a place to sit and enjoy your creation with other travelers.
The day began with me choosing to make chicken and stir-fried noodles. From there we walked to the market and learned about many of the local fruits, vegetables and meats offered in the market. We were guided through the buying process (with the company actually purchasing the ingredients) and then were escorted back to the kitchen. We diced, sliced and sautéed until our dish was complete. Slaving over a hot skillet was worth it when we sat down and enjoyed our plate. Conversation with other travelers was the icing on the cake. Oh, did I mention there was dessert too…
So, cooking while traveling might not seem ideal, but, when the experience is educational, fun and delicious, what's not to love? Cuisine is an integral part of all cultures and populations. Delve deeper and learn how to create meals, instead of just enjoying them. In learning how to make the dish, you'll be able to re-create the meal once you're back home and rekindle lovely travel memories long after you've returned.
Diane is the creator of Wife with Baggage, a travel site that helps inspire people to travel more and incorporate their travels into their daily lives, even with a 9-5 career.
Photo by Diane Williams.