From Panic to Zen: Packing for One Year of Backpacking
Before George, my boyfriend, and I left in 2008 for a sabbatical year in Asia, I worried and I walked and I wondered what would happen. Under the moonlight in Fiji in 2007, I had said yes to George's dream of spending a year backpacking together. Back in Los Angeles, while preparing for our backpacking trip, I had doubts, but for every issue I brought up, he patiently brainstormed and shared solutions. The drama of leaving my new condo became, "Isn't it great someone else will pay a year of your mortgage?"
But a trip to our local camping supply store, A-16, to buy a backpack, brought on a near panic attack. Other people around me seemed engaged, excited, even invigorated by the excitement of buying a pack. I looked at the packs and other people and felt less than ready to go. Maybe it was a sign. How do you know which signs are the right ones? Should I not go?
I felt crushed by concerns. Would I be able to carry the weight of my expectations for the trip and for our relationship? Would all of my stuff fit in one of those packs for a year? What if I did not have what I needed?
Fear is not always a reason not to do something. I personally am embarrassed by all of my fears but I do not have to perfect. I just have to show up.
Pounds of pressure for the perfect pack overwhelmed me. I was worried it would be too heavy to carry but too small for all my baggage (mental or otherwise). The twin dramas of thinking it wouldn't all fit and I wouldn't have what I needed, which were really the fear that I would not be enough as a travel partner, were starting to drive me a bit mad.
It was not the first time that packing brought me to tears but I was not even putting clothes in a suitcase yet. I was just trying to buy a backpack. I worried that my clothes would be lacking and so would I.
Nearly in tears, I continued to wander the aisles. Everyone else seemed to know what to do. I looked at the tags: 70L, 50L what did it mean? But then George said, "Take the bag you used for our Fiji trip. If it worked for three weeks, it will be fine for a longer trip. If it works for you, you do not need to have a backpack."
I carried a rolling backpack with a handle and a large over-the-shoulder square carry-all that held clothes and my full size water pillow. I also had a small day pack. I could put the large square bag on top of the backpack and roll them both together. It felt a bit unwieldy at times especially if I needed to carry them up stairs or over rough road but mainly it worked really well.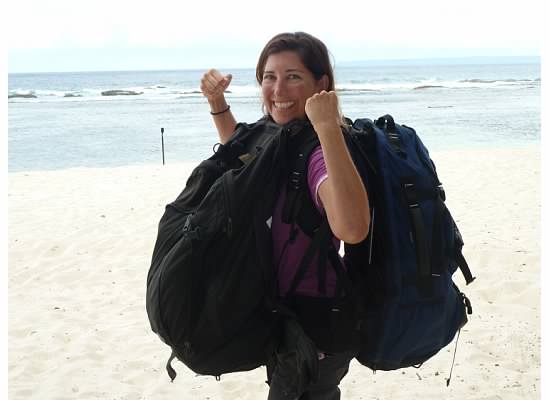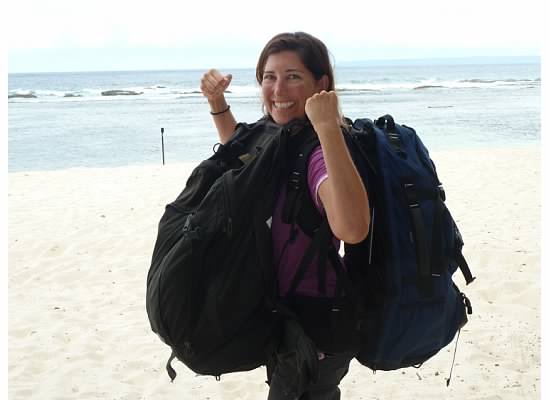 Over the years, I have learned so much from George. I am enough. I have what I need. And it always works out. George shopped for me online and was enchanted by my love of exotic international travel and years of working on cruise ships while he was in the Peace Corps. I was excited to travel with him and grow our relationship but I was also nervous. As I felt more confident about my ability to carry my baggage, I told George I wanted to have a backpack. He shopped online and bought me a used Eagle Creek women's backpack. It is perfect for me. I love the smaller pocket on the bottom where I put my toiletries and I love that the entire large space opens up. I do not like packs that only open at the top because what I need always ends up at the bottom.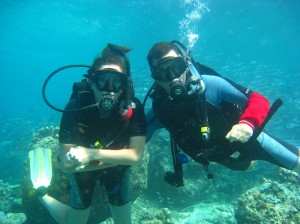 In Juicy Joy, Lisa McCourt writes: "Fear is almost always going to come up when you're trying for something new in your life…If you feel fear about moving toward your dream, take stock of how much you're giving up by not taking that step." This quote and book helped me realize that discovering what makes me afraid could be a good thing. It is like a flashing sign that I am close to something great. Fear is not always a reason not to do something. I personally am embarrassed by all of my fears but I do not have to perfect. I just have to show up.
After years of working at sea, I was not worried about what to do if I became ill, and I knew that if someone at home needed me, I was only a plane ride away. But I could not wrap my head around the what-ifs about my relationship. Finally a friend told me, "Imagine he goes without you and you teach for another year. How will you feel while he is gone? When he returns from a year of adventure and you had another year in the classroom, what do you think that will look like?"
In that moment, I had clarity. I was going. No matter how it turned out, I wanted to try. No matter how scared I was to leave everyone behind, I could not imagine him going without me. From that moment on, I was ready. I could see us together: there were tears and twists along the way, but I knew in my heart we had to go as a team.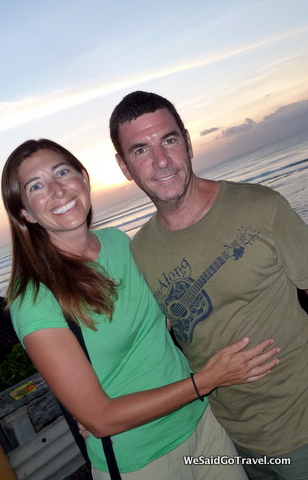 Top photo credit by Unsplash.