Women's Travel Pioneer: A Conversation with Journeywoman CEO, Evelyn Hannon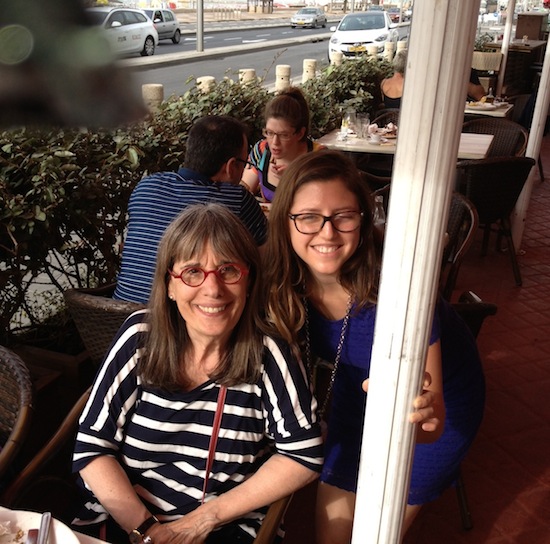 This week, it was my privilege to meet Evelyn Hannon, the CEO of Journeywoman, the largest online travel resource for women. Hannon founded Journeywoman in the 1990s–before any other online women's travel resource existed and before women were setting out on international travels to the same extent as they are today. Since then, she has built a community of thousands of women from all over the world–including 72,000 who receive her travel tips e-newsletter.
Hannon has been called the "Grandmother of Women's Travel," but after a morning spent chatting with her at a Tel Aviv cafe, I believe that the title doesn't begin to do her justice.  Hannon is the pioneer of women's travel.  She first started becoming a serious traveler in her 40s, and went on to develop Journeywoman out of her pure love of travel and her passion for empowering women to help support one another.  She never once imagined that it would become the community it is today.
She is honest, authentic, and understated, and conveys a very real fascination, first and foremost, in the diverse people she meets on her travels.  She is an inspiration to women travelers everywhere.
Rachel Sales: What has been your greatest challenge during your travels?
Evelyn Hannon: The truth is, I've never experienced great challenges when I've travelled, and I don't know if that's because I started my long journeys at age 45.  I remember that once while travelling someone started to follow me, and I turned around and said, "Go away," and the person just went away. But I don't want to be too simplistic. Really, in terms of staying safe, I always follow my own Journeywoman rules.  I just don't take chances.
RS: What is your favorite place you've traveled to?
EH: I have several places.  Now I'm in Israel, and I love it for its history, and I also think it's a really happening place.  Also, China.  I just love it there – I must have been Chinese in another life. I also have two adopted Chinese grandchildren that I helped receive in China so that country has special meaning for me. Also, Antarctica.  It was simply a world of ice and snow.
I got the chance to see penguins and to understand that I was a visitor in 'their world.' It was a place where time stands still for the traveller and things just happen around you. It was one of the best adventures I've ever had.
RS: What sort of inspiration do you get from your readers?
EH: Wonderful inspiration! My mandate has always been to inspire 'other' women to travel safely and well. Truthfully, at 73, I'm now the one who is inspired to keep getting out there when I see how many more women are exploring the world and loving it.
RS: What is your favorite thing to do during your travels?
EH: Meander with my camera. I walk and meet people who are completely different from me, and I communicate with them the best way I can, trying to bridge any cultural gap that might exist between us.
RS: What would you say to encourage someone who wants to get out and experience the world?
EH: Listen to other women's stories, draw courage from them and start small.  You don't need to go to China on your first trip.  Go somewhere new and test yourself in a place that you know nothing about. The experience will give you a taste of the freedom you'll get from exploring the world.