Barbecue on Lo So Shing Beach: Escaping Hong Kong's Crowds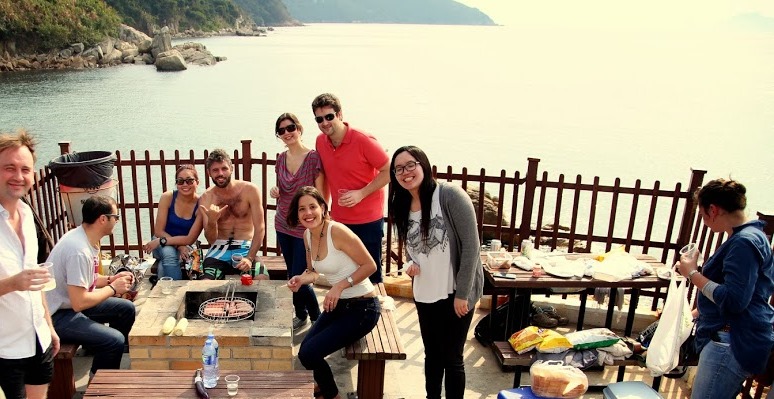 Because a friend was visiting, we decided to go for a hike and explore Lamma Island. Lamma is the third largest Outlying Island, which is part of Hong Kong territory. We caught a ferry in the Central Pier 4, which is a very beautiful old building on the seaside promenade. Lamma has two small villages, Yung Shue Wan in the north and Sok Kwu Wan.
After 40 minutes on the ferry we arrived at the north end village. This village has a lot of expats, and everything happens around a street full of seafood restaurants and bars. We had checked out a restaurant on OpenRice, a very useful app for "foodies" with lots of reviews and photos on all possible restaurants in Hong Kong! Unfortunately, that restaurant had closed, which is common in HK as small restaurants open and close all the time.
If you compare a Google Maps street view with the actual road, a lot of the stores featured will probably be different. We decided to eat seafood at a seaside restaurant, recommended by a friend who lives there. We ate a very good ginger rice and shrimp dish over the protected bay filled with small fishing boats.
Barbecue on Lo So Shing Beach: Escaping Hong Kong's Crowds.
After lunch, we began our mission to cross the Island through the mountain trail. A beautiful trail starting at Yung Shue Wan leads to Sok Kwu Wan, snaking the mountain along the coast at around a hundred meters high. It is an easy walk with good navigation signage that is worth it for the sea landscapes and the green surroundings. The mountain, the farmer fields, and the infinite horizon are only disrupted by the coal factory built on part of the island coast. Besides that, the peace and the clean air make you forget about the rush of the city just some miles away.
We had almost arrived at Sok Kwu Wan, when we decided to check out the Lo So Shing beach on the west side of the island. What a great surprise! We not only found a very nice sand beach but also an amazing spot for a barbecue on the beach that was practically on the sea! We decided we would return to that spot soon.
After that escapade, we found a Kamikaze Cave where Japanese troops used to hide fast-speed boats during the Second World War. Aside from the touristy seafood restaurants, Sok Kwu Wan's bay is full of fishing boats and docks, fish breeding nets and people for whom fishing has always been at the center of their lives. Impressively simple floating constructions house shrimp that is then sold in Hong Kong markets. When the night falls, lights start to appear, making the landscape even more picturesque.
Some weeks later, we returned to Lo So Shing beach to organize a friend's barbecue.
Some weeks later, we returned to Lo So Shing beach to organize a friend's barbecue. On a piece of land that looks like a tongue entering the sea, we hosted the barbecue in a spot surrounded by a wooden fence and with an amazing view. With a square barbecue made of bricks, wooden benches, and a table, it was the perfect place for a sunny winter barbecue. It even had rubbish bins so we could dispose of our trash right there!
Everybody brought something: coal, meat skewers, fish, cucumbers, eggplant, chips, beer, and ice. We even had marshmallows for dessert! Blessed with a warm day in January, some people even went sea bathing!
We spent an amazing sunny Sunday around the barbecue, drinking, talking and laughing.
This is what makes me enjoy Hong Kong so much. One moment you're in one of the most densely populated streets of the world, zigzagging in between the people to cross the street and the next moment, you are at a friend's barbecue on the beach enjoying a sunny Sunday. It's a luxury to spend a Sunday in Hong Kong where you can see the horizon and the only sound you can hear are your friends laughing!