Chile Earthquakes: Experiencing Tsunami Watch as a Study Abroad Student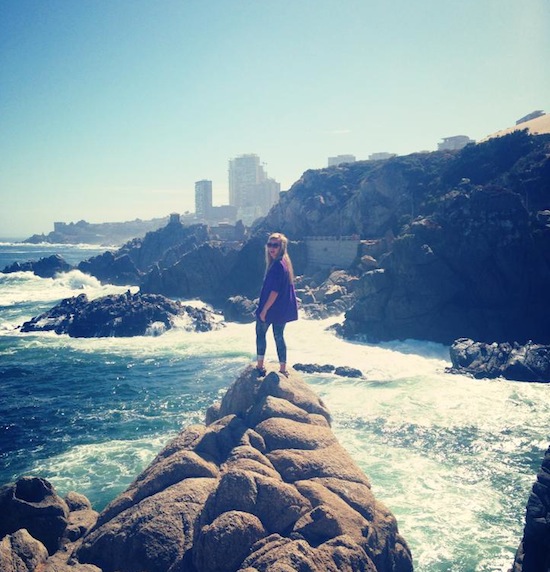 Though I did not physically feel anything from the earthquake or tsunamis that ravaged Chile on Monday night, I still experienced plenty of chaos and excitement. Even before I found out about about the earthquake, I began to receive texts and snapchats asking me if I was alright or if I had felt anything. Our program directors requested that all of us get in touch with family and loved ones to let them know that we were completely safe and that the disaster had hit some 1,000 miles north of where we are located, but shortly after this announcement, we were informed that we were under tsunami watch. I did get in touch with many people from home, and I still continue to get questions about the events that took place. How convenient technology is!
This was not the first earthquake to take place in Chile since I have been living here as of March 3, so I did not take the warning seriously. But as a group of us left our apartment complex to get ice cream, we discovered that this time, it was really happening.
We live on top of a pretty steep hill and in an apartment complex that is made to handle natural disasters like this. The tsunami was predicted to hit about six feet above where sea level was then. So, in theory, we were completely safe. But, there were many people taking refuge on our safe hill who may have not been so lucky. The sight of all of those people waiting out the wave struck most of us with a little bit of apprehension and stopped us from going to get ice cream. The bottom of our hill was blocked off by many officials, and there were also police cars trolling up and down both lanes of the road right by the beach making sure people and automobiles were off and in a safe spot.
The men in my group were assigned to clear out the room we use as a classroom in case people needed to camp out in it. We were then on tsunami watch from around 9:45 PM to midnight, so we all stayed out on our balconies to wait.
There was a man on the hill right under our balcony who had just gotten off the phone and began crying. The few people we talked to said that they had family that were in an area predicted to be hit or that already had been. Praise God that we were not.
I was not physically affected by this disaster, but I am living for three months in a country that was–a country that I have come to love. From what I have read, around 220,000 homes were damaged in the tsunamis of Monday night with six deaths counted. That breaks my heart. Chile is one of the countries most prone to experience natural disasters, so this is not an unknown concept here. However, it does not make any of the disasters any less devastating,
Chile is so beauty and grandiose mainly because of its beaches and access to the Pacific. How ironic that one of its main attractions cannot be controlled by man and can provide serious tragedy, but that does not make it any less magnificent.
I am sad for Chile and for those who were affected, and I am praying for their families and for the recovery of what was lost.