3 Reasons To Cover Up on a Motor Scooter in Bali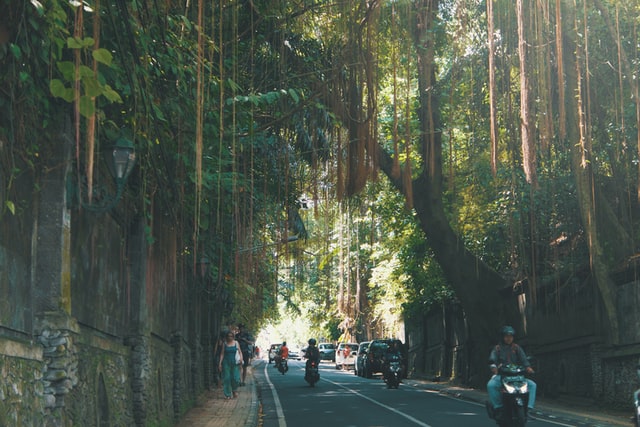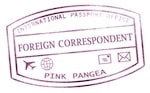 I circled around Ubud, riding on a motor scooter, confused by even the simplistic layout of the streets. I was hot, tired, and lost… and not for the first time that day. I finally pulled into our accommodations many hours after my friend–who had hired transportation–had arrived, but it was worth it. I had managed to drive myself from Kuta to Ubud with hours of unexpected scenery along the way.
Sure, I had to turn around a couple times, but I also got to visit beautiful temples and pass scenic stretches of rice paddies and tropical fields, as well as discover some delicious street food.
On my first day in Bali, I arrived to sun, palm trees, and my newly rented motor scooter. I was running on a schedule and did not feel like taking the time to rummage through my bags and change my clothes, when all the opportunities of Bali were only the press of an electric start button away.
If you follow no other tip when you get on your bike, I implore you to cover up.
So I checked my luggage at the front desk, climbed on the scooter, and took off. It took me less than 20 minutes into that trip to realize I was frying to a crisp under the constant sun. I was getting sunburned. I would have to put up with this for the rest of my vacation. The traffic was intimidating and the street signs were practically nonexistent. I'm lucky I returned as I did, in pain and having ruined only my new Bali-ready pedicure.
There are a few easy ways to make or break the experience of getting around Bali. Driving around on a motorcycle or motor scooter is totally doable.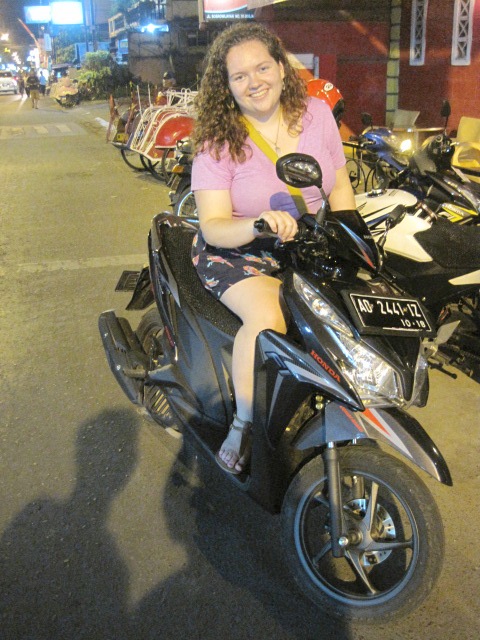 And frankly, as a woman traveling alone, I found that it seemed a lot safer. When I walked on my own or took a taxi, I received so many undesired comments from men on even the shortest of journeys, but when I was driving on my scooter I was a woman with a purpose. I was in control of my well-being and people seemed to respect that I was a woman with things to do and places to be.
They're way more likely to pull over the girl in her shorts and tank top than the girl wearing a helmet and long clothes.
If you follow no other tip when you get on your bike, I implore you to cover up. If I had to drive more than 10-15 minutes, I learned to change into long pants and long sleeves. It only takes one incident to make you severely regret not having better clothing on.
Plus, the conservative clothes come with a ton of benefits! They are:
Benefit #1: No sunburn! You don't have to worry if your sunscreen is working or if you applied it everywhere. The sun stays off your skin and you actually stay cooler when riding because when you block the sun and add the breeze of driving it's actually more comfortable.
Benefit #2: You draw less attention to yourself. Locals tend to dress more conservatively, and are particularly covered up when driving for all the reasons mentioned above. You will be more respected on the road by other drivers, which can make a difference in Indonesian traffic. Additionally, cops are famous for pulling over foreigners in Bali and making them pay fines. They're way more likely to pull over the girl in her shorts and tank top than the girl wearing a helmet and long clothes.
Benefit #3: It's safer overall! If you fall or get hit by another driver, you have additional protection on. Skimming a tree or the side of a car due to having to emergency maneuver around another driver will have a much safer, and more pleasant, ending if your skin is less likely to be directly affected. Also, covering up refers to your feet as well. Don't drive in flip-flops. I guarantee that your feet are going to end up scraping against all sorts of surfaces.
There are plenty of other benefits and issues when driving yourself around Bali, but everything else seems much more manageable. Part of the joy of renting the vehicle is independently learning the ins and outs of getting around Bali and discovering other tips and tricks along the way.
So get a motor scooter, a jacket, and get ready for adventure.
Top photo by Unsplash.