Travel South America: In Conversation with Brittany VanderBeek
This month, we're interviewing women from all over the world and asking them about their experiences traveling to South America. We had the privilege of speaking with Brittany VanderBeek about her experience traveling through South America. Here's a glimpse into our conversation.
Tell us about yourself! What do you do when you're not traveling the world? Where do you live? What made you decide to go to South America?
I'm a Michigander turned Clevelander, but I'll never stop saying Go Blue! I am an analyst at a sustainability consulting firm, where I help companies develop strategies and write sustainability reports to create a positive impact on their employees, communities, and the environment. I contribute blog posts to SustainGenuity and GreenBiz, and I also have my own blog, inspirNational, where I write about international inspiration in our everyday lives.
Over the past year, I have been a volunteer teacher at El Barrio in Cleveland, an English as a Second Language program for adults preparing for the business world. I am a volunteer intern for Abroaders, where I research travel deals and frequent flyer programs to help others leverage international travel for personal growth and business development. I serve as the Vice President of the Cleveland West Pi Beta Phi Alumnae Club.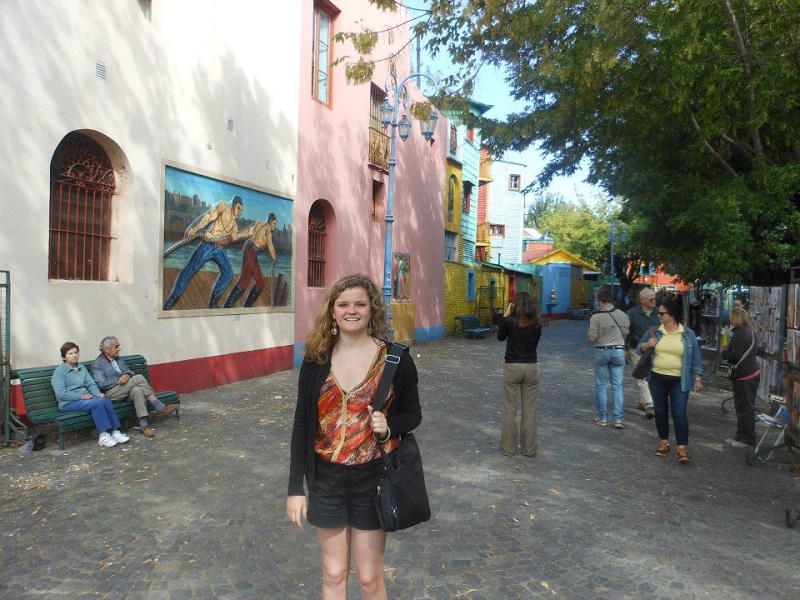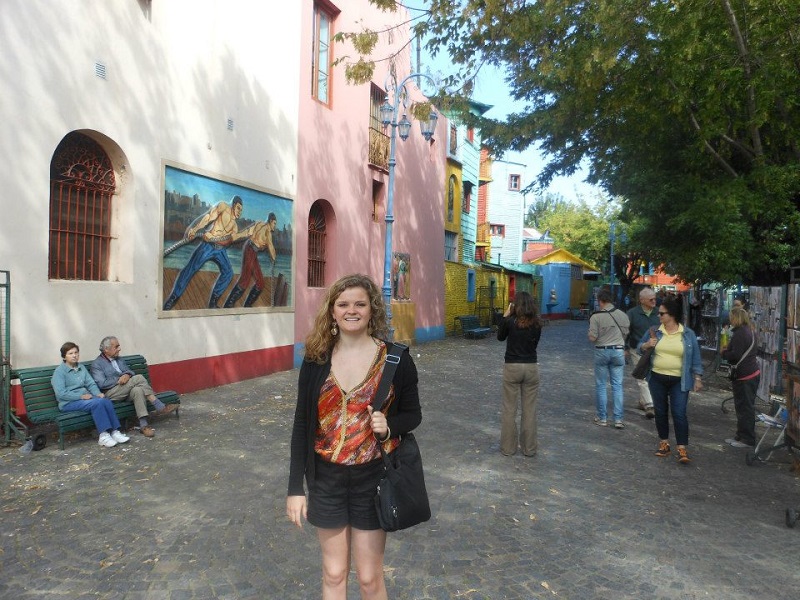 In my spare time, I enjoy running, yoga, and exploring Cleveland. Follow me on Twitter @brittanyvb or on LinkedIn to learn more! I have had the travel bug since I was 6 weeks old, first traveling to Clearwater Beach, Florida. Since then, I have studied and traveled throughout Europe, North America, the Caribbean, and South America. Over the past year, I have traveled to Hawaii and Costa Rica, bringing my sustainability work to life. One of my favorite recent trips was to South America, where I studied in Chile (Santiago and Valparaiso) for my undergraduate senior spring break and then traveled to Brazil and Argentina.
How long did you go for? How did you spend your time?
I traveled to South America for three weeks. For the first week, I went to Santiago and Valparaiso, Chile for a corporate strategy class with Global Tracks and the University of Michigan Ross School of Business. I had a wonderful experience learning about business in Chile, through touring the William Cole Vineyard, IBM de Chile, the American Chamber of Commerce, and Start Up Chile. I also enjoyed learning more about the Chilean culture by exploring Cerro San Cristobal, Cerro Santa Lucia, Plaza de Armas, Bellavista, the Casablanca Valley Puro Caballo Ranch, Los Dominicos Artisan Market, Pablo Neruda's home, Vina del Mar, and attending a Rapa Nui dance performance.
For the following two weeks, I went on a Trafalgar tour of Brazil and Argentina, including Rio de Janeiro, Iguassu Falls, and Buenos Aires. While in Rio de Janeiro, I explored Corcovado (Christ the Redeemer statue), Sugarloaf Mountain, Copacabana beach, Tijuca National Park, and attended a samba show. While in Iguassu Falls, I explored Iguassu National Park and Devil's Throat Falls and relaxed in the hot springs at Mabu Thermas & Resort. In Buenos Aires, I explored Casa Rosada, Catedral Metropolitana de Buenos Aires, Recoleta (cemetery where Eva Peron is buried), Teatro Colon, La Boca, tango in San Telmo, Palermo, and Tigre.
All throughout the trip, I enjoyed practicing my Spanish (even the Brazilians could sometimes understand me since Portuguese and Spanish are very similar) with the locals and learning about South American lifestyles.
What were your most memorable experiences? What were the biggest disappointments?
Most memorable experiences:
1. Dancing Rapa Nui style on stage with the Rapa Nui performers in Santiago, Chile.
2. Touring Pablo Neruda's home in Valparaiso, Chile, which brought to life my years of studying Spanish language and literature. Valparaiso had some of the most beautiful homes and sites of the Pacific Ocean that I've ever seen.
3. Visiting Catedral Metropolitana de Buenos Aires on the day they announced that Bishop Francis would become the new Pope; the entire city was celebrating this historic moment!
4. Enjoying a traditional Argentinian dinner at a family's home in Palermo Soho. I had the opportunity to bake bread with the family and learn about life and cooking in Argentina!
4. Drinking out of a coconut while shopping for Brazilian bikinis on the Copacabana beach. I felt like a local!
5. Overlooking all of Rio de Janeiro while on top of Sugarloaf Mountain. After seeing the spectacular views, I understood why so many significant world events are taking place there (the World Cup, the Olympics, etc.).
Biggest disappointment: I didn't stop to tour Uruguay, which I've heard is a wonderful place. That just means I need to go back!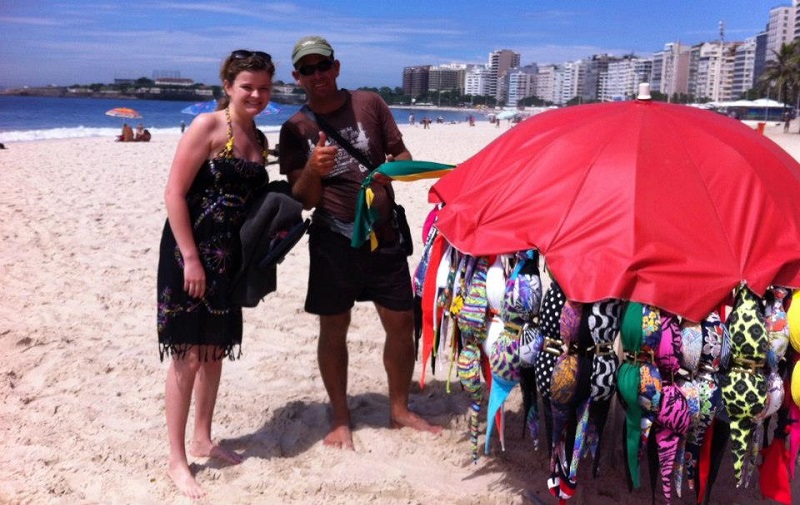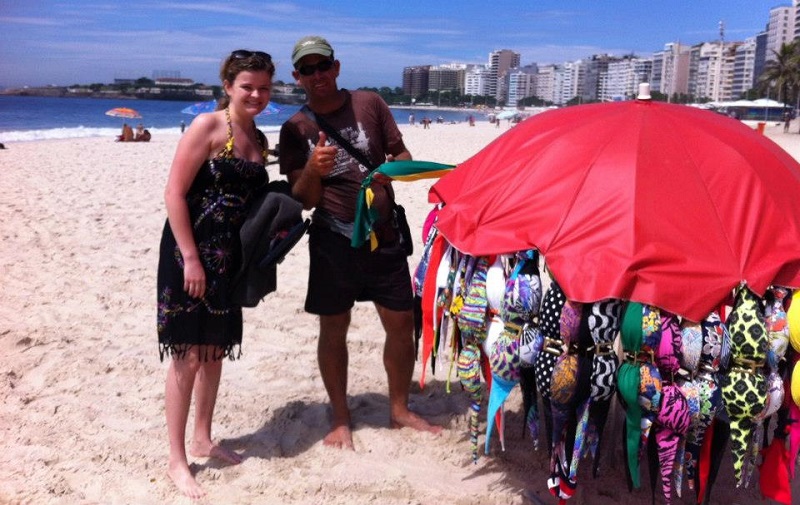 What do you wish you knew before you went?
I wish I knew that many of the South American countries require entrance fees. Bring cash so that you are prepared. It is expensive to travel there, even after you purchase your flight! There is more to the "new world" than the United States. It was interesting to see the European influence in South America intertwined with the indigenous influence.
Any favorite restaurants/hotels/hostels/sites you'd like to recommend?
Chile
Favorite Sites:
1) Cerro San Cristobal, for the fantastic views of Santiago
2) Wine tasting in the Casablanca Valley was a great way to understand an important industry in Chile
3) Pablo Neruda's home, for beautiful views of Valparaiso and great insights about Chilean literature.
Favorite Restaurants: La Stampa de La Negra and Puro Caballo Ranch in Casablanca Valley
Argentina
Favorite Sites:
1) La Boca, for the vibrant colored homes and great artisan markets
2) La Recoleta, where it was very touching to see the positive influence Eva Peron had on the country and how much respect the citizens still have for her
3) El Viejo Almacen tango performance, where tango originated.
Brazil
Favorite Sites:
1) Sugarloaf Mountain
2) Copacabana beach
Favorite Hotel: Mabu Thermos & Resort, which had fantastic hot springs and food.
What's next on your travel list?
I would like to spend more time exploring my home country (the United States), especially the Pacific Northwest (Seattle, Mount Rainer), Mount Rushmore, Glacier National Park, and New Orleans.
Outside of the United States, I would love to travel to Australia to learn more about my Australian heritage (my grandma was born there and my second cousins live there). I would also love to explore Asia, especially China, Japan, and Indonesia.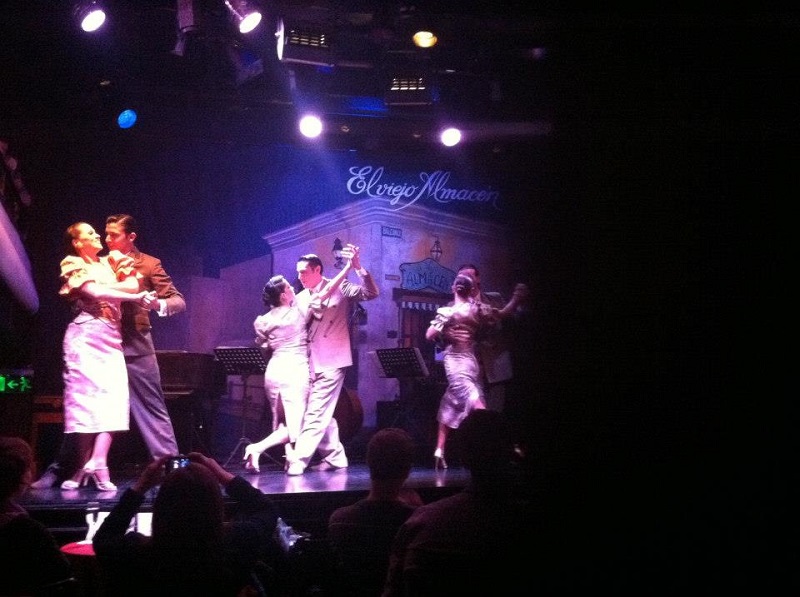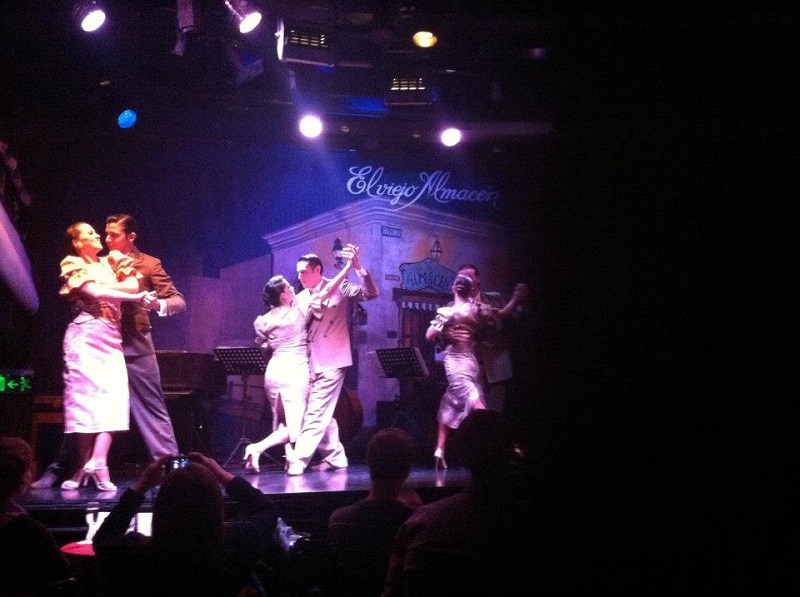 Travel South America: The Real Deal with Brittany VanderBeek