10 Reasons Why You'll Absolutely Love Finland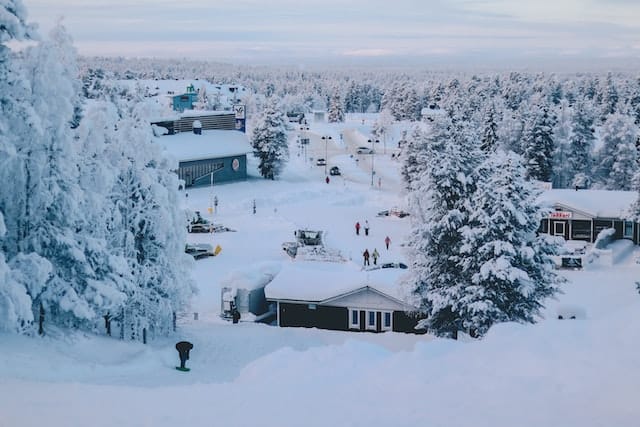 Why did I travel to Finland? I'd just resigned from a dementor-like company (i.e. it was literally draining the life-force out me). I wanted to explore a bit before I started a new job. A former colleague and friend in Finland put the idea of visiting his home country in my head, as he mentioned Santa lived there. It doesn't get more magical than that, especially when you add in huskies, reindeer, the Aurora Borealis, and some moose! During my visit, I learned that Finland has even more to offer. Here are 10 reasons why I absolutely love Finland:
10 Reasons Why You'll Absolutely Love Finland
1. Finnish Hospitality
Back in 2013, I went as far north as I'd ever been, crossing the Arctic Circle into the cute village of Muonio in Lapland (Finland). Everyone I met once landing in Finland was friendly and helpful, from the airport staff to the flight crew on Finnair. Upon landing at this tiny airport in Kittila, I was worried I'd show up at the airport and be stranded. But this lovely man swooped in and drove us along some roads lined with beautiful snow-covered-trees on the way to my hotel outside Muonio.
Arto, one of the Harriniva guides who showed me around, was a great storyteller. He always looked out for everyone who was part of his group. I have a habit of wandering off, or losing the 'group' because I'm too busy staring at something else. Arto picked this up quite early and would always get everyone to stop in the dark and ask, 'Where's Emily?' If you're ever in Finland and wondering why there are so many (smooth) rocks all over the place, it's because the country was, for a long time, under water. He also had some amazing stories of the Auroras and how the ancient people of the area viewed them–scary, omens from the gods.
Everyone was curious about how an Indian girl ended up in Finland as a tour guide.
I spent most of my time at the Hotel Jeris, located by Lake Jeris, which was frozen over with only a patch de-iced so people could swim. The staff at the hotel were amazing and made every effort to ensure I enjoyed my time while there. They even organised with the local guides to take me around while they did their daily chores. So I got to hang out on the back of a snowmobile while ski-trails were marked.
By the time a tour group arrived from England, I knew so much about the place that they thought I was one of the guides there.
Everyone was curious about how an Indian girl ended up in Finland as a tour guide. I should have gone with it and come up with a dramatic story, but I was a bit delayed.
2. Finnish Pilots and Drivers
Finnair flights don't build up speed before taking off. These guys move to the top of the ice-and-snow-covered runways and park there before they literally release the rockets. Within seconds, you're up the air. This is obviously needed so that the ice doesn't build up on the wings and engine and cause the plane to crash. I won't lie, I was worried about how they were going to land on those little, ice-and-snow-covered runways.
I was seriously impressed. Even the shuttle driver on those snow-covered roads just casually zipped along like it was all absolutely normal.
3. Finnish Magic
I've always wanted to walk on water, and I'm happy to report that I walked across the entire Lake Jeris. It was frozen water, but it was still water! I was hesitant to do this at first, but the guides assured me it was safe. They even took us out one night and drilled holes into the ice to show how thick it was—20cm thick! It started icing over again within minutes of being opened up!
4. Reindeer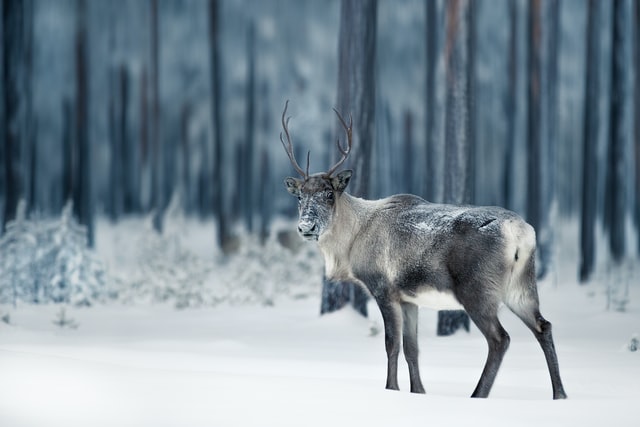 The clincher for me was visiting Santa. I didn't get a chance to go to Santa village in Rovaniemi, but I'm pretty that's a stand-in. When Santa asked what I wanted, it was simple. I wanted 2014 to be beautiful. I can't begin to explain how he absolutely delivered on that request, but that's another story. In fact, I delivered letters from friends back home, and then I went to feed some of his reindeer, prepping them for their long night of global deliveries.
Reindeer, I learned, have this suede-like covering on their antlers which they shed every year. Looks like a painful process. They are such gorgeous animals though, and there was this one cutie, Prancer maybe, who was just fascinated by me and my camera.
5. Huskies
What's a visit to the Arctic north without some huskies? The team at Harriniva Hotels & Safari also have sledding activities, so I opted for the visit to meet the hardworking dogs. A guide to naming their dogs: no politicians and no religious figures. I liked that they let the dogs who have retired from sledding be adopted. All retired dogs have their names on a display plaque. One of the dogs and I really bonded—his name is Gucci. Expensive tastes.
6. Saunas
These are a Finnish staple, and the hotel spa facilities include three saunas. While checking out the lake and contemplating a polar plunge, I met these ladies running out into the snow in their bathers. My initial thought was, 'Are these people nuts?!?!' I later learned about the whole process and was invited to join them the next day.
Here's how it works: First, you start off with time in the sauna room. Then you run outside into the snow, onto the bridge over the lake and jump into the thawed section. You swim across to the other end, make your way to the smoke-sauna room for a few minutes, and then head into the main pool building. You'll take a shower to clean off any dirt and then take a dip in the Jacuzzi or heated pool. Then it's time to relax and enjoy the beautiful scenery through the big glass windows facing the lake.
I never had the guts to join them on the full run, but I did enjoy my time in the pool and the sauna rooms. The smoke-sauna room was dark, and all I saw were two orange glowing lights in there. So, I wasn't sure if there was someone else in there or not. I didn't last more than 5 minutes before running out in terror. Thankfully, no one was around to watch this very unlady-like gallop out into the snow!
7. Finnish landscapes
During the day, we did some snowshoe walking through the National Park behind the hotel and saw wild reindeer roaming about. They said they had wolves, but thankfully I didn't come across any, even though I imagined some stalking me on the nights we were out Aurora hunting. I attempted some cross-country skiing but didn't make it very far.
8. The Aurora Borealis
This was my second attempt at viewing them—a few months earlier there was too much cloud cover while on the Isle of Skye. Every night I parked outside in the cold waiting to spot them, but unfortunately the weather was not on my side until the last night there. You can see pictures of these dancing lights across the skies and hear the legends about them. But until you see them, you will never understand the wonder that they are.
I literally dropped onto the lake (it was frozen) and just laid there looking up at the night skies (where it looked like some giant being was running its hands behind a giant green curtain). Absolutely stunning! This was at 3:30 am, and I was almost frozen stiff while coming back to my room (but it was so worth i)t.
Just a warning to all wanting to photograph the Northern Lights: keep your camera batteries warm and carry extras. Nothing kills a battery faster than freezing cold weather, as I learnt the hard way.
10 Reasons Why You'll Absolutely Love Finland!
9. Finnish Sunsets
The days were short while I was here, but I was okay with that because I got to sleep 'late' and then prepare to see some stunning sunsets over the lake. It was the perfect holiday for me at that point in my life; I just needed to be somewhere beautiful and just relax.
10. Finnish food
This was my first year moving towards being vegan, so at the time I was in Finland, I was still pescatarian and the various meals I ate over the course of my stay were delicious. The day I left, the staff at my hotel packed a loaf of their yummy carrot bread for me to take home. In an article a friend sent me about the Finnish, it jokes about Finnish taking their own bread when they travel… does this make me a Finn?
Coming from South Africa, this place was everything out of a story book winter-wonderland! Snow covered trees and pathways where you almost expect a snow queen on her chariot pulled by Arctic foxes to come whizzing past you. It's a wonderful place to enjoy some peace and get some well-needed rest.
10 Reasons Why You'll Absolutely Love Finland Related Reading
5 Activities You Won't Want to Miss in Finland
6 Fantastically Delicious Finnish Foods
Finland Travel: 7 Things to Pack
Have you traveled to Finland? Did you love Finland? Email us at [email protected]pinkpangea.comto share your experience and advice with the Pink Pangea community. We can't wait to hear from you. Photos by Unsplash and Emily F.