A Romantic Helsinki City Break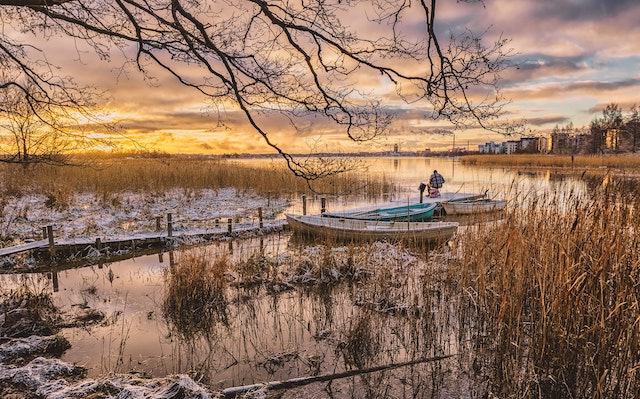 A couple of weeks ago, my partner Idan and I took a spontaneous trip to Helsinki. Many people in Israel (where we live at the moment) questioned our sanity as Helsinki is very cold, even during the spring, but actually I wanted to enjoy some cold weather before summer comes. We stayed at a super stylish Airbnb that was within walking distance of the city center. I enjoy staying at Airbnbs rather than hotels or hostels because they are affordable, and you get to see how people in the city you're visiting actually live. Also, going to local supermarkets is one of our pastimes when we travel, and it is nice to have access to a fully stocked kitchen with cooking oils, pans and spices. We spent our time enjoying a romantic Helsinki city break.
A Romantic Helsinki City Break
Sightseeing
On our first day in Helsinki we took a ferry to one of the small islands right outside of the city center, Suomenlinna. Suomenlinna was an old military fortress used by the Finns to protect themselves from Russian invaders. The island is very historical, with interesting museums and beautiful ruins. When the island was a functioning military fortress, Finland was controlled by the Swedish. Finland has a unique culture as it is not exactly Scandinavian, after being ruled by Russia for some time. It was very interesting to see the old cannons used to try to keep the Russians out of (then) Sweden, and the bunkers used to house ammunition, which looked like little Hobbit huts, as they were built into small hills.
On our last day in Finland, we took in some contemporary art at the Kiasma Museum. The museum looks very large on the outside, and that's because it houses many large, interactive exhibits. The size of the pieces makes it easy to see everything, if time as limited. While we were there, Ernesto Neto's work was on exhibition. These pieces had a functional, hippie vibe and the artist encouraged others to touch and physically use his pieces.
Saunas
My favorite aspect of Finnish culture is the saunas. We went to the only wood burning sauna still in Helsinki, called Kotiharjun Sauna Oy. The sauna is split into a men and women's sections. To use the sauna you must shower, sit naked in the sauna and then go outside (wearing a towel) to cool down. I decided to get an ad-on service called a "scrub down", where a woman used a sponge and scrubbed me down with soap. I wouldn't recommend it though, as it was just five minutes of lying there and paying someone to do something that I could do myself. But I do recommended being open-minded in the sauna, as everyone is naked.
Food
The food in Helsinki is very clean and healthy. Fish is very popular, as Finland is bordered by water. Some unique dishes that I tried were elk, moose and reindeer. These are all very lean meats and I highly encourage everyone to try them. The first exotic meat that we tried was elk. We asked the waitress what it tasted like and she said, "Like the moose!" Apparently moose is a common reference point for other dishes in Finland! Food is expensive in Finland and I would recommend buying supplies from the grocery store and eating breakfast in, so you only have to have one big meal out per day.
Shopping
Finnish fashion is super unique and funky. I picked up a few things from stores Marimekko, Monki, and RCollection. Marimekko is a contemporary woman's store that uses cool prints and clean lines to silhouette the womanly figure. They recently did a collaboration with Target as well. Monki is a fast-fashion store that has trendy pieces that are affordable for all. We discovered RCollection because our Airbnb host is a designer for this company. RCollection uses high quality fabrics for outdoor apparel and other basic, unisex pieces.
Photo credit for A Romantic Helsinki City Break by Unsplash.