Haunted and Inspired by Venice City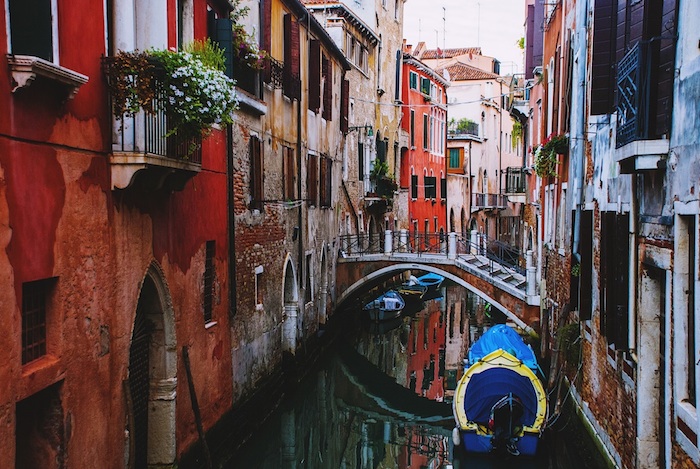 I love a good challenge and enjoy standing strong as I face my fears, but how silly does it sound that I was actually scared to visit the city of Venice?
My visions of Venice stemmed from a really odd film I had watched in my first year at university when I was studying professional writing, "Don't Look Now". It's a thriller based on a short story by Daphne Du Maurier, "Not After Midnight". The eerie dark shadows, recurring shades of red and death in the narrow canals of the sinking city really struck me, and stuck with me until I visited in early 2013.
I was on a Contiki tour, and we were camping throughout Italy. We stayed just across from the city in a camping ground. Venice was a twenty-minute ferry ride away. The entire city was in view as we approached. We got off at Piazza San Marco, the most famous of Venice's squares, where you'll find St. Mark's Basilica and dozens of shops and cafes for sitting with coffee and gelato. Many street performers and musical shows happen in this area too, and entertain from am to pm. Piazza San Marco is a very open space and filled with sunlight during the day, and energy and light from open shops and performances by night. But the alleys and backstreets of Venice are where the chilled moments of my memories occurred.
The waters of such a gorgeous city are on a mission to wrap up its beauty and slowly sink it, so that it vanishes forever.
The architecture of Venice is so capturing and the history embedded in every wall, every bridge and every stepping-stone. Watching as gondolas float below you; seeing the water rise up past the bottom of boarded-up doorways, because the city is sinking. These scenes keep the mystery of Venice alive. Everybody is dressed head to toe in designer clothes, and everywhere you turn there are Gucci, Louis Vuitton or expensive art shops. Masquerade masks hang on the walls of every shop, restaurant and café in constant remembrance of the Carnival of Venice. The colors of the shops and the people bleed throughout the old city, which is now dressed in dust and has turned grey with age.
As we passed silent buildings in a gondola while sipping champagne, I couldn't help but put together the stories of the people who once lived in these abandoned homes. I couldn't stop thinking about how the waters of such a gorgeous city are on a mission to wrap up its beauty and slowly sink it, so that it vanishes forever.
The mystery of the city truly inspired me, and led me to writing some very haunting and beautiful short stories. As I watched the sun sink into the waters, running shades of red and yellow in the darkness of the canals, I stood with my limoncello gelato with a smile on my face. I've never felt so warmed by a haunted feeling before. Italy has always made quite an impression on me, especially Florence and Sorrento. But Venice, a city I was nervous about visiting, is now a place so visual in my mind that I often think back to its mystery to inspire my typing hands.