4 Stunning Sites in Montevideo Uruguay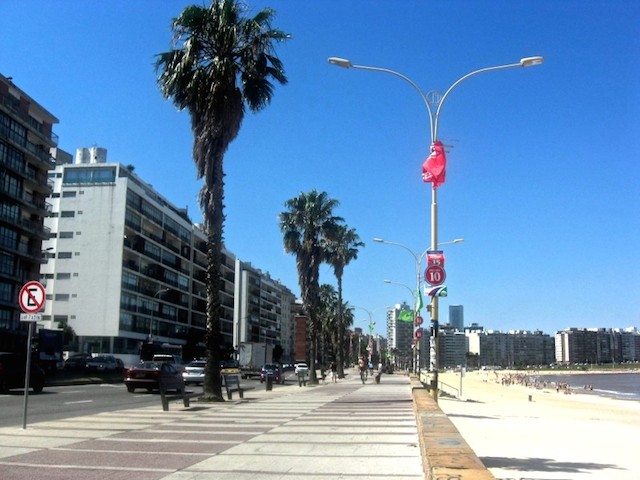 During my time at Abilene Christian University, I had the opportunity to study abroad with ten of my classmates and visiting faculty in Montevideo Uruguay. I chose to study abroad in Uruguay because I wanted to embrace my Latin American culture and improve my Spanish.
The atmosphere of Montevideo is similar to New York City because there are high-rise buildings, and the locals rely on taxis and walk. I mostly walked or took a bus. A bus ride costs 23 Uruguayan pesos (US 95 cents), and taxis are more expensive. I was not comfortable enough to explore Montevideo alone, so I always had company with me because it made me feel safe. If you're planning a trip to Montevideo, here are the sites I recommend visiting:
4 Stunning Sites in Montevideo Uruguay
Plaza Independencia
Plaza Independencia is the main plaza because it has the Gateway of the Citadel, and the mausoleum of Jose Artigas, Uruguay's national hero. The Gateway of the Citadel divides Ciudad Vieja (the old city) and downtown Montevideo. The former and current presidential offices are located there. Palacio Salvo is an iconic building at the intersection of Plaza Independencia and 18 de Julio because it used to be the tallest building in South America. To get to Plaza Independencia, I walked on 18 de Julio, a street with several shops, bakeries, and restaurants.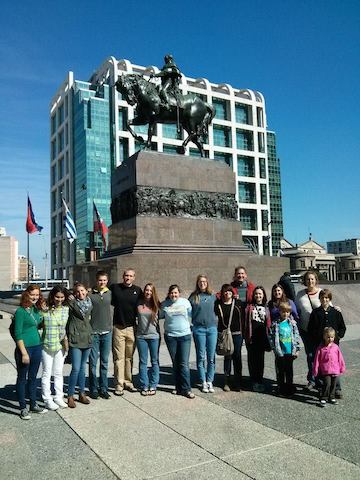 Ciudad Vieja
Ciudad Vieja is the oldest part of Montevideo. I shopped at one of the markets on Sarandí, which is a pedestrian sidewalk that has a variety of souvenirs such as flags, t-shirts, mate gourds, and magnets. The locals enjoy spending time at Plaza Matriz, the oldest plaza in Montevideo, which also houses an antique market.
Some other things to do include: visiting Montevideo Metropolitan Cathedral, is a gorgeous and tranquil religious site; exploring Puro Verso Librería, a cute bookstore and restaurant on Sarandí, and attending an orchestra concert at Teatro Solis, the oldest theatre in South America, which is located next to Plaza Indepencia. I paid cost 170 pesos (US $7.02) for a concert. Also check out Mercado del Puerto, on the intersection of Piedras street and Pérez Castellano, which has numerous restaurants and grills with delicious Uruguayan meat.
4 Stunning Sites in Montevideo Uruguay
Palacio Legislativo
The Legislative Palace is a beautiful old building I got to visit while I was studying Uruguayan government and politics. Check out the Great Hall, the House of Representatives, the library, and the historical Uruguayan paintings. In the main entrance of the building are the Uruguayan flag and the flag of Jose Artigas. The Legislative Palace has beautiful marble, light fixtures, stained glass, mosaics, and granite. I recommend taking a taxi to Palacio Legislativo to avoid walking in the sketchy neighborhoods nearby.
La Rambla
La Rambla is a long avenue by the coastline of Uruguay where locals walk, drink mate, ride their bikes, or relax on the beach. There is a line of palm trees and several condominiums. A couple of places close by are Punta Carretas (mall) and Parque Rodó (park). La Rambla is a good place to go for a walk or run. If travelers visit La Rambla at sunset, they can capture great photos. La Rambla is also well lit at night.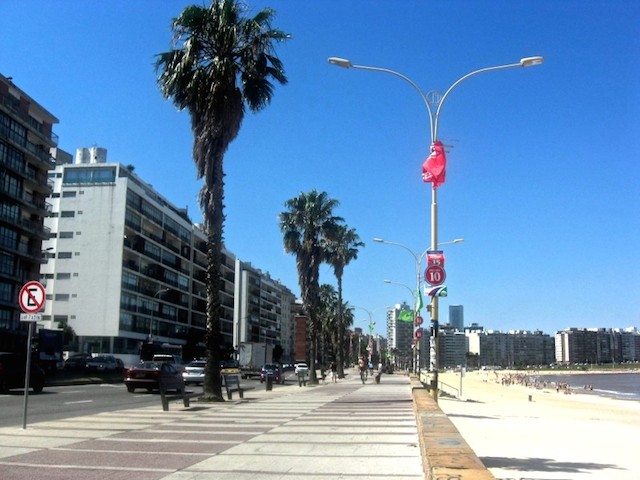 Safety Tips
Montevideo is considered a pretty safe city. I made sure that I was aware of my surroundings, especially at night because there are some low-lit areas. I held my purse closely to avoid pick pocketing. When I was shopping, I did not take large amounts of money.
When I needed to get money at the ATM, I was careful with my debit card, and I had a friend join me for safety. It is ideal to always keep a map on hand because some of the streets look alike. I would not recommend wearing high heels because some of the sidewalks are beat up. I almost tripped over broken sidewalk pieces a couple of times while wearing tennis shoes.
Overall, living in Uruguay was a positive experience. I improved in my Spanish, gained a new perspective, and engaged with friendly Uruguayans.
Photo credits for 4 Stunning Sites in Montevideo, Uruguay by Cameron Custer and Pixabay.