Moving to Italy: From Canada to Cannoli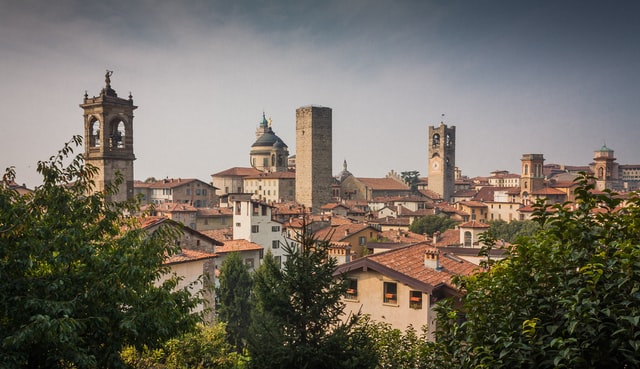 For the last six years, I've known that I was going to move to Italy and that it was just a matter of time. No, I didn't have that magical, Chianti-filled summer abroad experience that changed me forever. I fall into that other wonderful stereotype–once upon a summer in Edmonton, Alberta, Canada, I met an Italian husband. On our first (or maybe second) date, he told me that while he was enjoying Canada, he was planning on living out his days in the world's bel paese. I had never been to Italy yet but I had a deep-down gut feeling that I was going to fall in love with the country just.
So here we are, I am writing this from a city in Northern Italy called Bergamo. It is about a 45-minute drive to Milan and there are trains that go back and forth every hour.
I'm fortunate enough to be here, hopefully indefinitely, but for a minimum of a year thanks to my Working Holiday Visa.
It is a city that too often gets bypassed for the lure of fashion-filled Milan and while tourism is starting to kick in thanks to the cheap intra-Europe Ryanair flights that fly into Bergamo's airport, I still like to think Bergamo is one of Italy's hidden gems. I'm fortunate enough to be here, hopefully indefinitely, but for a minimum of a year thanks to my Working Holiday Visa.
So how does one make the move to Italy in the logistical and legal sense you ask? Depends on where you are from and what you would like to do in Italy. Here are some of the common ways that aspiring expats come live in The Boot for longer periods of time. Not for semester abroad.
Moving to Italy: From Canada to Cannoli
Working Holiday Visa
First, the Working Holiday Visa. Some countries, like Canada and Australia, have an agreement with Italy that facilitates a kind of youth exchange. Therefore issuing their young adult citizens a Working Holiday Visa. This allows for a year-long stay in Italy and the ability to work in the country for six months. To be eligible for this visa, you must fall between the ages of 18-35 and have a certain amount of savings in the bank.
When I applied from Canada, it was $2,000 CAN, although it changes from time to time. Naturally, there are a plethora of other documents that must accompany your application that will vary depending on which country you are applying from. For Canadians, these included your passport, CV, bank statements showing your savings, a flight reservation, and medical insurance for the year, plus an application module along with an application fee.
The entire process from start to finish took only about 4 weeks.
Work Visa
Americans, you have it a bit rougher. Most Americans will come either on a Work Visa or Study Visa. A Work Visa is challenging to get because it means that a company based in Italy needs to hire you. It also requires that company to do quite a lot of paperwork. As Sara from Ms. Adventures in Italy put it "this is a bit of a catch-22 because most companies will not hire you without a work permit and it's almost impossible to get a work permit without a job."
Some bigger, international companies, however, don't have a huge problem with this. They typically have someone or an entire department dedicated to processing foreign workers' documents. If you have your heart set on Italy, a good first step might be to work for a North American company that has branches in Italy. This way you can ask for a transfer!
Here's a little known fact. You can also be granted the same privileges of a Work Visa if you are the spouse of someone who has a Work Visa. This means that if your husband gets a job in Italy, you can tag along and legally stay and work in the country.
Moving to Italy: From Canada to Cannoli
Study Visa
A Study Visa is "easier" to attain in the sense that you can enroll in a course. For example at an Italian university, and that will allow you to stay for the duration of the course (up to 365 days). It will also give you the permission to work at the same time. Italians are aware that starving students need to sustain themselves.
With a Study Visa, you must be taking a course for at least 20 hours a week. In addition, like the Working Holiday Visa, be able to declare sufficient funds to cover your stay in Italy and have medical insurance. The only catch with this visa is that you are restricted to working part-time (20 hours a week). For a full-time job, you would require a Work Visa.
No Visa
If you are a citizen of the European Union, you have it the easiest of all. The EU allows for free movement of its people between countries. There is absolutely no need to apply for a visa of any sort if you want to work, study, or live in Italy. The only thing that needs to be accomplished when you arrive is to apply for your "permesso di soggiorno." This is your legal document that will declare you are allowed to stay in Italy.
This permesso is required for anyone planning on staying in Italy longer than 90 days. It needs to be requested from the local Questura (the police headquarters) of whichever Italian city you are residing in. More detailed information is usually included with your approved visa should you be coming from America/Canada/Australia an New Zealand.
Moving to Italy: From Canada to Cannoli
Marriage
Finally, there is always the option of marrying an Italian national…! In all seriousness, this is actually the easiest option if by some perfect twist of destiny. You happen to have an Italian significant that you would like to eventually marry. This does not immediately guarantee you Italian citizenship. The last I heard, you had to be married to an Italian and living for two consecutive years in Italy before applying.
Other non-EU expats who are not married to an Italian and/or citizen of another European Union country will need to wait an astounding ten years. They need to be living in Italy for that long before having Italian citizenship. Although this is certainly not much different from if you immigrate to other countries like Canada or the USA.
This was not an exhaustive nor by any means totally inclusive list of options to move to Italy. If you are truly interested, contact the Italian consulate or Embassy in your area for more information. See you in Italy!
Moving to Italy: From Canada to Cannoli
Related Reading
Moving to Italy, Learning Italian, and Falling in Love
Leaving My Dead-End Job and Moving to Italy
Adapting to the Glorious–and Sometimes Difficult–Italian Culture Why Moving Abroad is the Best Thing I've Ever Done
Changing My Post-Grad Plans to Live in Italy
What It's Like to Move Abroad in Your Thirties
Have you moved abroad? Email us at [email protected] for information about sharing your experience and advice with the Pink Pangea community. We can't wait to hear from you.
Moving to Italy: From Canada to Cannoli photo credit by Unsplash.