Masaya, Catarina and the Legendary Volcano Masaya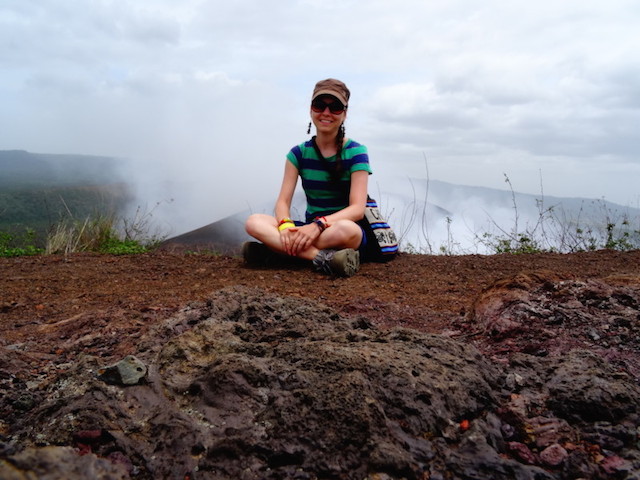 In order to escape the hot weather of León now and then, I decided to travel one weekend to Masaya, the capital of handicrafts in Nicaragua. I really liked this charming little province town which contains a pleasant climate (especially during nighttime), with romantic and colorful colonial buildings, a lively central park, where most of town´s life takes place, the beautiful landscapes around town, including the volcano Masaya and Masaya´s little surrounding villages (Pueblos Blancos).
Masaya, Catarina and the Legendary Volcano Masaya
Masaya on a glance:
Regular buses running between Managua (Station UCA) and Masaya
Charming little province-town with the tallest and most beautiful handicraft market in the country, where you can buy traditional clothes, hammocks, souvenirs, etc.
Local buses to Managua stop at volcano Masaya
Lively central park (Parque central)
Bus terminal a bit outside the city center, but in walking distance
Beautiful villages around Masaya (e.g. Catarina) easily reachable by bus
Vicinity to Laguna de Apoyo
One hostel I can recommend is "Mi Casa Hostal", 3,5 blocks north of central park (Direction)
Transportation to Masaya:
As always, I start my weekend trips from León. It´s easy to get from there to Masaya. Regular buses are leaving from León to Managua (UCA Station) for 54 C$ (around $2, 1.5 hours) and there are also regular buses leaving to Masaya for 20 C$ (around $0.80, 45 minutes).
The buses do not stop in the very center of Masaya, but one block east of the handicraft market and 2 blocks east of the central park, in the barrio San Miguel. It´s a 10 minutes walk to the town center.
Accommodation:
Masaya does not have many accommodations for travelers. I found one of the good and cheap ones: "Mi Casa Hostal". It´s located 3.5 blocks north of the central park. The rooms are very basic but clean and cheap though. I paid $7 for a private room with shared bathroom. The building is very beautiful; it´s an old colonial building, which contains a lot of wood, with a small garden inside and a big area with chairs and tables for hanging around. Moreover the owners are very friendly and helpful and always up for a little conversation. I felt really safe there.
Masaya:
The charming colonial houses, the lively central park, the beautiful building which contains the handicraft market and reminds me of a castle, the little streets, the decent climate and friendly people turn Masaya into one of my favorite places in Nicaragua.
After weeks of no rain at all in León, I greatly appreciated the heavy rain which welcomed me in Masaya on Friday afternoon. The climate is still warm but the rain is refreshing and the night temperatures of Masaya are just perfect (around 20-24 degrees).
On my first day in Masaya I wandered around the city and I explored many interesting corners. Churches, schools, parks, the handicraft market, painted walls, cafés that offer delicious fresh "Batidos" (juice made of fresh fruits) and restaurants that offer cheap and delicious traditional food, for example a "Pupusa" restaurant (3.5 blocks south of the central park on the left side). Pupusas are stuffed (with beans, cheese, eggs, vegetables, meat..whatever you want) pancakes, made of corn flour, water and cheese. You really have to try that – it´s delicious!
I spent the evening in the central park, watching people (or them watching me!), eating a tasty ice cream, drinking Batido, and walking around. That´s an adventure itself, because here you can observe perfectly the day-to-day life of local people. Children are playing and running around, old people are sitting c on the banks or playing chess with each other, people are eating their dinner, drinking or having ice cream, teenager are dating and whispering sweet nothings to each other, dogs are looking for something to eat, mariachis are playing their music, and so on.
In Masaya, horse carriages are still a common instrument for public transportation, which are the direct competitors of taxis and buses.
Catarina:
Catarina is a little village, about 20 minutes by bus from Masaya. Buses leave from the big bus station outside of the town, around 5 blocks east of the handicraft market. Walking to the station takes around 15 minutes. Just follow the Calle San Miguel.
There isn't too much to see or do in Catarina, so do not have high expectations. The viewpoint to the Laguna de Apoyo is probably the biggest attraction here. But also the nice little houses, the plants and garden souvenirs that they sell everywhere, the little central park with a playground for kids and traditional cafés and restaurants make Catarina worth a visit. Just walk around, eat traditional food, relax at the viewpoint or in the park and observe the local life and you will make the most of your visit!
In Catarina I met my friend Thomas, with whom I travelled along Panama and we spent a nice day together, chatting about our experiences in Central America and exchanging interesting travel stories and hints!
Volcano Masaya
Just around 30 km on the left side of the highway to Managua lies the "Parque Nacional Volcan Masaya". Take the regular buses to Managua but tell the bus helper in advance that you wish to get out at Volcan Masaya. In around 15 minutes, you'll be there. Western visitors have to pay 100 C$ (around $3) to enter the national park. For another 100 C$, you can take public transportation up to the crater of the volcano and down again, but I didn´t want to do that. I preferred to walk all the way up. It´s a more intense experience and you can enjoy the magical landscapes, drawn by many volcanic eruptions in the past. The volcano is still one of the most active volcanoes worldwide.
When I reached the smoking crater after a 1.5 hours walk upwards, I was really impressed by this natural wonder. Lava is flowing constantly inside the crater, excreting smoke permanently. The volcano was already feared by the former indigenous people and later also by the Spaniards.
I enjoyed my stay here a lot while walking around the active crater and another inactive one, located a bit higher. It´s a perfect day trip!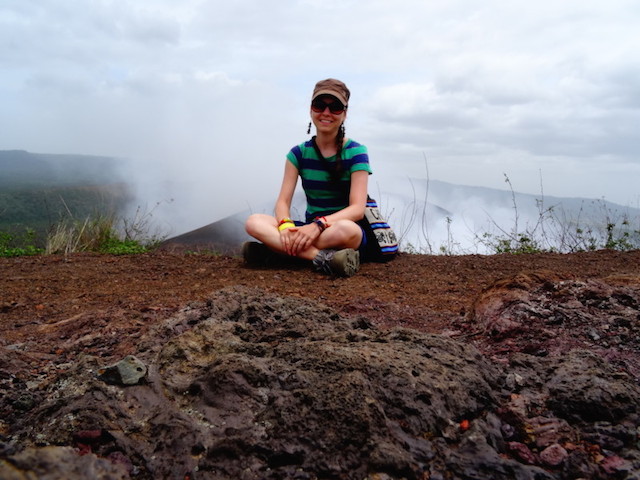 Also the little museum at the visitor's center is worth it a visit. It contains interesting information about the volcano Masaya and volcanoes in general.
Later I drove back, again by bus, to Masaya and in the evening back to León, via Managua. Another great weekend with new travel experiences and great impressions came to an end!
Photo by Sarah Schmidt.