Explore Nicaragua: Estelí and Miraflor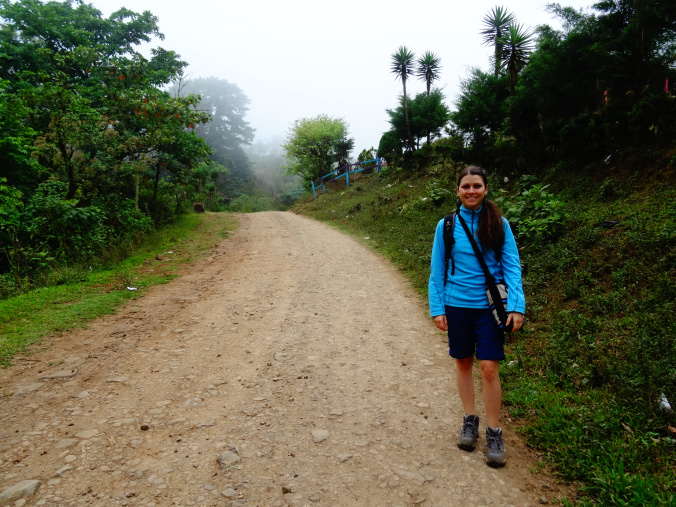 Estelí is a city in Northern Nicaragua and with its 120,000 inhabitants, it is the third biggest city in Nicaragua after Managua and León. The city lies at 840 m altitude and is surrounded by forested mountains and plateau areas that go up to 1600 m. The area is rich in cloud forests, tropical dry forests, waterfalls and the region comprises 4 vegetation zones. One of the most beautiful, gorgeous and adventurous attractions around Estelí is the Miraflor Natural Reserve. I have been traveling to Estelí for one day and one night and afterwards I continued to Miraflor for two days and one night. It has been a fantastic, relaxing and inspiring journey for me! Below I will tell you, what I experienced there.
My journey started in the morning. I took a taxi to the northern bus station for 30 C$ (around $1) because I was too lazy to take the "ruta" (a rebuild transporter that serves as a mini bus and connects the city center with different neighbourhoods of León). But this option takes around 30 minutes to reach the city center and another 10 minutes to the bus station because there would have been a necessity of changing the "ruta" once. The "ruta" would have cost me only 4 C$ for each drive but, as I said already, I was too lazy this time. I knew already that there would be an exhausting drive to Estelí, like always in Nicaragua, awaiting me.

I was at the bus station at 8:30 a.m. and the bus was supposed to start at 9.30 a.m. But there are just 3 buses a day from León to Estelí and I didn´t want to take a risk to be too late and therefore not get a seat and have to stand the whole journey. That´s why I always prefer to arrive earlier.
And what was awaiting me? A already quite long queue of people waited for the bus to Estelí. It was a weekend and moreover the 1st of May, which is a holiday in Nicaragua. So many people, among others many students, who study or work in León are driving home for the weekend. I hoped that there would be more mini-buses available for all these people or at least one big chicken bus. The people were queuing beneath a roof where also market stands were located and people were cooking meals for sale. So the heat, which is already unbelievable high in León, felt like it was about 50 degrees, since a woman was frying cheese on an open grill just beside me. Plenty of street vendors were coming by, squeezing themselves without constraint through the waiting people, trying to sell their food and drinks with the loudest yelling they could produce.
The first mini-bus came and obviously, that was not big enough for the large amount of people waiting. So it got full very fast and drove away. Thus we had to wait again and I became already a bit nervous that I wouldn´t be able to reach Estelí today. But after some time a bus helper guided us to a big chicken bus just 30 meters away and all the waiting people found a place in the bus- now we could start!
But nothing happened. One hour later. Nothing happened. Some more people got into the bus and it got fuller and fuller. The bus helper was counting the people several times but it seemed that he was not quite satisfied with the amount of people sitting or standing already inside. After one and a half hours of waiting in a hot bus, where everybody was just sweating out their last liquids, the journey could start with a quite crowded bus.
I was not angry. I was just glad that we were able to leave León at almost 11 a.m. That´s how the things work sometimes in a country like Nicaragua. The bus costed 70 C$, not even $3.
The drive up to Estelí was painful. Since we were driving upwards with so many people on board, I thought now and then, that it would have been faster to walk or to take a horse or a donkey to get to Estelí.
But we arrived there around 3 hours later and I took a shared taxi for 10 C$ to the hostel Sonati. There is also a Sonati-Hostel and NGO in León, but I was not in the mood to search and compare it to other hostels. Furthermore Sonati provides environmental programs and education for children, which is never wrong to support.
I payed $8 for a dorm-bed. Wifi, kitchen and garden were included. There was even hot water for a shower available because of the lower temperatures in Estelí. I didn't even remember when I had taken my last hot shower!
In the hostel I met Sarah, a girl from Switzerland, who is traveling around in Latin America for about 9 months. We went out together, in order to explore the center of Estelí a bit and to look for something to eat. She was very nice and we got along well!
We ate in a café that also offered food, but unfortunately it was not the best decision – the food and drink that I ordered were really expensive, together I paid about 130 C$ ($5). The ice-cream from Eskimo afterwards was way better.
We were roaming around in the center and when we reached the cathedral there was a funeral going on. Afterwards, the coffin was carried to a pick-up, positioned on the loading area and then on top of the car carried through the city. It was very strange to see this ceremony, with the loud music that was played and the procession walking slowly behind the coffin.
Everywhere in the city were market stands with fresh fruit and vegetables. A proof for the agricultural embossed areas around Estelí. Miraflor is one of the most famous areas which combine pure nature and organic agriculture in the area.
In the evening, we met a guy from Canada (Jean) in the hostel. We were talking a bit and later we went out to a bar nearby for a beer with 2 other, who also stayed with us in the hostel, one guy from Italy who was traveling for already 5 years and one guy from Argentina.
The next day, Sarah, Jean and I woke up at 5 in the morning, in order to catch the first bus to Miraflor. We wanted to enjoy the whole day there and buses only ran 3 times a day–at 6 a.m., at 12 p.m. and at 4 p.m. The drive takes around 2 hours (for 30 kilometres!) and costs 25 C$. The street was a dirt road and it was quite exhausting for the bus to drive upwards into the hilly area.
The landscape changed more and more and soon I was almost not sure if the nature around me was real or not. It looked so fantastic and surreal! The trees, the rocks, the hills…
When we got out of the bus after a bone-shaking drive, a woman asked us where are we going and if we already had accommodation. The two other guys planned to get back to Estelí in the evening, but I wanted to stay one night in Miraflor. So I told the woman that I would like to stay but I don´t have accommodation yet, so she told me that her family offered a homestay. That was a good option for me and we went with her and her daughter to her house, which was about 40 minutes away from the bus station. Hill-up, hill-down through amazing landscapes. The fog which dominated the area until about 10 a.m. made the landscape appear even more magical.
Miraflor is an agricultural area and everybody is involved in field or livestock work. Also everybody owns a horse and/or a oxcart for daily transportation.
I liked the family's house and surrounding garden, where I was supposed to stay for one night. The name of the house is by the way "Las Palmeras". It had a veranda, a room with space for up to 4 people, a shared toilet and shower, a big living and entrance room and a kitchen. Everything was very simple but enough for living a life without stress and unnecessary things.
After we arrived, the woman gave us some self-made coffee to drink and afterwards the three of us started our trekking tour through Miraflor. It was fantastic how the climate changed from one moment to another from cloudy, foggy and cool to sunny and hot. Also the vegetation zone changed within walking distance – from tropical humid to tropical dry and the other way around.
We passed by a big farm and a worker asked us, if we want to see the animals – why not? They had many pigs and cows, which were already on the way to a pasture and thousands of hens.
Later we came to a small waterfall, the perfect place to take a nap from our exhausting walking tour!
Afterwards we went to an orchid park but unfortunately there were currently no orchids. But nevertheless, the park was nice and we saw a huge uprooted tree.
After our tour, Sarah and Jean took the bus to Estelí and I went to my guest family. I was already very hungry.
While the woman was preparing the food, we were talking a bit and she told me about the traditional festival, called "la cruz" (the cross), which takes place every 3rd of May. With this festival, the people of Nicaragua celebrate what they have successfully accomplished during one year and pray for another year with peace, happiness, luck, health and all the other positive and life-enriching things.
The kitchen is the meeting and talking place for the family – here sat for dinner and breakfast, talking with them about their lives, about traditions, the village, and so on. And by the way, the food was really delicious. I told the woman that I don't eat meat at all and it was not a problem. She prepared tortillas, fried banana, cheese with vegetables and fried eggs.
At 7 p.m. people finish their dinner, talk a bit with their family about their day and afterwards there is not much to do. Miraflor does not even have a "village center" or "community meeting point", so the best thing that you can do is read a book or go for sleep. I did the first option. Luckily there is light at night, which the people here produce usually by themselves through solar energy.
The next morning at 7.30 a.m. ,we had breakfast and afterwards I packed my stuff and went for another walk, before I had to catch the bus at 12 p.m. to Estelí and from there back to León.
Again I was walking through gorgeous foggy landscapes, passing by farms, fields and diverse forests.
What I realised already is that Nicaragua has an absolute hammock culture. Everywhere you can see or buy nice and colourful hand-made hammocks.
At 12 p.m. I took the local bus back to Estelí and from there to León – another inspiring, colourful and adventurous journey within the northern part of Nicaragua came to an end!
Attention: If you want to drive from Estelí to León, you have to buy a ticket in advance from the bus helper. If not, you might sit on an empty seat, which later somebody will claim, because he has bought a ticket. And then you have to stand.
Photos by Sarah S.