Two Days in Stromboli, Italy: Volcanoes, Black Beaches and Passion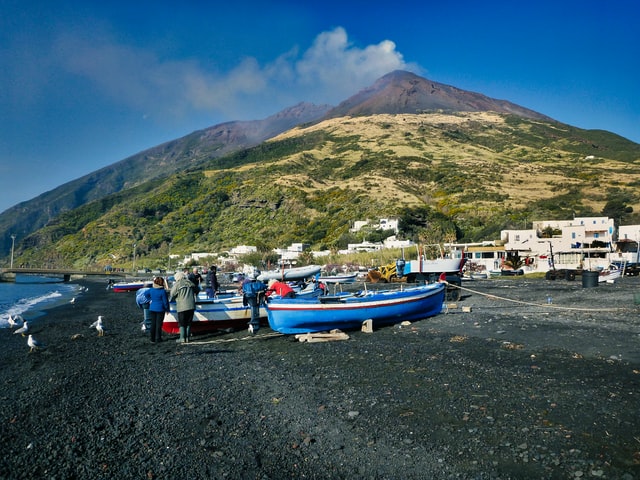 My wanderlust had been pushing me to pack my bags and go traveling, and I was itching to see Sicily and Stromboli in the Aeolian Islands. I researched my trip using this website, which guided me to a range of great travel ideas. A perfect guide to Sicily. Mostly, I was excited to get up-close-and-personal with a live volcano and watch it spew lava into the sea.
First, I traveled to Sicily, where I admired how the land and sea blended together to create a spectacular panorama. After soaking up the views, I headed to Stromboli.
Getting to Stromboli
As I boarded the hydrofoil from Milazzo to transport me to Stromboli, I felt there was more to this adventure than I could ever imagine. This Ferryontime helped me find the ticket to Stromboli. I decided to spend a couple of days on the island before hopping off to the others–though each could have been day trips from Lipari or even from Sicily. From the horizon, I glimpsed the volcano's silhouette emerging from the sea, theatrically emitting smoke from its hot depths. Though the volcano could erupt at any time, it was on its best behavior during my stay.
Climbing a Volcano
As I exited the hydrofoil, I was met by locals offering lodgings. However, I had already booked a room at Hotel Ossidiana since it was located a stone's throw away from the ferry stop. After lunch, it was time for my volcano excursion. With Magmatrek, I experienced a five-hour exhilarating climb to the top with 30-minute rest breaks.
Once we reached the top, we watched the volcano make periodic eruptions in almost 20-minute intervals! It was both thrilling and terrifying to see the lava and ash explode. The view was remarkable.
Two Days in Stromboli, Italy: Volcanoes, Black Beaches and Passion.
Black Beaches
I spend the next day exploring the island's famous black beaches–courtesy of the Stromboli's volcanoes. The area was unspoiled and clean, with a magnitude of marine life, which makes it perfect for snorkeling and diving activities. I just soaked in the sun and dipped into the clear, blue, warm waters.
Sciara del Fuocco
At sunset, I joined one of the boat trips to watch the "Sciara del Fuocco," which translates to Trail of Fire. At a safe distance of 400-meters, we watched the lava flowing down the side of the volcano and disappearing into the sea, leaving traces of smoke in the air.
I am not surprised that Roberto Rossellini and Ingrid Bergman chose the island of Stromboli for their extramarital affair. It's a place filled with passion.
Photo by Unsplash.