A Packing List for a Move Abroad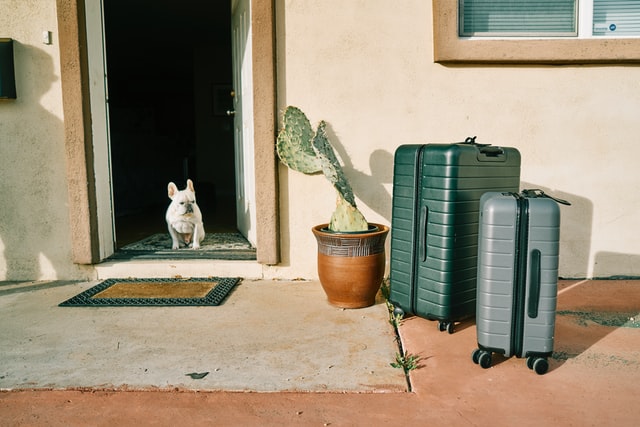 When I came to Poland to work in a corporation, I only brought with me one piece of luggage: my red two-wheel suitcase. Since in Poland it is very cold, I packed one pair of fleece pants and a fleece jacket. I also packed eight t-shirts and polos: one for each day of the week. I put a black suit in my luggage, too. This piece may have been unnecessary, but I wasn't sure. I also included a pair of summer shoes and a pair of winter ones. Of course, I packed underwear and socks, plus toiletries and a towel. My packing list was very important.
I packed a sleeping back and a down jacket, too. They proved to be invaluable during the winter, but also during April and May when heating is not very strong, yet the weather in Poland is still very cold. I also packed a pair of mid-season pants. That was pretty much it. My luggage was almost full! My friends thought that I had packed too little, but to me it was enough. After all, I did not know if my contract was going to last more than three months.
A Packing List for a Move Abroad.
For the first three months I borrowed bed sheets from the owner of the apartment in which I stayed. What I took with me proved to be sufficient, even though I often envied some of the other colleagues who had several dresses. To my company, however, what I had brought seemed fine. Once I started working, I discovered that the other employees wore all kinds of everyday clothing and no one was very formal. Some people bought a large number of clothes in Poland, for more variety.
My advice is that it is better not to leave home with too much luggage because it is more comfortable and cheaper to travel with little luggage. Plus, you may not know how long your job will last. Once the three month probation period ended and my contract was extended, I went home and brought a second piece of luggage. I knew that I was going to be in Poland for another year.
This time I brought with me a couple of bed sheets, some skirts and more pants. I wanted to be a bit fashionable at work and outside. I also brought with me warmer socks, as I had left the first time in May but I was going to have to survive through December and January, this time. In Poland, I also bought two additional fleeces, just to show a bit of a variety at work during the winter.
Now that I have been in Poland for a year and work for a more formal company, I am considering buying much more clothing. However, since I like travelling comfortably I am a bit unsure whether buying a whole new wardrobe is wise. I do not have a stable place to live. I do not know if I will have to move cities for work, and if so, it won't be easy to take lots of clothing with me.
The uncertainty of it all provides me with a sense of freedom.