Essential Packing Tips for Rome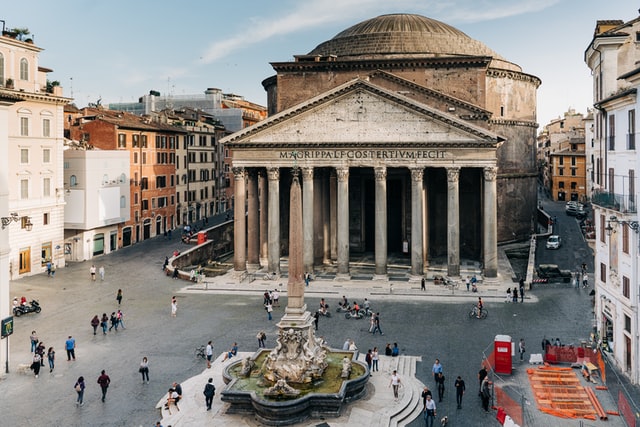 I know a lot of girls who have the tendency to overpack. I remember how surprised I was at the airport to find out that the suitcase I was checking for my two-and-a-half week trip to Rome weighed fifty pounds! And I consider myself a light packer. In hindsight, what I should have done (instead of packing a different outfit for each of the seventeen days I would be in Rome) was bring enough clothes to last me about half the trip, and do laundry around day eight so I could wear them all a second time.
If you are trying to cut down on the amount of clothes you're bringing on a trip and you have the means to do laundry, I would definitely recommend it. Also, mixing and matching simple tank tops and tee shirts with a couple staple items such as a black skirt or a pair of comfortable wide leg pants will let you create lots of different outfits while eliminating the need for excess articles of clothing.
That being said, there are plenty of things that you shouldn't leave behind, no matter how light of a packer you consider yourself to be! Here are my essential packing tips for Rome:
Packing Tips For Your Suitcase:
There will probably be several occasions during your stay in Rome when it will important to dress respectfully. Most Roman churches and Basilicas will require women to cover their necks and shoulders, so keep a shawl or a long cardigan in your tote for your visits to Saint Peter's Basilica, the Sistine Chapel, and the Church of Saint Anges in Agone. (Even smaller, less touristy churches have strict dress codes.
I was turned away at the Church of Saint Stefano Rotondo for wearing a shirt that didn't cover my shoulders.) If you think you'll be visiting some of Rome's most sacred spaces during your stay in Italy, you should also pack at least one maxi dress or long skirt for days when you need to look presentable.
I distinctly remembering clutching my morning cappuccino for warmth while waiting for the 9 a.m. bus.
If you're not a wimp like I am and can tolerate cooler temperatures, feel free to ignore the following advice. One thing I wish I had known before my trip was that mornings and nights in Rome are cold, despite how hot it can get during the day. After checking the May-June forecast and seeing that most days in the city would have a high of around 70-75 degrees, I stuffed my suitcase with shorts and handkerchief dresses.
I distinctly remembering clutching my morning cappuccino for warmth while waiting for the 9 a.m. bus, and wishing I had brought more pairs of jeans and blouses as I was traipsing through Campo de Fiore after sunset. I promise you will not regret bringing warmer clothes and a warm jacket for early morning and nighttime excursions in the city—save the cotton dresses and cut offs for the heat of the day.
No one anticipates going to Rome in the summer and dealing with torrential downpours, but hey, better safe than sorry, right? Luckily, I threw my windbreaker in my suitcase just before I left, even though I was throughly convinced I wouldn't need it. Turns out it wasn't a bad idea—a couple of my friends had to buy umbrellas from street vendors when we experienced an unexpected shower.
Essential Packing Tips for Rome
If you think you'll be treating yourself to the occasional fancy dinner (which you definitely should in a city famous for its cuisine), bring at least one fancy dress. A group outing to a restaurant that supposedly made the best carbonara pasta in the city (Tratorria Al Moro, in case you were wondering) had to be postponed when some of us realized that we weren't dressed formally enough. On that note, have at least one pair of nice sandals for special occasions such as these.
The rest of the time, have your most comfortable pair of walking shoes handy. It's not a bad idea, however, to have a pair of backup walking shoes; even your trustiest pair of sneakers can give you blisters and make your feet sore after hours of sightseeing.
Packing Tips for Your Tote
For starters, make sure the bag you're carrying during your days in Rome zips and can be worn across your body; this will significantly decrease your chances of being pickpocketed. Here is a short list of items that I kept in my tote during my trip.
Sunscreen—at some point during my trip I gave up on wearing foundation and immediately got a sunburn on my nose. After that I started carrying my SPF 20 around with me.
Lip balm—my lips got pretty dry on especially hot days.
Headband or hair ties—whether you're facing wind, heat, rain, or a night out in the city, at some point you'll be grateful you have the proper means of keeping your mane from looking too disheveled.
Essential Packing Tips for Rome
Hand sanitizer—if you plan on using public transportation (e.g. the metro or bus system) during your trip, this will definitely come in handy. Especially since bathrooms in Rome—generally speaking—are pretty gross.
Water bottle—it's important to stay hydrated when you're on the move all day.
Camera—obviously!
Notebook and pen—sometimes I wanted to write down how I felt about what I saw rather than just take a picture of it. A notebook will also be useful if you want to remember an Italian phrase, or the name of a restaurant or coffee shop that you were particularly fond of.
Wallet—in addition to keeping money in your wallet, store some extra cash in a separate container—either in your bag or somewhere else you can easily access it. (One of my friends kept some in a necklace that she wore under her clothes.) This way, you'll be covered even if your wallet is stolen.
Finally, make sure you bring a plug adapter if you're planning on using any electronic devices during your stay. (Italian electrical sockets are designed for round prongs). Make sure you also keep scans of your passport, your credit card, and any important medical information in a safe place. If any of these fall out of your hands, you'll avoid a lot of trouble if you can provide copies of them.
Rome Packing: Essential Packing Tips for Rome, Travel Information photo by Unsplash.